50 Indian undergraduates from the Philippines are stranded at Changi airport in Singapore.
They were informed that airlines have stopped taking passengers from Philippines, Afghanistan and Malaysia to India.
Watch them share their concerns and appeal for help from the government.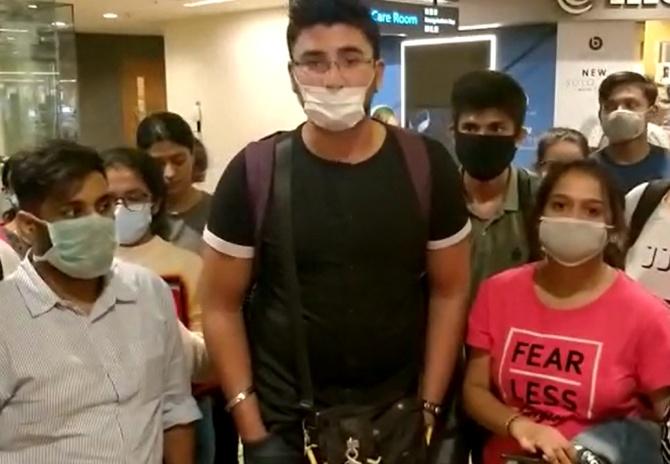 A group of 50 undergraduate students -- from different parts of India -- who are based in the Philippines to pursue medicine are currently in much distress.
On March 17, 2020, a week after the World Health Organisation declared COVID-19 a pandemic, they booked their flights home.
When they packed their bags and left the Philippines to be with their families, they were willing to face all kinds of consequences -- to be screened, quarantined, face travel delays.
But they were not prepared to be stranded in a new country.
A student, who did not want to reveal her name, shares her ordeal to Divya Nair/Rediff.com:
"All of us booked our tickets to Mumbai on March 15 through Malaysia Airlines. We had a stopover at Kuala Lumpur. We landed in Kuala Lumpur on March 17 at 1 pm. When we reached the desk to collect our boarding pass for our connecting flight, we were informed that we cannot fly to Mumbai.
After a lot of chaos, the airlines put us on a flight to Singapore from where we were told we could travel to Mumbai.
On March 18, we reached Changi airport at 1 pm. But here, we were informed that Air India is not taking passengers from the Philippines, Malaysia and Afghanistan."
The students, mostly aged between 18 and 23, approached Indian embassies in Singapore, the Philippines and Malaysia for help.
"They are all saying 'We are trying to help.' But right now, we don't have any update or information on when and how we can get home," says one student.
"We are feeling helpless and want to be with our families. Fortunately, we have been safe and none of us have shown any signs of weakness or symptoms. But you have to understand that we are at an international airport where there are travellers from all over the world."
"The risk is higher also because if God forbid, something happens, this is a new country. We don't know anyone here and don't want to be stuck here especially during a pandemic."
"We are ready to co-operate and be quarantined," says another student. But please help us get back to India. We just want to be home before it is late."
Watch the students share their concerns as they appeal for help: