The defence college building in Uttarakhand's Maldevta collapsed on Monday as torrential rains pounded the state, flooding major rivers and their tributaries and causing landslides along the national highways to Badrinath, Kedarnath and Gangotri shrines, officials said.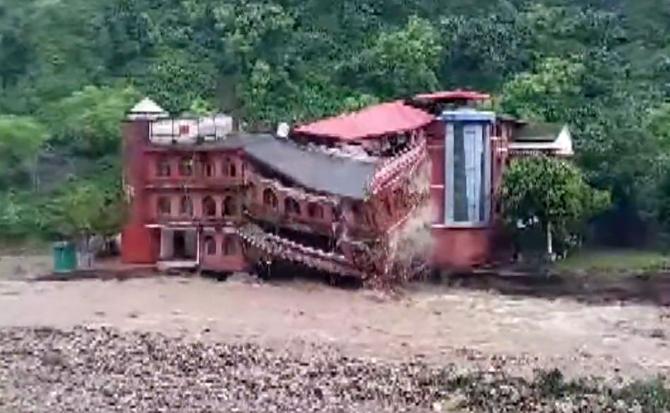 Several people are feared to be buried in landslides triggered by heavy rains in the state.
Alaknanda, Mandakini and Ganga rivers were flowing above the danger level at Rudraprayag, Shrinagar and Devprayag, the disaster control room here said.
The Badrinath National highway is blocked at a number of places due to landslide debris.There is also information about one person being buried under the debris near Pipalkoti.
In Chamoli district, a flood-like situation has developed along the banks of a dozen rivers, including Alaknanda and its tributaries Pindar, Nandakini and Birhi.
WATCH: Defence college building collapses in Uttarakhand's Maldevta
Pindar's tributary Pranmati was also flooded due to landslide. Landslides in the upper reaches of Nandakini have caused the water level of the river to increase in the lower areas.
There are reports of loss of lives due to landslides in Pipalkoti town and surrounding areas on Badrinath National Highway.
River Ganga is flowing at the danger mark in Rishikesh, Junior engineer central water commision Sunny Vishnoi said.
The commission recorded 435 mm of rainfall in Rishikesh on Sunday night.
Heavy rains have also inundated various low lying areas in Rishikesh, including Chandreshwar Nagar and Sheesham Jhari.
The rural areas near Rishikesh have been flooded with the State Disaster Response Force evacuating people to a safer places.
Bangala Nala, Saung and Suswa rivers are also overflowing in the Rishikesh countryside.