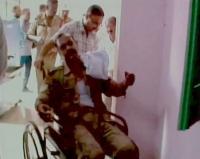 A fire at SAIL's IISCO Steel Plant at Burnpur, West Bengal, injured 21 people, with 2 of them in ICU, the state-owned steel maker said on Thursday. All the affected are being provided with immediate medical care, it said.
"An incident of fire occurred at SAIL's IISCO Steel Plant at 12.15 pm... Around 21 affected persons have been provided immediate medical attention, both at the Plant Medical Unit and at Burnpur hospital. Out of these, two persons belonging to contractor BEC have been admitted to ICU," SAIL said in a statement.
Preliminary enquiry has revealed that it happened in New Coke Oven Battery no 11, it said.
The fire was immediately extinguished. The incident occurred during a planned shutdown taken for carrying out rectification jobs in one of the pre-heaters of the coke oven battery.
Image: The injured being taken to the local hospital. Photograph: ANI/Twitter