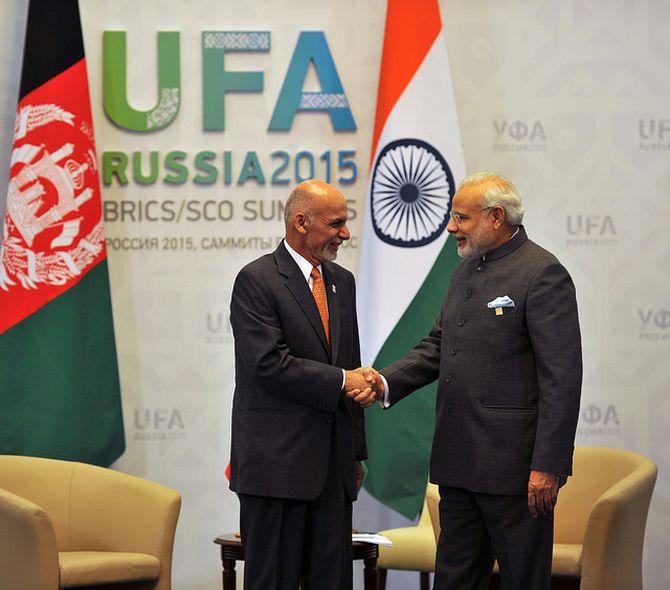 Prime Minister Narendra Modi on Friday met Afghan President Ashraf Ghani in Ufa and the two leaders are understood to have discussed Afghanistan's security situation and India's assistance in reconstruction efforts in the war-torn country.
Friday's meeting between Modi and Ghani was their second in last three months. The two leaders met on the sidelines of the Shanghai Cooperation Organisation Summit in this Russian city, shortly after the Indian leader held a meeting with Pakistan Prime Minister Nawaz Sharif.
"India-Afghanistan ties being discussed by President @ashrafghani & PM @narendramodi," the PMO tweeted on the meeting along with a photo.
"And the neighbourhood engagement continues. PM @narendramodi with President @ashrafghani of Afghanistan," tweeted Vikas Swarup, spokesperson for External Affairs Ministry along with a photo showing Modi and Ghani shaking hands.
The two leaders are understood to have discussed the security situation in Afghanistan, particularly in the context of post-2014 when America pulled out most of its forces from there.
The status of Indian assistance to Afghanistan, which mostly confines to humanitarian and social areas, was also reviewed.
Ghani had visited New Delhi in April when Modi had told him that India would walk shoulder-to-shoulder with the people of Afghanistan in a "mission of global importance".
Modi had said that India's assistance to Afghanistan was an enduring commitment and not limited to the period of transition or the decade of transformation.
"The relationship between India and Afghanistan is not just between two countries or governments. It is a timeless link of human hearts. Fourteen years ago, we started a new chapter in our relationship, in a new era for Afghanistan, under the leadership of President Karzai. The partnership has blossomed despite barriers of geography and hurdles of politics.
"We will continue this journey in partnership with President Ghani and his National Unity Government with Chief Executive Dr Abdullah Abdullah," the prime minister had said.
India has so far invested over USD 2 billion in several projects including in infrastructure and social sectors for reconstruction of Afghanistan.
Image: Prime Minister Narendra Modi on Friday met Afghan President Ashraf Ghani in Ufa. Photograph: MEA/Flickr