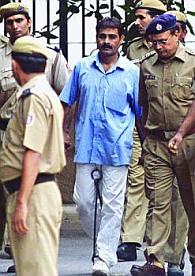 The Supreme Court on Monday stayed the execution of death sentence of Lashkar-e-Tayiba terrorist Mohd Arif alias Ashfaq in the 2000 Red Fort attack case in which three people, including two army jawans, were killed.
A bench headed by Chief Justice R M Lodha also issued notice to the Centre on Arif's plea seeking its direction for his release on the ground that he has already spent over 13 years behind bars and he should not be hanged after such along period.
He submitted that execution of his death sentence would amount to punishing him twice for the crime as he has already spent over 13 years which is nearly equivalent to life imprisonment.
The petition also said that he has been suffering from physical and mental illness due to the long delay in judicial proceedings as also on the part of the government in executing the sentence.
The apex court had on August 10, 2011 upheld Arif's death sentence and dismissed his appeal challenging the capital punishment awarded to him for the December 22, 2000 Red Fort attack by a sessions court and affirmed by the Delhi high court.
The Supreme Court, while upholding the death sentence, had said the "arrogant" assault was a "brazen attempt" by Pakistan "to overawe" India and wage war against it.
Arif had challenged the high court's September 13, 2007 judgment which had upheld the death penalty awarded to him but had acquitted six others sentenced for varying jail terms.
The high court had dismissed Arif's appeal against the trial court verdict awarding him capital punishment for waging a war against the state and killing three persons, including two army jawans, in the Red Fort.
The high court had reversed the trial court findings against six convicts including Srinagar-based father-and-son duo Nazir Ahmed Qasid and Farooq Ahmed Qasid, who were sentenced to life imprisonment, and Pakistani national Arif's Indian wife Rehmana Yusuf Farukhi. She was given a seven-year jail term.
They were earlier found guilty of harbouring Arif, one of the terrorists, who had sneaked into the 17th century monument and opened indiscriminate fire on the guards of seventh battalion of Rajputana Rifles, killing three, including a civilian.
Other convicts who were acquitted by the high court included Babar Mohsin Baghwala, Sadakat Ali and Matloob Alam, who were sentenced to seven years rigorous imprisonment for sheltering and providing fake Indian identity cards to Arif.