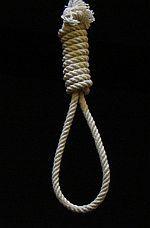 The Supreme Court on Wednesday stayed the execution of two death row convicts in Karnataka scheduled for Thursday even as one of them allegedly attempted to commit suicide in jail.
Shivu Munishetti and Jadeswamy Rangashetti, who had been sentenced to death for brutally raping and murdering a teenaged girl in 2001, had moved the apex court after their mercy petitions were rejected by the President this month.
A bench headed by Chief Justice P Sathasivam issued notice to the Karnataka government, seeking its response on duo's plea. The bench tagged their plea with other cases in which the apex court had stayed the execution of other death row convicts.
Earlier in the day, Shivu allegedly attempted suicide in Hindalga jail in Belgaum in Karnataka amid preparations by prison authorities to hang him along with the other convict. Shivu slashed his private parts and a hand with a blade, prison officials said. He was being treated in the jail and might be shifted to a district hospital, they said.
Shivu and Jadeswamy were arrested by Chamarajnagar police in connection with rape and murder of an 18-year-old girl on October 15, 2001.
The two were sentenced to death by a trial court in July 2005. The Karnataka high court rejected their appeal and confirmed their death penalty in October 2005. The Supreme Court had upheld the high court verdict in 2007.
President Pranab Mukherjee had rejected their mercy plea early this month. On August 8, the apex court had stayed the execution of Maganlal Barela who was to be hanged the same morning for beheading his five daughters in Sehore district of Madhya Pradesh.
Barela was found guilty of beheading his daughters Leela, 6, Savita, 5, Arti, 4, Phool Kanwar, 2, and Jamuna, 1, to death with an axe following a dispute over property with his two wives on June 11, 2010.
He was awarded capital punishment on February 3, 2011. The President had rejected Barela's plea for clemency on July 22, this year after dismissal of his petition for converting capital punishment into life imprisonment by Madhya Pradesh high court (Jabalpur bench) on February 3, 2011 and the Supreme Court on January 9, 2012.