It is Gujarat that is preventing Modi from becoming a pan-India leader.
Gujarat wants Modi to be an all-India leader only on its term: As a strong votary of Hindutva. But that very position is a recipe for disaster on the national stage, feels Amberish K Diwanji.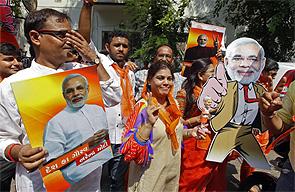 It would seem that Narendra Modi has finally realised what most knew: It is damn near impossible to win elections if 12 per cent of India is simply never going to vote for you.
To reach the halfway mark, it needs 56 per cent of the remaining votes. Such a landslide of votes in a fractured polity like India is possible when there is a strong wave for or against something.
Right now, there is anger against the United Progressive Alliance for its non-stop corruption, at the PM for being so terribly ineffective and for destroying this grand economy, and at the general mess India finds itself in.
Is it enough to win elections for the BJP sans the Muslim vote? Unlikely!
Critics and fans of Modi miss a key point about him. He is not a die-hard ideologue. He is, to put it bluntly, a practical politician, who is willing to do what it takes to win elections.
Let us be very clear. Just as Modi did not make Gujarat an industrial state (Gujarat was racing ahead right from the day it was born, thanks to the entrepreneurial abilities and industrious nature of the Gujaratis), he did not make the people of Gujarat communal and anti-Muslim.
Seeds of that communalism, alas, are ancient in Gujarat, fanned by successive Congress governments (one only has to see the number of riots Gujarat had in 1969 and through the 1980s, when the Congress was in power).
The average Hindu Gujarati's anti-Muslim sentiments were deep-rooted. The burning of the Sabarmati Express merely saw that explode, and Modi merely exploited it. But in doing so, Modi went beyond being a politician to become the Hero of Gujarat.
Today as the Hero, he finds himself bound to forever playing to the gallery.
Modi is a politician, no different from the Leftists politicians who spout rhetoric about atheism but support huge Durga mandals or various radical maulanas with obscure views just to keep their voters happy and their votes intact.
In 2002 Modi played to the gallery. The result is that he hasn't lost elections since then. This isn't right, but tragically it is how politicians behave.
It is how the Congress behaved in 1984 when it allowed Hindus to run riot against the Sikhs and reaped its biggest-ever victory in the elections later that year.
The problem for Modi isn't that he is now a politician on a national stage and needs to reach out to the Muslims. There are a number of Muslim voters who would be more than happy to vote for a non-Congress party.
After all, lack of jobs and a falling economy hurts everyone regardless of religion.
Modi is aware of that and is keen to reach out to disgruntled people. Hence, his exhortation to his party on Sunday.
The problem for Modi is that his exhortation might anger his ardent supporters in Gujarat, who don't want him to lose even an iota of his current image as the Hindutva Gujarati hero.
Part of this image means forever keeping a strong anti-Muslim stance. It is for this very reason that Modi had to refuse to wear a Muslim cap during the Sadbhavna rally in 2011. Please note, Madhya Pradesh Chief Minister Shivraj Singh Chouhan had no hesitation in wearing a similar cap recently.
It is Gujarat that his preventing Modi from becoming a pan-India leader. Gujarat wants Modi to be an all-India leader only on its term: As a strong votary of Hindutva. But that very position is a recipe for disaster on the national stage.
Modi is thus in a dilemma. Reaching out to the Muslims runs the risk of alienating his supporters in Gujarat, and among his most devoted fans within the BJP. Even an excessive show of sympathy towards Muslims is rife with risks in his home state.
Should the people of Gujarat see their Hero going against the grain, it won't be long before a new person to be their hero. Modi would then find himself out of Gujarat without having won India.
Image: Narendra Modi's supporters in Ahmedabad, Gujarat. Photograph: Amit Dave/Reuters