Whether or not OPS wanted it, possibly after a time, there might be pressure from within the AIADMK legislature party that he should not quit.
In turn, it would have meant that Sasikala, already determined to keep both the party and CM's post for herself, might not be able to do it if she were to wait any longer, says N Sathiya Moorthy.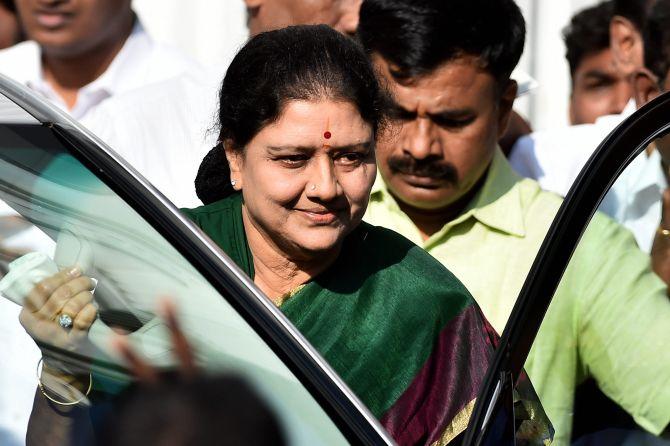 IMAGE: AIADMK General Secretary V K Sasikala leaves after attending the AIADMK legislature party meeting which elected her as its leader at the party headquarters in Chennai, February 5, 2017. Photograph: R Senthil Kumar/PTI Photo
Independent of local Tamil media speculation that the All India Anna Dravida Munnetra Kazhagam legislature party had been summoned for Sunday afternoon, and that the legislators would elect fresh-from-the-mint party General Secretary V K Sasikala as chief minister, replacing incumbent O Panneerselvam, the rest of the nation at least was not ready for it.
It was not without reason, either.
After weeks and months of non-stop national attention, first over the controversies-ridden state assembly polls of May 2016, followed by then chief minister J Jayalalithaa's 75-day-long equally controversial hospitalisation and later death, the succession drama in the ruling AIADMK and a purported patch-up that was not, the emergence of Jaya's niece Deepa as a possible counter-poise for cadres, rival DMK supremo M Karunanidhi's hospitalisation and politician-son M K Stalin's enthronement as acting executive president of the party, then the jallikattu row, and more importantly the awe-inspiring peaceful protests across the state without, and it ending in violence in the Chennai venue...
With all this the nation has had enough and more of a single state in the Union.
So much so even the environmental threat of oil leaks from a ship-to-ship collision, not far away from Chennai, too did not receive the kind of attention that it should have, either from the national media or from the Centre.
In a way, it is this overdose of Tamil Nadu for the denizens of the state that might have also been among the reasons for Sasikala taking a pot shot at the CM's job.
But beyond it all was the good work and better name that O Panneerselvam was getting as chief minister, with each passing issue, each passing week.
Within a week of taking over at midnight after Jaya's death, he proved his mettle in organising the post-Vardha cyclone relief.
Ministers and officials working with him suddenly found that he was not as reticent as he used to be when 'Amma' was around.
He gave them freedom to take decisions, talk to the media, and develop a personality of their own and a new character for his government.
Even Opposition leaders and their legislators, especially from the traditional rival DMK, did not find a reason to oppose OPS for the sake of opposing, as used to be the case with the Jaya-Karunanidhi duo earlier.
Stalin, both as party chief and Leader of the Opposition in the assembly, congratulated OPS openly where he deserved it, encouraged him where the DMK thought that such encouragement would help the state, its people and their cause, and opposing where it was politics, still.
All of it had meant that a new political culture might have overtaken the old before long, and before anyone else used to and comfortable (only) with such a scheme understood it and even acknowledged it.
All of it meant that the people too had begun considering to view the 'Dravidian competitive politics' differently.
That would have meant that if only over time, the status quo ante that the old-timers wanted might never be able to return.
In turn, it would have meant that Sasikala, already determined to keep both the party and CM's post for herself, might not be able to do it if she were to wait.
Whether or not OPS wanted it, possibly after a time, there might be pressure from within the AIADMK legislature party that he should not quit.
He might not be as charismatic a vote-getter as Jaya, but he would definitely have become a new mascot of a new, and 'functional' government under the AIADMK -- after those of Jaya and founder M G Ramachandran, which were not being seen as one in their own time.
If it was not now, possibly it might never have been for Sasikala.
And not just in political terms.
And the pressure brought on the Centre, so to say, after the unprecedented and unanticipated jallikattu protests meant that the national attention and 'initiatives' had moved away from embarrassing tax-raids post-Jaya, which included those seen as close to the AIADMK establishment, and did not leave out then chief secretary P Rama Mohana Rao.
Definitely, post-protests, the nation had forgotten the tax raids of the Deepa challenge by Jaya's niece to Sasikala's leadership, but from outside the AIADMK, of which she anyway was not a member just now.
It did not stop there though.
If it was the kind of positive bureaucratic and public image that OPS began relishing, he also soon discovered that he could not build on it with whatever he had inherited.
It was also the kind of public disinterest that seemingly encouraged OPS to take his own administrative decisions, which was under the Sasikala family's vice-like grip even when Jaya was around and active -- barring demonstrably singular occasions.
This meant that after chief secretary Rao was relieved following the tax raid, his successor Girija Vaidhyanathan, the senior-most serving IAS officer, was the chief minister's choice, purportedly under the Centre's advice for her incorruptibility.
Over the weekend, or a couple of days earlier, the other side of OPS' quiet approach to administration began showing up, but decisively so.
Advisor to the state government, Sheela Balakrishnan, a veteran civil servant that OPS had inherited and who was seen as running the administrative machinery even after she had quit as chief secretary, quit in a huff on Friday.
The same day witnessed two other civil servants, K N Venkataramanan and A Ramalingam, both as domineering and equally controversial as Sheela Balakrishnan was, were relieved of their post-retirement positions that they had held continually during Jaya's days.
All three were seen as Sasikala's contact persons to the state bureaucracy at all levels.
By ensuring that they were out, OPS obviously was getting ready for the inevitable showdown without continuing with the shadow boxing of the previous two months -- which began on the night of Jaya's death on December 5, 2016.
He obviously knew his limitations in terms of political reach and AIADMK acceptability from within the second rung and legislature party, but could not hang on forever without knowing whom to take orders to, or take orders from, or whom to trust, mistrust or distrust.
Despite being seen as surrendering meekly without a fight, it might be OPS' own uncanny way of taking the battle to the rival's court, win or lose -- and not wanting to hang on endlessly, not knowing what next, and from where the next hit was coming.
When AIADMK legislators were summoned to meet for the second time in as many weeks, or less, by party supremo Sasikala, the invitees knew why.
But unlike what the local media had speculated, there did not seem to be any rift between the outgoing OPS and the incoming Sasikala over the CM's post.
As with her ascendancy to the party post, OPS himself proposed Sasikala for the chief minister's job at the legislature party meeting.
In doing so, he was clearly sticking to his sworn vow of being a loyal servant of the party -- whether or not he would be waiting for another day, another time, to strike.
Panneerselvam seems to know the mood and method of the party second line leaders, including legislators.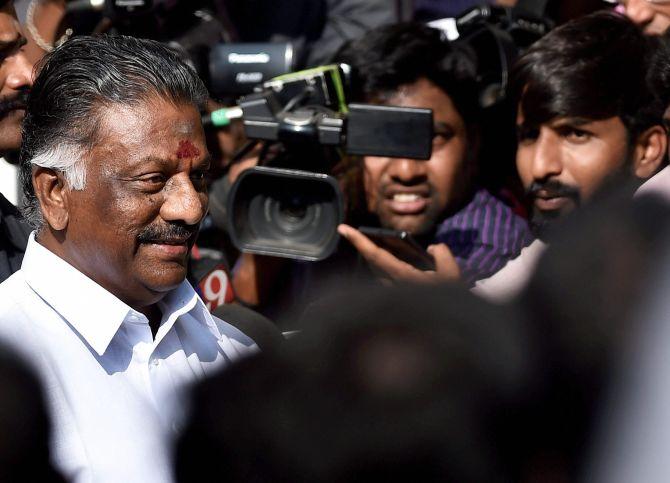 IMAGE: Tamil Nadu Chief Minister O Panneerselvam leaves the AIADMK headquarters in Chennai after its legislature party elected V K Sasikala as its new leader, February 5, 2017. Photograph: R Senthil Kumar/PTI Photo
Independent of social media speculation of high-level buy-outs and threats, Panneerselvam too seemed to acknowledge the inherent fact that Sasikala, more than him or anyone else in the party, jointly or severally, was the only one who could keep the AIADMK together.
Winning and losing elections would have to wait.
It owed to Jaya putting herself on a pedestal, or never ever getting down from the pedestal where party cadres and voters put her in, and deliberately maintaining a healthy distance between her and the second line where alone Panneer belonged, if at all.
Just as none in OPS' second line could ever aspire to fill the political vacuum created by Jaya's exit within the party, they could not also hope to fill the vacuum left just below her rung -- for a foreseeable length of time.
Sasikala too can hope to try her hand at it if given the chance that she has got now, but her success or failure can be gauged only in the coming weeks, months and years.
Yet, Sasikala has a better chance than the rest of them, jointly and/or severally.
More importantly, independent of what outsiders, from within the state and elsewhere might think, the AIADMK second line seemed convinced that the BJP ruling the Centre was keen on poaching from among them, create a political vacuum by rendering the party irrelevant in electoral terms, and then seek to fill that vacuum.
One, the second line would have none of it.
Two, possibly, OPS, true to his loyalty pledge, too would have none of it.
If anything, he possibly seemed to think that he would not allow himself to be seen by fellow party men as a traitor to the cause, a traitor to 'Amma'.
The ready alternative was thus to back Sasikala and also be seen as backing her, in the difficult circumstances that the BJP was purportedly pushing the AIADMK into -- independent of the truth or otherwise of such beliefs, unspoken still (barring Sasikala's controversial husband, M Natarajan).
For all this, however, Sasikala's real ascendancy to the CM's post, as different from that to the party leader's job, has Constitutional procedures and judicial pronouncements guiding them.
Acting governor Ch Vidyasagar Rao was in the hill town of Udhagamandalam on Sunday, but left for Delhi from Coimbatore airport without touching down in the state capital, Chennai.
This possibly means that Sasikala's swearing-in would have to wait until Governor Rao finds it convenient to return to Chennai.
The situation, as may be recalled, is much different from the one in which he swore in OPS as CM for the third time, on the midnight of December 5, 2016, only hours after Jaya's death.
On Monday, the Supreme Court is set to give its ruling in a FERA case hearing in Chennai, from which Sasikala had sought discharge of sorts.
There is also the apex court verdict on the wealth case against Jaya, leading to her imprisonment by the trial court in Bangalore in 2015, and her own resignation.
Sasikala is a co-accused in that wealth case, and could be debarred from becoming/continuing as chief minister if the Supreme Court were to overturn the Karnataka high court acquitting Jaya and the rest.
Though Jaya is no more and the case against her is infructuous for all practical purposes, the Supreme Court, technically, could still uphold the trial court's conviction order and also order the attachment of her estate as fines (also because she could not serve any jail term).
But that is not the case with Sasikala who, if convicted, and sentenced, would have to serve out the term.
It is not technically unlikely that the Supreme Court return the case to the high court for re-hearing as then Justice Kumaraswamy had arguably committed some mathematical errors while acquitting Jaya in terms of her total wealth.
If so, Jaya could still be convinced in absentia, but in Sasikala's case it would be different.
The best situation for Sasikala would be a clean acquittal in the wealth case, with the Supreme Court upholding the Karnataka high court verdict, in effect.
Otherwise, there could be legal problems galore for Sasikala becoming CM or continuing as one.
In the 2001 verdict in Jaya's TANSI case, the Supreme Court had held that pending an appeal against a conviction, she could not have become chief minister -- implying that the governor (then retired Justice Fatima Beevi) should not have 'invited' her to form a government in the first place.
Subsequently in 2014, a five-judge Constitution bench of the apex court advised the prime minister and chief ministers, in the Manoj Narula case, not to consider anyone against whom a trial was pending for any offence punishable with five years' imprisonment, for a ministerial berth.
The court did not similarly advice the President of India and the governors of states likewise in the choice of PM and CMs respectively -- but the implication was/is obvious.
Read together, the two court verdicts of 2001 and 2014 have a lot of lessons for governors, placed in similar circumstances as Vidyasagar Rao possibly.
For in both the FERA and the wealth case against Sasikala, mere conviction was enough for disqualification under the law, and the question of a five-year jail term did not even come into the picture.
N Sathiya Moorthy, veteran journalist and political analyst, is Director, Observer Research Foundation, Chennai Chapter.