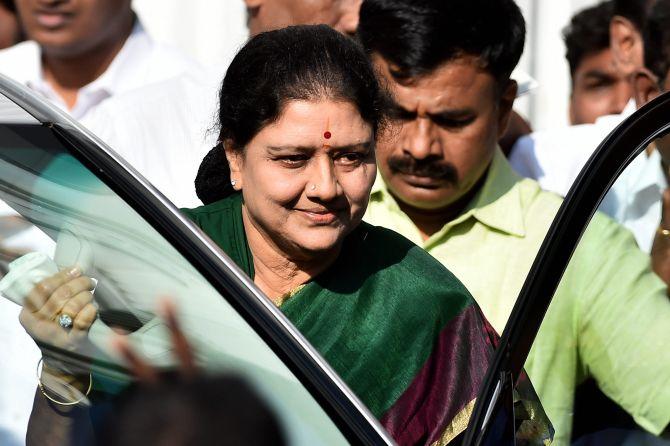 All India Anna Dravida Munnetra Kazhagam leader V K Sasikala on Friday walked out of the Parapana Agrahara central jail in Karnataka after being granted emergency parole for five days to meet her husband, who underwent a liver and kidney transplant at a Chennai hospital.
Sasikala had sought 15-day parole, but was granted only five days with tough conditions, including that she should not involve in political or any other public activity or take part in party activities, jail authorities said.
During the emergency parole, the AIADMK leader will only be allowed to visit the hospital where her husband is admitted and stay at the residence as mentioned in the application, the authorities said.
It has also been stipulated in the conditions that she should not entertain any visitors either at her residence or the hospital.
Sasikala has also been restricted from interacting with any media -- print or electronic, the authorities said.
Soon after completing the required formalities, Sasikala, accompanied by her nephew T T V Dinakaran, headed for Chennai by road.
After her first application was rejected on "technical grounds" on October 3 for not producing certain requisite documents, Sasikala had filed a fresh plea for parole.
Rajya Sabha member from Tamil Nadu, Navneet Krishnan, has given an undertaking for Sasikala's parole, her lawyer Krisnappana told reporters outside the jail premises.
"Rs 1,000 surety also has been deposited," he added.
Around 100 supporters of 'Chinnamma' gathered outside the jail premises.
Krisnappana said Dinakaran had arrived at the jail and completed the parole formalities.
The Tamil Nadu Police had earlier issued an NOC to the Karnataka government for granting parole to Sasikala, he said.
Sasikala's husband, M Natarajan,74, underwent liver and kidney transplant on October 3 with the organs harvested from a brain-dead youth, according to Gleneagles Global Health City Hospital in Chennai.
Sasikala has been lodged in the Parapana Agrahara central jail since February this year after the Supreme Court upheld her conviction by a special court in a disproportionate assets case.
Her relatives Ilavarasi and V N Sudhakaran are also serving four-year jail terms in the case.
Photograph: PTI Photo