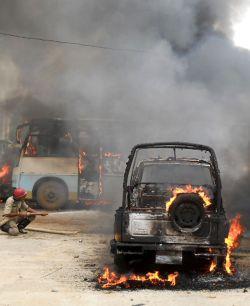 The age-old ethnic fabric in Assam faces a grave risk of being torn apart as many of the major tribes have either raised or renewed their demand for separate state carved out of Assam.
The new vigour in the separate statehood movements come the wake of United Progressive Alliance government's decision to carve out Telangana from Andhra Pradesh.
In addition to the largest ethnic group of Bodos, the other tribes which have either resumed or threatened to launch agitation include the Koch-Rajbongshi, Karbi, and Dimasa.
The Bodos, Karbis and Dimasas have renewed their long-standing demand for a separate state to be carved out of Assam while Koch-Rajbongshi community has started agitation demanding a Kamatapur state comprising parts of Western Assam and adjoining northern areas of West Bengal.
In view of the renewed statehood movements, Assam Chief Minister Tarun Gogoi has clarified that his government is not agreeable to further division and stated that all the communities should stay together to facilitate rapid all encompassing economic development measures.
Meanwhile, train services between Guwahati and eastern Assam have been disrupted as statehood movement by Karbi tribe in Karbi Anglong hill district in central Assam turned violent on Thursday.
Mobs of agitators on Thursday set fire to a number of government offices and the regional office of Assam Sahitya Sabha in Diphu and other parts of the hill district defying curfew that was imposed on Wednesday.
Indefinite curfew was clamped in the hill district after one person was killed and 21injured in police firing in Diphu where unruly mobs set fire to several government buildings and vehicles to press for their demand for a separate state comprising of two hill districts of Karbi Anglong and Dima Hasao.
The police on Thursday had to fire in the air near Diphu town where people of Karbi tribe came on the roads to impose a blockade.
The agitators are demanding resignation of all the executive members of the Congress-led Karbi Anglong Autonomous Council to press for creation of a separate state for Karbi tribe. A source informed that all the members of the KAAC are planning to go to New Delhi to meet the central leaders to apprise them of the volatile situation prevailing in the hill district.
The Karbi Anglong hill district in Assam was created in 1951 and Karbi Anglong Autonomous District Council was constituted in 1952.
Image: Karbi tribe people went on a rampage in Diphu on Thursday demanding a separate state