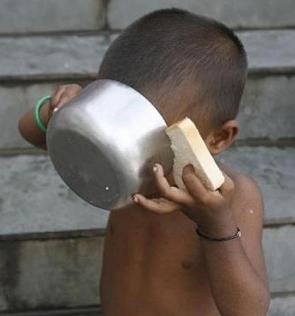 Assam Chief Minister Tarun Gogoi on Saturday distanced himself from Agriculture Minister Nilomoni Sen Deka's remark -- that eight meals cost a total of Rs 20 in the state -- saying it was his personal view.
During a week, which saw various leaders in the country make embarrassing comments on the price of a meal and then withdraw them, Deka, who is also the horticulture and food processing minister, had on Friday reportedly said that eight people can have a proper meal for Rs 20.
"I have never said that I will get a meal for Rs 2. I do not know why he (Deka) said it and with what context. This was his personal view," Gogoi told reporters.
The CM said the cost of a meal will vary according to the price of food items available.
"If we provide rice, daal and other items for just Re 1 each, then the cost will be less," Gogoi said.
On the ongoing poverty debate, he said the state government will go by the Planning Commission's definition as it varies at different places across the country.
Earlier, Congress spokesperson Raj Babbar and Union Minister Farooq Abdullah, after triggering a huge controversy, on Friday expressed regret over their respective remarks that one can have food for Rs 12 and Re 1.
Babbar's regret came after the Congress distanced itself from his remarks and those of his party colleague Rashid Masood -- who said meals were available in Delhi for Rs 5.
Congress' Communication Department in-charge Ajay Maken had said, "We do not agree with Rs 12 and Rs 5 statement of some leaders."
The meal remarks made by Babbar earned widespread ridicule, with opposition parties dubbing these as "absurd", "foolish" and "illogical".