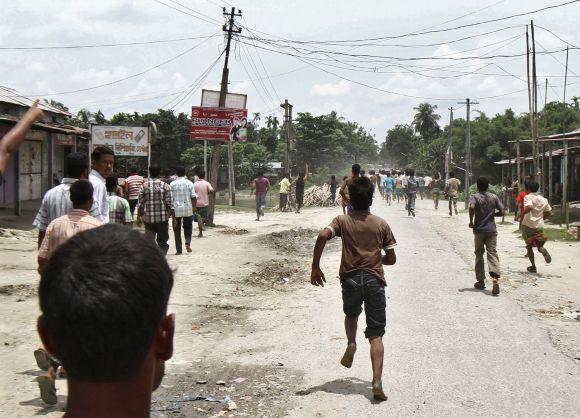 A college student, who was critically injured during protests demanding a separate Karbi Anglong state, succumbed to injuries in Diphu, even as curfew continues to be in force at a district headquarter town of Assam.
Rahul Signa, who died on Wednesday night, was critically injured along with 19 others in police firing during the violent protests demanding Karbi Anglong state following the announcement for a separate Telangana state, official sources said.
With no fresh incident reported on Thursday, patrol by the police and para-military forces continued and the army was standing by here to assist the Karbi Anglong district administration, they said.
On Wednesday, the demonstrators belonging to Karbi Students Association, Karbi Riso Adorba and other organizations attacked the residences of Congress MP Birensing Ingti, MLA Bidyasing Engleng, Council's CEM Joyram Engleng and four of its executive members, damaging their property.
The district administration imposed indefinite curfew in Diphu and called in the army to assist them. Meanwhile, normal life was hit by a 10-hour Dima Hasao district bandh called by the Hills State Democratic Party on the same demand.
Markets, shops, educational institutions, business establishments, offices, banks, post offices, remained closed and traffic was off the roads, as the bandh was observed peacefully, official sources said. The bandh was called by the regional political party to demand a separate state in the hill districts of Dima Hasao and Karbi Anglong on the lines of Telangana.
The party has also called a 100-hour bandh in the two hill districts from August 5.