Readers have responded resoundingly to our invitation to congratulate the ISRO team for Chandrayaan-3's successful Moon landing.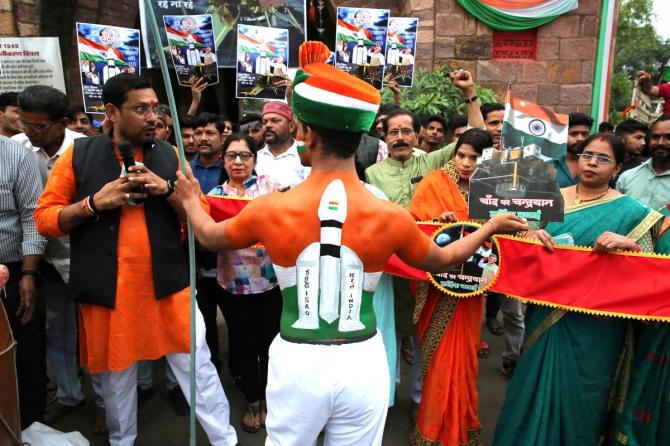 Dear ISRO Team,
Our heartiest Greetings on your successful operation of Chandrayan-3 and its smooth landing on Moon
Its really big achievement for our country
We are very proud of you and your this successful mission
I convey our greetings and best wishes for future space missions also on behalf of our whole group
Vimal Prakash
---
Dear ISRO Scientists and All Associated with Chandrayan 3

Hearty Congratulations to our Scientists and All Associated with Chandrayan 3 on the successful mission of Chandrayan 3 Landing on The Moon. They made our nation Proud and We are Proud of Them.
Salute to each and every Member of "Team ISRO"

Wishing Success in all future Endeavours

Krishna Kumar G
---
To the Team at ISRO:

Congratulatons on the success of Chandrayan 3.
Gita Ramani
---
Dear ISRO Team,
Heartiest congratulations on the outstanding success of Chandrayaan-3's historic lunar landing! Your dedication, hard work, and unyielding determination have once again showcased India's prowess in space exploration on a global stage.
This remarkable achievement is a testament to the brilliance and innovation of the entire ISRO family. Through meticulous planning, relentless perseverance, and cutting-edge technology, you have overcome numerous challenges and successfully placed Chandrayaan-3 on the lunar surface. Your accomplishment not only fills our hearts with pride but also inspires the world to reach for the stars.
The precision and expertise demonstrated during this mission highlight India's position as a leading player in space exploration. Your tireless efforts have expanded humanity's understanding of the Moon, unlocking new frontiers of knowledge that will undoubtedly shape future scientific endeavours.
As you celebrate this incredible milestone, remember that your accomplishments extend far beyond the boundaries of our planet. You have ignited the imaginations of countless individuals, encouraging them to dream bigger and aim higher. The impact of your work will resonate for generations to come.
Once again, congratulations on this monumental achievement. The entire nation stands in awe of your dedication, brilliance, and unwavering commitment to pushing the boundaries of space exploration. Here's to the success of Chandrayaan-3 and to many more awe-inspiring missions in the future!
With heartfelt admiration and warmest wishes,
PARITOSH BAIJAL
---
hello isro,
i take this opportunity to express my gratitude & congratulate the entire team for etching our country's name at a place where no other country on this planet has done so far. you are a living example of 'passion personified'.

praveen kumar
---
Congratulations
Shaon
---
Respected Hon. Prime Minister of India
Shri Narendra Modi Ji
and
ISRO Chairman Shri Dr S Somnath Ji
Many Congratulations on this achievement of Chandrayaan 3 successfully landing on moon.
I can't thank you enough for this fabulous and fantastic achivement of Team ISRO.
I am so so Proud as an Indian today.
Every article that i am reading on Chandrayaan 3 success or watching TV news... Believe me... I am choking in my throat and with tears in my eyes for the ecstatic feeling of being on top of the world.
I sincerely Thank, Team REDIFFMail for giving this email window to congratulate and write a
Thanks giving msg to Team ISRO.
Love to All at ISRO
BHARAT MATA KI JAI
VANDE MATARAM
JAI HIND
vinayak padiyar
---
Chandrayan- 3 Mission is the success of science and of everyone involved in the development of India's space technologies over decades of research work, and we should not miss out the persons who carried Indian rocket on a bicycle, in the Nano-stage of Indian Space Programme. Today's success is on the foundation that was laid in the initial stages, and our technocrats have taken the mission forward successfully. A stupendous achievement for science.
Govind S Poteker
---
Successful soft landing of Chandrayaan 3 proved many points, I will mention three of them:
Indian Stretchable Time is now Indian Standard Time. ISRO ensured Chandrayaan -3 maintain all schedules with razor sharp accuracy. 6.04 pm came at 6.04 pm only. Thanks ISRO for this confirmation.
ISRO is now India's Strongest Research Organisation. Not just for Space Science, across all disciplines of Science & Technology.
May this make ISRO as big and as mighty as NASA ! Commercial Success will ensure we get more students to go for Space Research now. Moon landing achieved, research will follow with rover pragyan. But we have Venus, Mars, and yes, Sun left..
Thank you ISRO for this re-affirmation that "OUR TIME HAS COME"
Kaushik Sinha
---
Hi All
Congratulations on the magnificent achievement. The whole world can now see Bharat's prowess from the Moon.
Bharat Mata Ki Jai
Kumar
---
Dear ISRO

My Heartiest congratulations to the ISRO Team for a land mark achievement of successfully landing "Chandrayan " on the moon surface.
Dsouza Percy Andrew
---
Respected Isro Team,
Congratulations on your achievemnt!
Your efforts and dedication has made India proud
manoj deshpande
---
CONGRATULATIONS ISRO AND CHANDRAYAAN-3 TEAM ON YOUR MAGNIFICENT ACHIEVEMENT.
TRULY YOU GUYS AND GALS DESERVE ALL THE CREDIT AND NO WORDS SUFFICE TO EXPRESS THE HAPPINESS
AND JOY ON ACHIEVING THIS REMARKABLE FEAT.

A PROUD INDIAN.
Ranganath R
---
Dear Team ISRO,

Heartiest Congratulations on the stupendous success of Chandrayaan-3! You made us an inch taller today!!
Kunaal Gaikwad
---
Dear ISRO Team

My heartiest congratulations towards the success of Chandrayan-3 mission. We, Indian citizens proud about our Scientists & Team members of ISRO. Keep going.

S Krishnakumar
---
Congratulations to ISRO and whole of India on the successful moon landing!!!!
PRAMOD PUTTI
---
Heartiest Congratulations to the entire Chandrayaan 3 team and all the members of ISRO for the fabulous
work. We are proud of you.

Ramabhadran
---
FANTASTIC ACHIEVEMENT BY YOU ALL - WE ARE PROUD OF YOU!
Sudha Narasimhan
---
Congrats team Isro for achieving a remarkable feat and making all Indians proud.
Ajay Srivastava
---
Dear ISRO Team/Chandrayan-3 Team

I, on behalf of my company, SIM SADDLES congratulate you all on this great achievement...

In Sha Allah, we will go more farther in near future....

Once again congratulations you all....
Ikhlaq
---
MY HEARTY CONGRATULATIONS TO ALL THE SCIENTISTS OF ISRO WHO HAVE MADE INDIA PROUD.
CONGRATULATIONS TO ALL INDIANS!
CA S GANESH
---
Team ISRO,

You didn't give up - that's why today World is congratulating you ISRO on this achievement. Very proud, and I don't forget this day!
H Rahman
---
Dear ISRO,
Chandrayaan landed on moon successfully, because ISRO people never works for salary, They just dedicted their work for nation.
vijay Pillai
---
Good Moon Day,

Congratulations to all ISRO team and all the Indians and Global Teams who supported Chandrayaan 3 mission landing on Moon's South Pole,SUCCESSFULLY.

A magnificent achievement for man and mankind's future.
Rajeshwar Balkrishna Pednekar
---
Congratulations ISRO and team for successful landinding on moon mission of chandrayan 3.we are proud of you for achievements of space mission and joining the elite club.Best wishes for successful future प्रोजेक्ट्स.
Dilipkumar Shah
---
Big congratulations to ISRO and India. This is huge huge success for all proud Indian. We look forward for many such success in coming days and years. Hats off to ISRO Scientists - you have achieved huge success.
Gaurav Patel
---
Hearty Congratulations to Team ISRO, you have made INDIA proud.

Pradeep N Tailor
---
MERA BHARATH MAHAAN....

Congratulations to ISRO, all the past and present scientists , great Prime Ministers including Pt. Jawaharlal Nehru, Indira Gandhi, Dr. M M S, Dr APJ Kalam and every true nationalist Indian....
Harsha Bhatt
---
Proud to be an Indian .
Anthony Gonsalves
---
Congratulation to ISRO and the Chandrayaan-3 team on their magnificent achievement
Sham Munavalli
---
Entire Team of ISRO has proud moment today to get success on soft landing on Moon today.Congratulations ISRO !
Best wishes

Bibhanshu Sekhar Choudhary
---
Congrats to the entire ISRO team and the family members of the team who made numerous sacrifices to achieve this historical moment.
JAI HIND.
Sriram
---
Dear Sir/ Madam
Please accept my heartiest congratulations to ISRO and the Chandrayaan team on your
successful launch mission to Moon.

You have made our nation proud and we are proud of you.

This is just a small beginning and am confident you will achieve lot more things in future.

Please have faith and belief in our ancient vedic scriptures and texts where
it is very clearly said that our Earth is just a small speck in this Universe and like our
solar system there are many galaxies where life exist.

We are not the creator of this world but let us atleast admire God for his creation.

thankyou

krishna subbanna
---
Dear ISRO Team,
Thanks for giving us Indians all over the globe the proud moment for this historical achievement.
Sarathi
---
Heartiest Congratulations to ISRO and all proud Indians on successful landing on the South Pole of Moon and achieving the first nation status to do so..
Well done everyone involved!
Vikas Pai
---
Congratulations ISRO, proud to be Indian.
Shanmugham Vijayanand
---
My Hearty Congratulations to India-ISRO Team and the entire Team of Chandrayaan-3. Nonthless to the Chandrayaan-1 & Chandrayaan-2 Team also as they have been instrumental for this Sucess
Krishna Mohan G
---
congratulations of successful landing of channdraan 3 on moon
Thanks and Regards,
Abhishek Makhariya
---
Really today is a great historic day for Indians. Heartiest congratulations to ISRO and the Chandrayaan-3 team for their sincere, dedicated and untiring efforts to land India on Moon.
Further I wish ISRO and Scientific communities for greater heights in future.
With Great Salute
Dr N K Singh