We had asked readers to congratulate ISRO on the stupendous achievement of landing on the Moon, and they were prompt in celebrating ISRO's, and India's, success.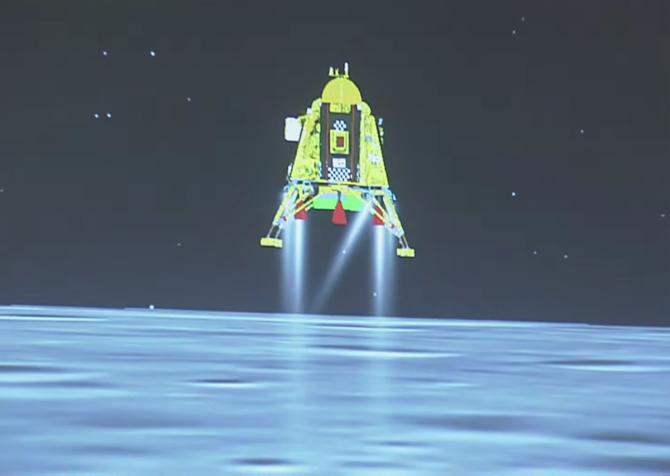 Congrats Team ISRO , God Bless you , God Bless India, We are all Proud of you, History has been written!!
Savio Anthony Dsouza
---
Hearty Congratulations to our Scientists on this successful Chandrayan 3.
They made our nation proud
Salute to each and every one of the team ISRO
Vijaya Kumar
---
Congratulations on best achievement chandrayaan3. India once again conquers the moon Best Wishes.
Govindraj
---
Congratulations ISRO
Sunny Awasthi
---
Congrats to Chandrayan - 3 project team and other ISRO scientists as well to bring Indian's dream to come true!

It is a small step for Indian space Scientists, but giant Leap for Entire Indian Scientific community!

Well done ISRO, we Indians really proud of you and this history of Landing in South Pole is ever celebrated as first of its kind
DR. V. SAMPATH KUMAR
---
Congratulations to Team ISRO on the successful landing of Chandran! Your dedication and hard work have taken us one step closer to unraveling the mysteries of the cosmos..India is proud of you.. thank you ISRO .. #ISRO #ChandranSuccess

Best Wishes
Manik Kumar
---
Chandrayaan 3 - More than a Billion Hopes & Dreams and you made it true. Unbelievable moment!!!
Heartiest Congrats to the extremely capable ISRO Team. Cheers!!!
Best Regards,
Ray
---
Hearty Congratulations on Chandrayaan-3 Moon mission
What a Great Achievements & Memorable Moments…
Once again Congratulation to Each & Every Person of ISRO Team…
God Bless to All.
With best regards
Balaji Krishna Murthy
---
Dear ISRO Team,
Many Many Congratulations on this historic achievement of soft landing on the Moon on the south pole. I salute your team of 16000 scientists who have worked tirelessly for years to make our nation proud.
Thank you.The nation is proud of you !!!
Nitin Bhardwaj
---
To the entire team of ISRO...
Thankyou from the core of my heart to make me feel proud of being an Indian by the successful landing of Chandrayan 3.
It's a privilege living in this era to see this happening, and history being made.
Looking forward to many more achievements and discoveries of the unknown mysteries of space and the universe.
JAI HIND.
Every ISRO member is a HERO!
Sanja Chawla
---
Dear Team ISRO,
My heartfelt congratulations to all the members of ISRO for their hard work & dedication which helped to make India only the fourth nation to land a module in the moon.
I wish them all the success for their future programs as well.
Ajith