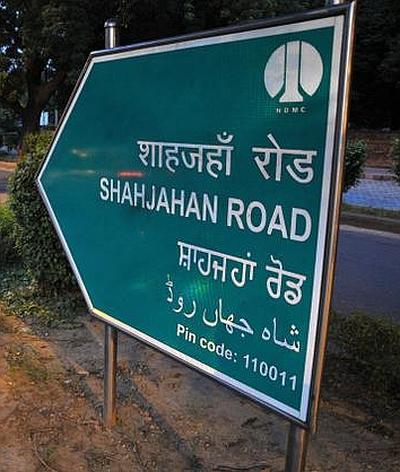 The Vishwa Hindu Parishad on Monday demanded that all roads and monuments named after Mughal emperors be re-christened, claiming that the country should not drag on with "signs of slavery".
The VHP's international secretary general Champat Rai backed the demand made by a Delhi Bharatiya Janata Party leader for renaming Shahjahan Road, while asking Muslims to show no affection towards Mughal emperors.
"Any proud community won't drag on with signs of slavery. What has been Aurangzeb, Babur, Humayun, Akbar or Shahjahan's contribution to this country? They have conducted atrocities and made people here their slaves," Rai said.
He said it will be good if these names are changed in a harmonious manner.
"More the delay, lesser harmonious it will be. Names, however, will be changed for sure... Changing the name is quite necessary," Rai told PTI, suggesting that the names of Mughal emperors be removed like those of Britishers.
Rai's comments came in the backdrop of re-naming of Aurangzeb Road after former President A P J Abdul Kalam. Last week, Delhi BJP spokesperson Ashwini Upadhyay had raised another demand that Prime Minister Narendra Modi issue order to rename Shahjahan Road as Dashrath Manjhi Road, claiming that the Mughal emperor was a "symbol of lust".
Rai, who recently had been to the US and the UK, also lauded the Modi government for "changing perception" about the country abroad. He claimed the steps taken by the government have helped improve ties with Bangladesh and Myanmar and have curbed any anti-India activities from their territories.
He also said that the VHP will come out with a book on the life of its leader Ashok Singhal on October 1 on his 90th birth anniversary. Rashtriya Swayamsevak Sangh chief Mohan Bhagwat will unveil the book, Rai said.