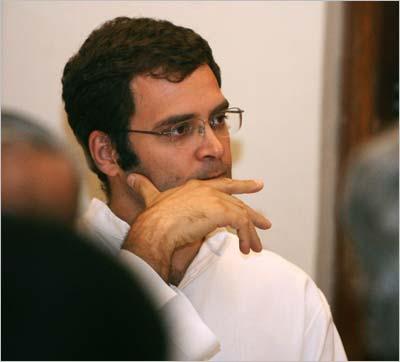 An opinion poll conducted by NDTV news channel has said a majority of those surveyed expressed satisfaction with the performance of Prime Minister Manmohan Singh, but nearly half felt Rahul Gandhi would make a better premier.
At least 44 per cent of the surveyed Indians felt that they were worse off under UPA II as compared to UPA I with the bulk of both Congress and BJP voters feeling "let down".
According to the opinion poll conducted by the channel on completion of first year of the UPA-II government, 41 per cent of Congress voters and 49 per cent of BJP voters felt they were worse off compared to the previous term of the UPA.
Giving their verdict on the performance of Manmohan Singh as Prime Minister in the last one year, almost 70 per cent of surveyed Indians expressed their satisfaction.
However, nearly half of the surveyed population felt Rahul Gandhi would make a better prime minister than Singh and a majority of 55 per cent people felt Rahul will be the next man in the post.
When it came to comparing Congress chief Sonia Gandhi with Manmohan Singh in terms of their influence, 63 per cent of the surveyed population considered her to be more powerful than Singh.
On the performance of cabinet ministers, 61 percent of the people covered by the opinion poll rated Home Minister P Chidambaram as a "high performer".
At least 67 per cent felt government should use the Army to fight Naxalites.
On Finance Minister Pranab Mukherjee, 59 per cent of applauded him but 62 per cent of the people felt they were very much affected by the inflation, according to the opinion poll.
Gujarat Chief Minister Narendra Modi was considered the best performing chief minister in the last one year with those surveyed giving him 85 per cent, just one per cent higher than Orissa Chief Minister Naveen Patnaik.
About Telecom Minister A Raja, a majority of the voting population in Tamil Nadu (57 per cent) believed he was guilty of spectrum allocation scam, said the opinion poll.
A sharply divided response came from Kerala voters on Shashi Tharoor's exit from the union ministry in the wake of the IPL controversy with 37 per cent voting in favour of his dismissal while an almost equal percentage felt it was a wrong action.
The response was also divided on what should be India's attitude towards Pakistan, with 39 per cent of the people believing that India can be friends with the neighbouring country while 35 per cent of them opining that India should fight Pakistan.
A majority of people (76 per cent) agreed with the verdict of capital punishment for 26/11 convict Ajmal Kasab.