Part I: The President has a quiet dignity about her
I have discovered that At Homes at Rashtrapati Bhavan broadly attract the following species of Dilliwallahs:
Serving bureaucrats and military officers. Virtually every secretary who heads a government department is present along with every officer above the rank of major general/air vice marshal/rear admiral. Plus, some of the most important diplomats in Delhi like Pakistan high commissioner usually attend.

Unlike the last At Homes I have attended, where most of the Cabinet stayed away, this event has leading ministers present -- Finance Minister P Chidambaram, External Affairs Minister Pranab Mukherjee, Defence Minister A K Antony... The Maharashtra brigade -- perhaps in deference to the Rashtrapati's origins -- is well represented too with Sharad Pawar, Shivraj Patil and Sushil Kumar Shinde there. The mantris are out of bounds for scribes, sequestered behind ropes.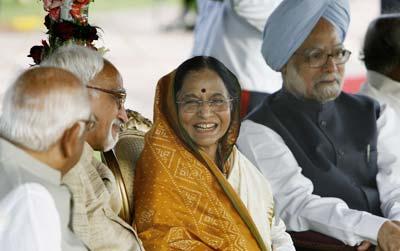 Many of them, one notices, are not happy about being confined to an area away from where the President's top guests (Vice-President Hamid Ansari and his wife who is dressed in a jazzy sari; the prime minister and Gursharan Kaur, Speaker Somnath Chatterjee, Chief Justice K G Balakrishnan, former prime minister I K Gujral, former First Lady Vimala Sharma and, of course, Sonia Gandhi who wears a beautiful black sari) are seated. Did A P J Abdul Kalam keep away because he didn't want to steal his successor's thunder, I wonder.
Many journalists claim they don't like attending an At Home, nevertheless they turn up almost in their hordes because for over an hour they get a rare opportunity to schmooze with the powers-that-be. Freed from their sarkari shackles, the babus have been known to lapse into unlikely candour, which translates into television headlines and countless front page stories.
This At Home, there is only one issue being discussed: Will the Left withdraw support to the government?
Folks close to the prime minister feel a compromise will eventually be found and the Left will back down from the stand-off on the India-US nuclear agreement. Neither Prakash Karat nor Sitaram Yechuri are present to shed light. Like BJP leaders -- not surprisingly, given their campaign against President Patil -- the Marxists too skip the event. The only Communist present is the normally voluble Doraiswamy Raja, but he is not saying much either.
Also present at an At Home are political fossils excavated from the caves of both disrepute and obscurity. You realise how obscure when you desparately try to fit a name to the face, fail and then discover on inquiry that the individual in question was once one of this nation's most powerful people. How disreputable you discover when guests look the other way or head quickly towards the refreshment table when they notice Messrs Unsavoury approach.
Former civil servants and retired military folk also find reaffirmation of their services to the nation at an At Home. In their best bandhgallas and jaunty jackets, medals gleaming on their breasts, they gather in small groups, catching up with each other and their former subordinates, now elevated to positions of influence and power. One notable guest at this At Home: General V N Sharma, who commanded the Indian Army in the late 1980s and stared down a military face-off with Pakistan in January 1990. General Sharma is a natty, dimunitive figure; in contrast, Lieutenant General Z U Shah, the army's vice-chief of the staff, is a tall, imposing personality, more daunting, I dare say, than his brother, the actor Naseeruddin Shah.

For me, like before, the most impressive soldier at the event is Arjan Singh, Marshal of the Air Force, the IAF's only five star officer. At 88, he still stands tall and resplendent in his IAF uniform, a man clearly of the old school. He is the first to leap to his feet and salute the serving chiefs and their wives, no matter that General J J Singh, Admiral Sureesh Mehta and Air Chief Marshal Fali H Major were young pups in the services when the Marshal led the IAF in the 1965 war and whose willingness to battle the enemy with customary dash and daring is the stuff of military legend.