The security for Prime Minister Narendra Modi was on Thursday breached by a boy who apparently broke through a barricade and rushed towards his car during a roadshow, ahead of the inaugural ceremony of the National Youth Festival in Karnataka's Hubballi.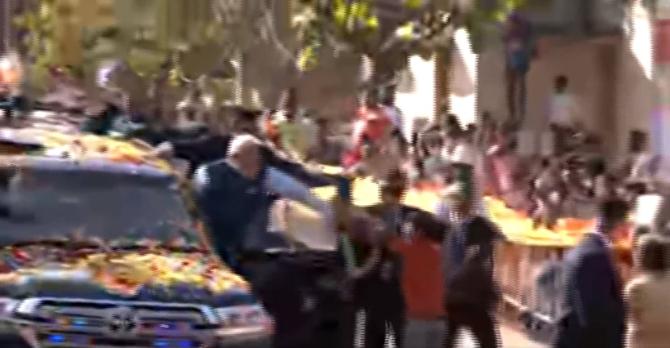 Modi was standing on the running board of his moving car and waving at an enthusiastic crowd that lined up both sides of the road as he was heading for the Railway Sports Ground from the airport when the incident happened.
The prime minister extended his hand to accept the garland but could not reach out to the boy.
Security officials accompanying him on the road got hold of the garland and handed it over to the prime minister who put it inside the car.
The police and traffic officials on duty immediately pulled the boy back and whisked him him away.
Along the route, Modi greeted by waving at the crowd, many of whom were seen chanting 'Modi, Modi' and 'Bharat Mata ki Jai' slogans.
At some places, people showered flower petals as his cavalcade passed through the stretch slowly.
Modi is in Hubballi to inaugurate the National Youth Festival on the occasion of the birth anniversary of Swami Vivekananda.
The Bharatiya Janata Party-ruled Karnataka goes to assembly polls by May this year.