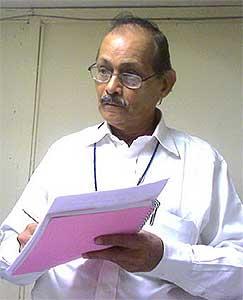 Jagdish Thakkar, retired officer of the Gujarat information service, has started attending the South Block office of Prime Minister Narendra Modi. The order to appoint him in the media department of the Prime Minister's Office will be issued soon.
It's believed that instead of mediamen like Sanjaya Baru, Harish Khare or Pankaj Pachauri, PM Modi will like to work with an information cadre officer who knows the rules of the game and the limits better.
The final shape of the media department will be known only next week.
Thakkar will be getting a modified designation instead of 'media advisor' -- as he essentially understands what PM Modi should NOT to talk to the media.
Thakkar, 76, has been Modi's media handler in Gujarat and is regarded a legend as he has been retained by all the chief ministers who have served the state in the last three decades.
Image: Jagdish Thakkar