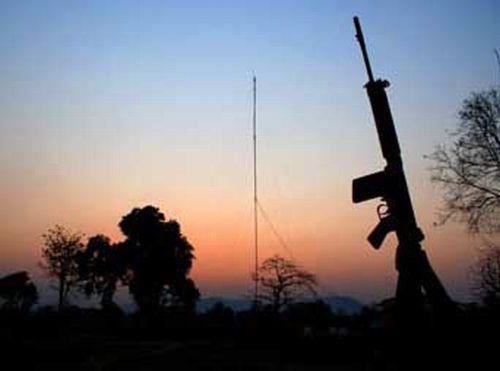 Prime Minister Narendra Modi will visit Naxal-affected Dantewada district of Chhattisgarh on Saturday to take stock of socio-economic development initiatives being taken there.
Two mega projects for setting up of ultra mega steel plant and second phase of Rowghat-Jagdalpur railway line will be inaugurated during Modi's visit, state government officials said.
The prime minister will be visiting an education city, aimed at providing education to under-privileged children living in the area. Modi will also be interacting with the students there, they said.
The education city spread across over 100 acres and built at the cost of approximately Rs 120 crore provides residential and classroom educational facilities.
It is estimated to serve almost 5,000 most deprived children of the region every year by providing them the opportunity to have quality education. Modi will also visit a livelihood college that has been imparting necessary skills to youths living in Dantewada region to help them get suitable employment opportunities.
Dantewada, a worst Naxal-affected district of Chhattisgarh, under Bastar region is rich in mineral resources, especially iron ore. The area has been witnessing Naxal attacks in the past.
A Memorandum of Understanding for setting up of the ultra-mega steel plant at Dilmili village in Dantewada, with a capacity of three million tonnes every year, will be signed during the Modi's visit.
Chhattisgarh will have direct investment of more than Rs 18,000 crore through this project. Over 10,000 people in the region will have direct and indirect employment opportunities through this project, they added.
Another MoU for second phase of railway-link between Rowghat and Jagdalpur will be inked during the prime minister's visit.
The 140-km rail link, to be constructed at a cost of Rs 24,000 crore, will connect Bastar region with important cities of the state such as Raipur, Bilaspur and Durg. The rail link will also help in easy and cheaper transportation of iron ore for industries.
These two projects are expected to rapidly help in socio-economic transformation of Bastar which is considered as backward region, the officials said.
A MoU for second phase of Rowghat-Jagdalpur line was signed earlier also but was shelved due to lack of funds. Later on the same day, the prime minister will visit
Naya Raipur to inaugurate Indian Institute of Information Technology and the police headquarters there. He will also lay foundation stone for construction of 40,000 LIG and EWS affordable houses for marginalised people in Naya Raipur.
Meanwhile, a multi-layered security blanket has been put in place in the strife-torn Dantewada district.
"Around 10,000 paramilitary forces apart from state's armed and special forces, involved in anti-Naxal operations, are part of the watertight security measures for the PM's visit in Dantewada," a senior state police official monitoring security arrangements told PTI.
Special Protection Group officials in coordination with the state police and paramilitary officials are dealing with security arrangements, he added.
As a precautionary measures, all the tribal weekly markets in the area have been shut down till prime minister winds up his tour to Dantewada while armed guards have been deployed at all the strategic locations, he said
Besides, patrolling has been intensified in the interior forest pockets and inter-state borders to check suspicious movements, the official added.
"A multi-layered security will keep a hawk eye at every programme venue of PM," he added. The Naxals have given two day 'Dandakaranya bandh' call on 8-9 May in support of their boycott to PM's visit.