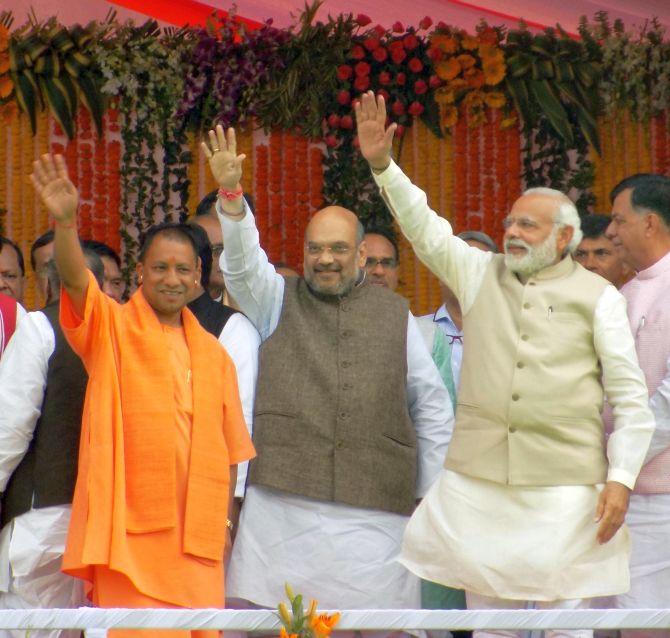 IMAGE: UP CM Yogi Adityanath, BJP president Amit Shah and PM Narendra Modi wave to the crowds after the swearing-in ceremony. Photograph: Sandeep Pal
As the Yogi Adityanath-led government took over in Uttar Pradesh, Prime Minister Narendra Modi on Sunday said the "sole mission and motive is development" of the state, in an apparent bid to allay apprehensions over the hardline Hindutva mascot becoming the chief minister.
Modi, while noting that Bharatiya Janata Party had formed the government in four out of five states that went to the polls recently, said, "Our unwavering efforts to create a 'Bhavya' (great) & 'Divya' (brilliant) Bharat (India) continue. India's Jan Shakti is powering the rise of a new & transformed India."
In a series of tweets just after attending the swearing-in ceremony of Adityanath and his council of ministers in Lucknow, the prime minister expressed confidence that the new government will work for "record development" for Uttar Pradesh.
"Congratulations to Yogi Adityanath Ji, Keshav Prasad Maurya Ji, Dinesh Sharma Ji & all those who took oath today. Best wishes for serving UP," he wrote.
"Our sole mission & motive is development. When UP develops, India develops. We want to serve UP's youth & create opportunities for them," Modi added.
The PM's insistence on development being the only aim of the Adityanath government appears to be an attempt to allay apprehensions that some quarters may have over the hardline Hindutva mascot taking over as the Chief Minister.
Adityanath, a five-term Lok Sabha MP, is known for his provocative speeches and never shies away from making controversial remarks, be it about Islam or Pakistan.
"I have immense confidence that this new team (led by Adityanath) will leave no stone unturned in making UP Uttam Pradesh (foremost state). There will be record development," Modi said.
In another tweet, the PM said, "With the blessings of people & hardwork of our Karyakartas the BJP has formed governments in 4 out of the 5 states that went to the
polls."
He added, "Our unwavering efforts to create a 'Bhavya' (great) & 'Divya' (brilliant) Bharat (India) continue. India's Jan Shakti is powering the rise of a new & transformed India."
MUST READS:
-- Yogi Adityanath: From controversy's child to UP CM
-- A mountain of challenges awaits new UP CM