Like Modi, Keshav Prasad Maurya worked at tea stalls.
Dinesh Sharma, on the other hand, is a professor at Lucknow university.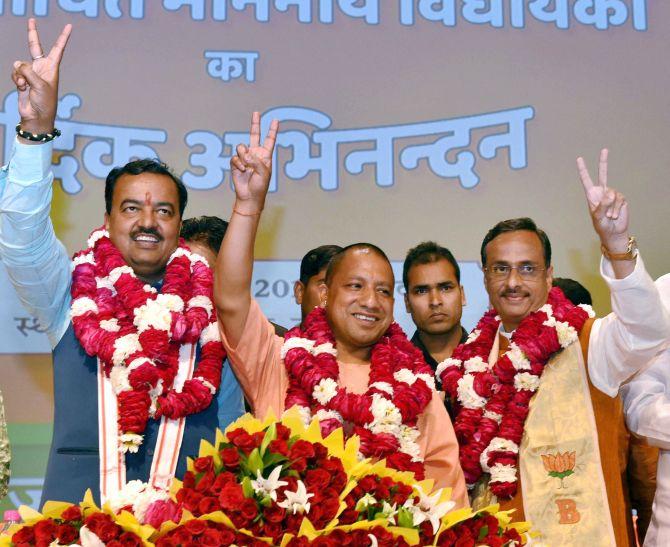 Keshav Prasad Maurya, named as one of Uttar Pradesh's two deputy chief ministers on Saturday, was rewarded for working tirelessly to galvanise support for the Bharatiya Janata Party on the ground, becoming the OBC face of the party in the state.
Representing Phulpur in the Lok Sabha, Maurya, 47, has seen his career graph rise steadily in the party.
He was said to be one of the top contenders for the chief ministership after the BJP's landslide victory in UP.
Associated with the Rashtriya Swayamsevak Sangh and the Vishwa Hindu Parishad from an early age, Maurya's life bears an uncanny similarity to that of Prime Minister Narendra Modi. Both, as young men from poor families, helped their fathers sell tea.
After becoming the first time MLA in UP assembly in 2012, he was made UP BJP chief in 2016 and had a role in the BJP securing three-fourth majority.
Born in a farmer's home in Kaushambi district, Maurya spent his childhood in poverty.
Like Modi, Maurya also worked at tea stalls and sold newspapers to support his family and continue education.
Maurya, too, takes pride in his childhood compulsion of serving tea to customers.
He considers it as a common thread that binds him with the prime minister.
As a minor, Maurya joined the RSS' Baal Swayam Sevak. Later, he was associated with the VHP and Bajrang Dal.
During his 12-year association with the VHP the Bajrang Dal, Maurya was considered close to VHP patron Ashok Singhal.
Known for his fiery speeches, he went to jail during the Ayodhya and Gau Raksha (Save Cow) movements.
Maurya was elected to the UP assembly in 2012 from the Sirathu seat in Allahabad. In 2014, he contested from Phulpur, once Jawaharlal Nehru's constituency.
The BJP won considerable support from non-Yadav OBCs and non-Jatav Dalits in UP during the Lok Sabha elections.
The voting pattern prompted the BJP to replace Lakshmikant Vajpayee, the architect of the UP miracle for the BJP, with Maurya, who belongs to an OBC sub-caste.
Maurya went about consolidating the support base among non-Yadav OBC caste categories. He appointed BJP leaders belonging to the Kushwaha, Koeri, Kurmi, Shakya, Patel and other OBCs as district unit chiefs across Uttar Pradesh.
Maurya is the only BJP leader after former UP chief minister and present Rajasthan Governor Kalyan Singh who wields considerable support among OBCs and Dalits.
****
Dinesh Sharma: A slow and steady rise
For Dinesh Sharma, Lucknow's affable mayor, it was a slow and steady rise.
The 53-year-old professor at Lucknow university's commerce department emerged on the centre stage of BJP politics with his appointment as its national vice-president in August 2014 after the party's landslide victory in the parliamentary polls.
It was after he was appointed in charge of party affairs in Gujarat that his stature in the BJP grew immensely.
He won Prime Minister Narendra Modi and BJP President Amit Shah's trust during his stint in their native state.
Party insiders say ever since a godman presented him a garland with a blessing that the 'red beacon' will never leave him, he became Lucknow mayor for a second term.
He was first elected as mayor in 2008. He stood for re-election in 2012 and defeated Neeraj Bora of the Congress by 171,000 votes.
Sharma has the backing of the RSS. Deen Dayal Upadhaya, the late Sangh ideologue, often visited his parental home in Lucknow.
Religious by nature, Sharma's ascent to the deputy CM's post is considered a move that could prove beneficial for the party in the 2019 Lok Sabha polls.
It was at his invitation that the prime minister attended the Lucknow Ramlila in October 2016.
He also played a key role in the organisation during its membership drive when 100 million new members were roped into the party.
IMAGE: Yogi Adityanath, centre, flanked by Keshav Prasad Maurya, left, and Dinesh Sharma in Lucknow, March 18, 2017. Photograph: Nand Kumar/PTI Photo