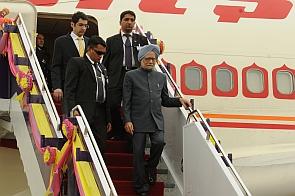 Rediff.com's Vipin Vijayan, who is travelling with Prime Minister Manmohan Singh, says India will make efforts to elevate relations with Thailand to a strategic partnership.
Prime Minister Manmohan Singh arrived in Thailand , considered as the bridge between South and South East Asia, on Thursday.
Dr Singh was received by Thailand's Deputy Prime Minister Yukol Limlamthong and his wife and Agriculture and Cooperatives Minister Suwattana Limlamthong. Accompanying the PM, is External Affairs Minister Salman Khurshid.

During his meeting with his Thai counterpart Yingluck Shinawatra, Dr Singh will review the development of existing cooperation as well as explore new areas where both countries have mutual interests. However, top priority on the list will be extradition treaty between the two countries, which is expected to be signed later in the day.
The two countries had in January 2012 signed an agreement for the transfer of sentenced persons when Shinawatra was in New Delhi as Republic Day chief guest. The signing of the extradition treaty will assist both nations in effectively combating organised crime and terrorism.
Dr Singh and Shinawatra will also discuss defence cooperation, science and technology projects, Free Trade Agreements, educational and cultural cooperation, and evaluate the progress of the trilateral highway project involving India, Thailand and Myanmar.
India will look to elevate relations with Thailand to a strategic partnership, based on shared values of democracy and respect for human rights and shared interests in promoting sustainable growth and development.
In a statement, the Thai foreign ministry said the frequent exchanges of high-level visits reflect the closer relations between the two nations as well as the 'Look West' policy of Thailand and the 'Look East' policy of India respectively.

The visits aim to strengthen further bilateral cooperation in all areas, especially in trade, investment and tourism as well as enhanced connectivity between Thailand and India and between Southeast Asia and South Asia. This closer cooperation should also benefit regional and global ties on issues of shared interest, from food and energy security to sustainable development, it added.
This is the first official visit to Thailand of Dr Singh, who has visited the nation twice before, to attend the 1st BIMSTEC Summit in 2004 and the 15th ASEAN Summit in 2009.