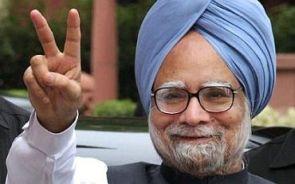 India's ties with Thailand will get a further boost with Prime Minister Manmohan Singh's visit in Bangkok next week, but the long awaited FTA will not be signed during the trip aimed at elevating bilateral relations into a 'strategic partnership'.
"The bilateral meeting reflects the desire of the two sides to elevate Thai-Indian relations to a strategic partnership, as announced in January last year, based on shared values of democracy and respect for human rights and shared interests in promoting sustainable growth and development," the Thai foreign ministry said in a statement.
These frequent exchanges of high-level visits reflect the closer relations between the two nations as well as the 'Look West' policy of Thailand and Look East Policy of India respectively, the statement said ahead of Singh's two-day visit from May 30.
Earlier, Indian Ambassador to Thailand Anil Wadhwa had said that "Thailand is keenly looking forward to this visit."
Wadhwa said Singh's visit will be first time by an Indian premier after the 2004 visit by the then Prime Minister Atal Bihari Vajpayee.
"Geo-politics, the trilateral highway project involving India, Thailand and Myanmar, defence, science and technology, education and culture, are some of the issues which will be discussed by the premier and his Thai counterpart Yingluck Shinawatra," the envoy told PTI.
Yingluck has already visited India twice once as chief guest at the Republic Day last year and later for the ASEAN India commemorative summit to celebrate the 20th anniversary of the India ASEAN dialogue last December.
Process to ease the consular access and visa procedure and tourism related to the Buddhist circuit are also expected to be covered in the bilateral talks. Thailand is a Buddhist majority country.
Wadhwa said a slew of MoUs covering space, extradition, IT, education, Financial Intelligence Units for money laundering were also scheduled to be inked during the visit.
The long awaited Free Trade Agreement between India and Thailand will not be initialled this month. While most issues have been agreed upon some still have to be mutually agreed upon.
"We are almost done for goods, service, investment. We have to now look into tech barriers to trade, sanitary and phytosanitary measures which Indian wants and Thailand has agreed to look into," Wadhwa said.
The Thai foreign ministry said that the visits aim to strengthen further bilateral cooperation in all areas, especially in trade, investment and tourism as well as enhanced connectivity between Thailand and India and between Southeast Asia and South Asia.
It said this closer cooperation should also benefit regional and global cooperation on issues of shared interest, from food and energy security to sustainable development, the statement added.
A strong joint statement covering the fast growing ties will also be issued at the end of the visit.
Bilateral trade has multiplied six times since 2002 to reach USD 8.68 billion in 2012 and is expected to touch USD 14 billion by 2014.
India is Thailand's top trading partner in South Asia.
Thailand has invested USD 103.61 million in India (April 2000-December 2012) mainly in infrastructure, real estate, food processing sectors, hotels, hospitality sector, Electronics and Automotive components sector. While Indian FDI into Thailand is around USD 2 billion since 1970s.