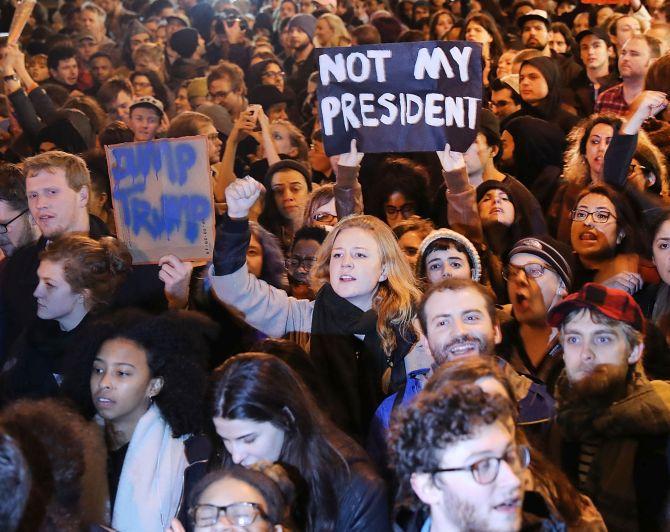 Hundreds of thousands of people took to the streets across the United States to protest against Donald Trump's victory in the presidential polls, slamming him for his bigotry and racism, as they demonstrated against his electoral pronouncements on immigration and Muslims.
People from all ages, faiths and nationalities assembled at landmark locations in New York, Chicago, Philadelphia, Boston, California, Colorado, Seattle and other cities protesting against Trump, barely a day after he registered a stunning presidential victory against Hillary Clinton.
The protesters held a multitude of placards expressing their resentment for Trump through slogans such as 'No more Hate' and 'Not our President'.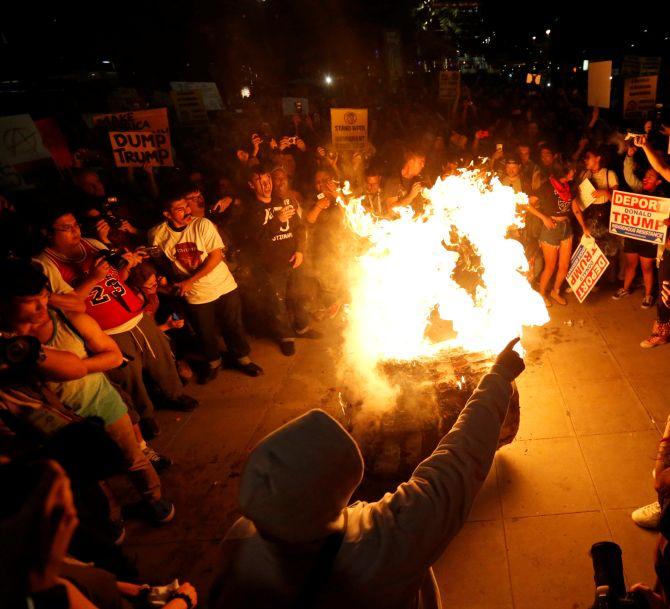 A Donald Trump pinata is burned by people protesting the election of Republican Donald Trump as the president of the United States in downtown Los Angeles, California. Photograph: Mario Anzuoni/Reuters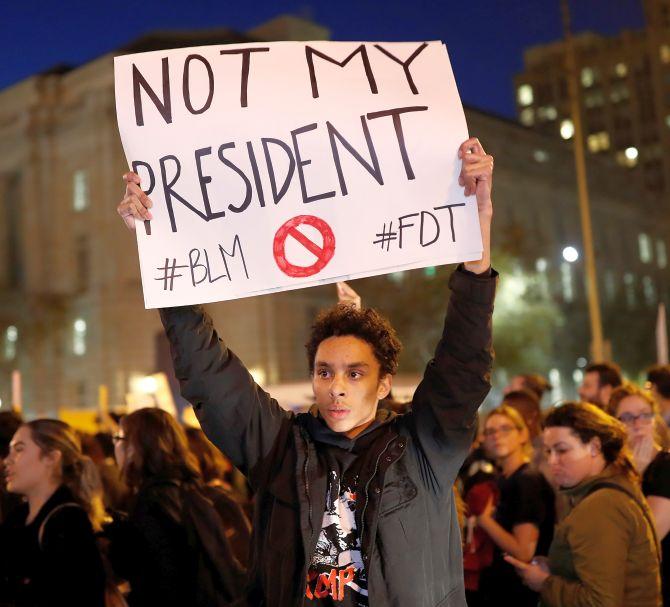 A demonstrator holds a sign during a protest in San Francisco, California. Photograph: Stephen Lam/Reuters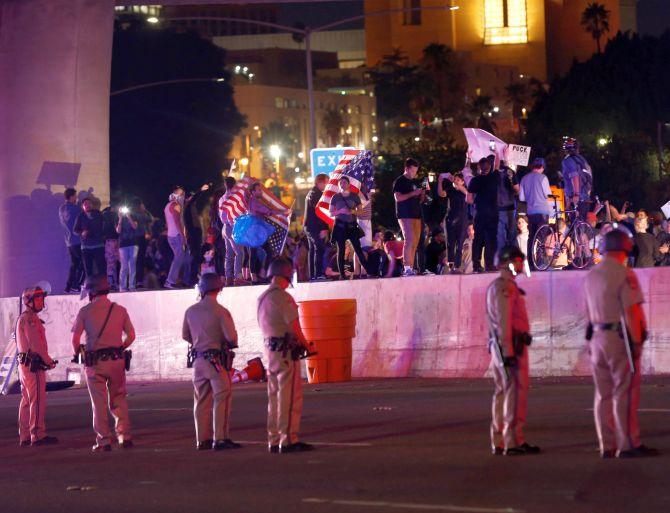 Demonstrators take over the Hollywood 101 Freeway in protest against the election of Donald Trump in Los Angeles, California. Photograph: Mario Anzuoni/Reuters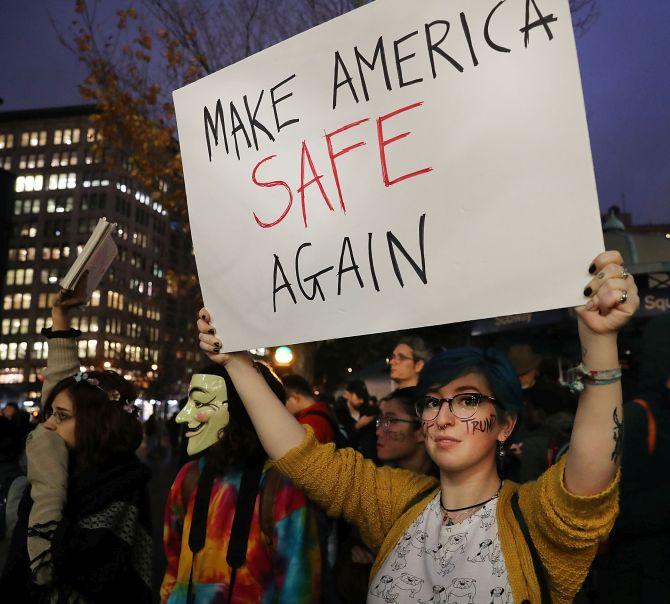 Anti-Trump protesters gather in a park as New Yorkers react to the election of Donald Trump as president of the United States. Photograph: Spencer Platt/Getty Images
People climb a pole on Fifth Avenue outside Trump Tower during protests following President-elect Donald Trump's election victory in Manhattan, New York. Photograph: Andrew Kelly/Reuters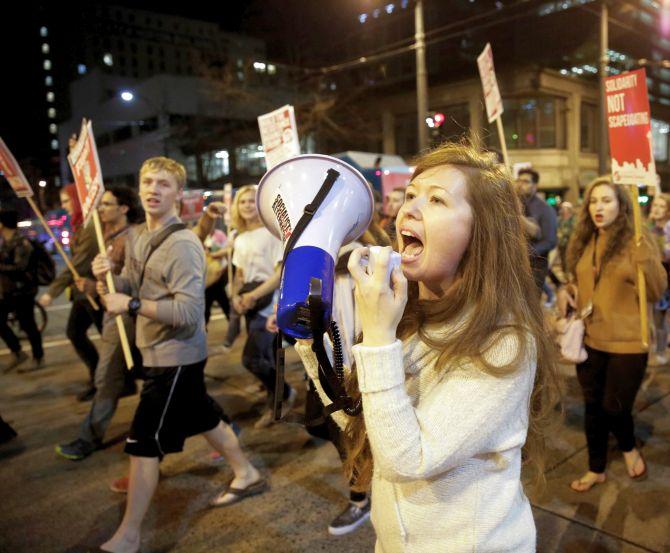 People march in protest to the election of Republican Donald Trump as the president of the United States in Seattle, Washington. Photograph: Jason Redmond/Reuters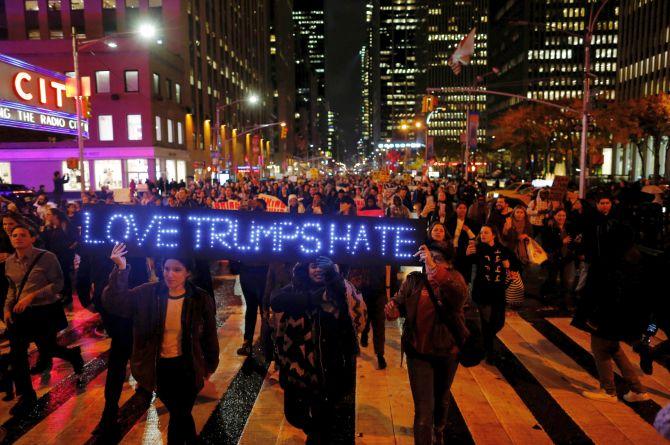 Protesters try to reach Trump Tower during a march against Republican president-elect Donald Trump in the neighbourhood of Manhattan in New York. Photograph: Eduardo Munoz/Reuters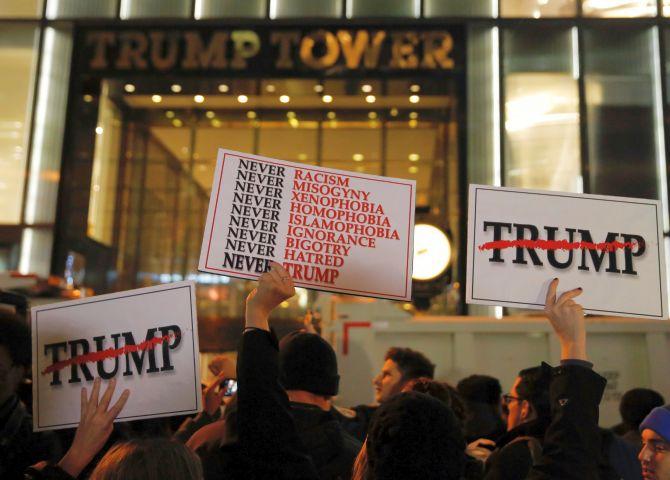 Demonstrators hold signs outside Trump Tower during a protest march against Donald Trump in Manhattan. Photograph: Andrew Kelly/Reuters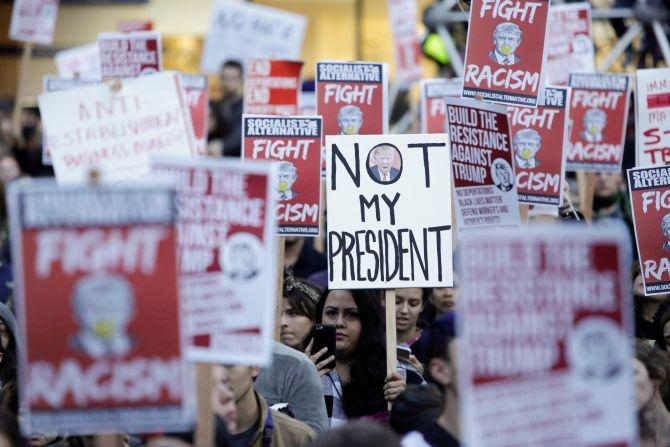 People in Seattle, Washington carried not my president and fight racism placards during the anti-Trump protest. Photograph: Jason Redmond/Reuters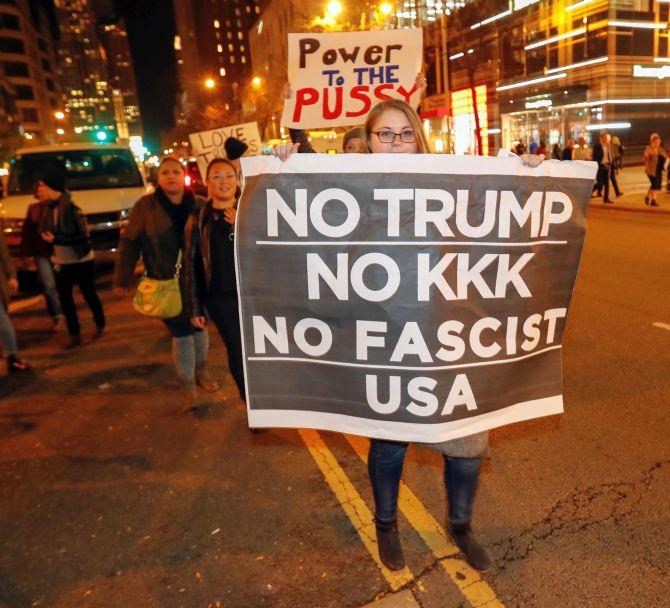 Protesters in Chicago, Illinois also carried out a rally to protest the shocking results of the elections. Photograph: Kamil Krzacznski/Reuters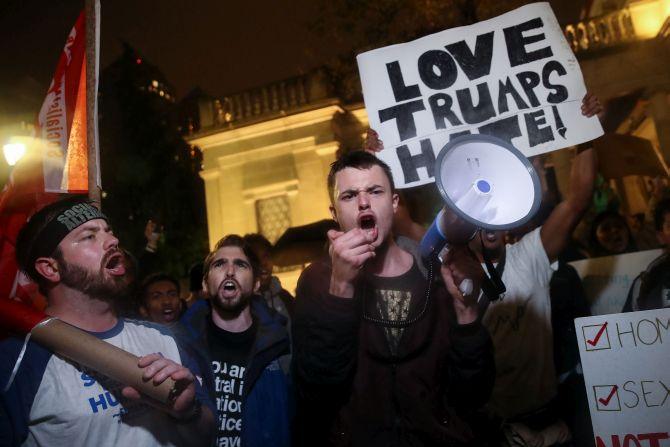 Love Trumps Hate was one of the many placards that protesters carried out in Union Square in New York. Photograph: Drew Angerer/Getty Images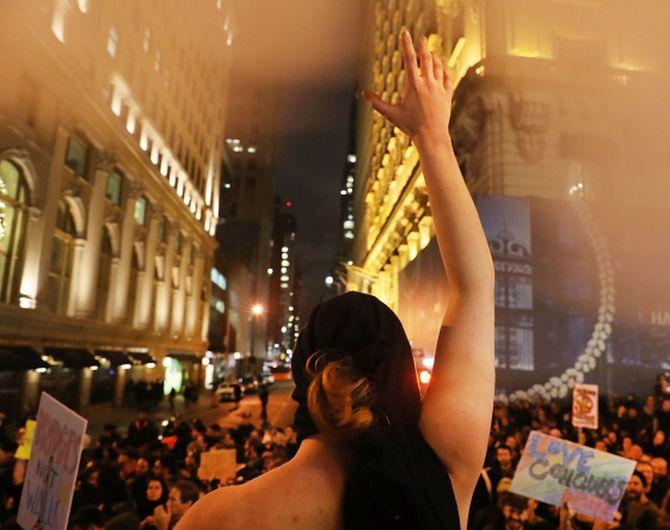 Women in large numbers took part in the rally. This was the chance for women in America to break the glass ceiling and finally elect a woman president in Hillary Clinton. Photograph: Drew Angerer/Getty Images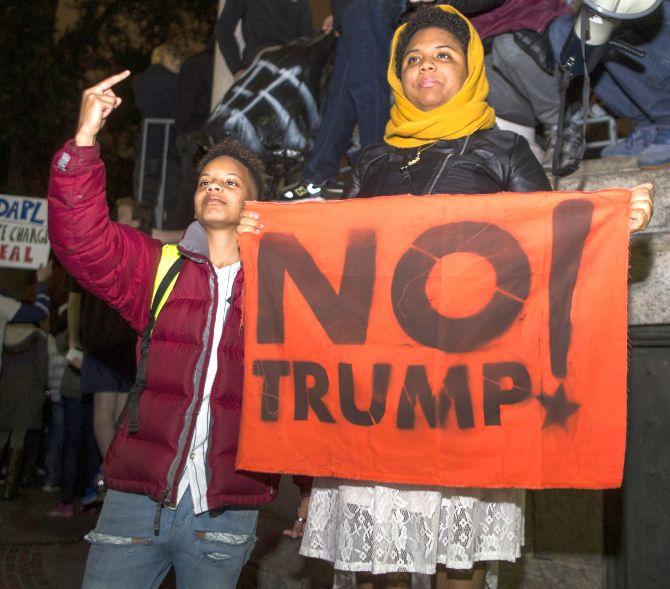 Protesters in Boston flashed their middle finger and carried placards saying 'No Trump' to protest the Republican's victory. Photograph: Scott Eisen/Getty Images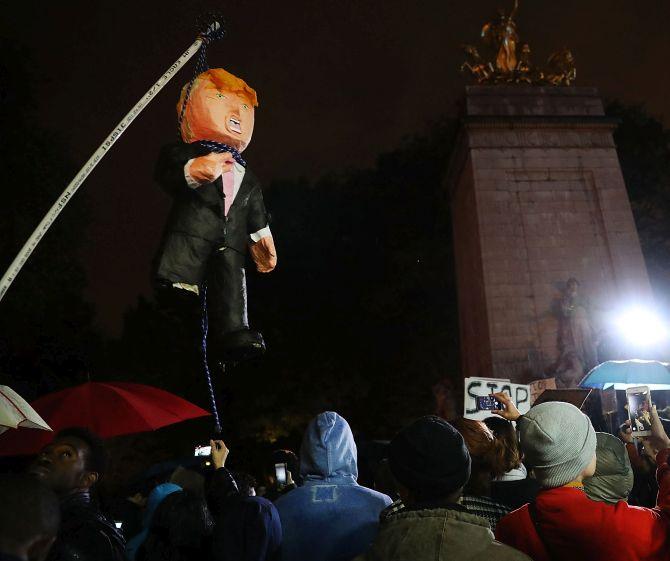 Thousands of anti-Trump protesters shut down 5th Avenue in front of Trump Tower and hanged effigies of the president-elect as a form of expressing their discontent at the results. Photograph: Spencer Platt/Getty Images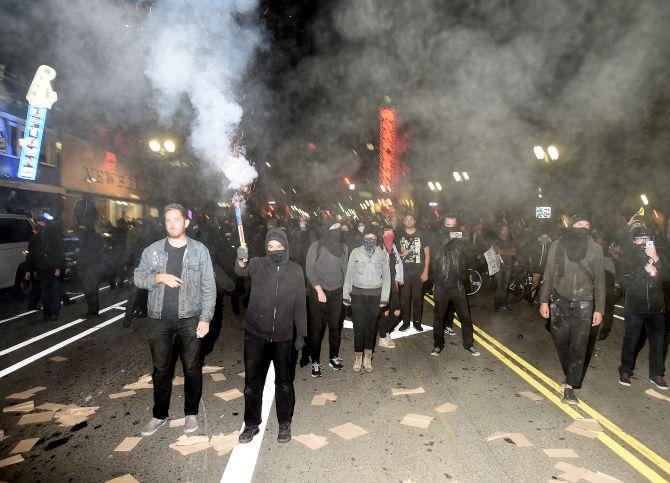 A protester shoots fireworks at police officers during rioting in Oakland, California. Photograph: Noah Berger/Reuters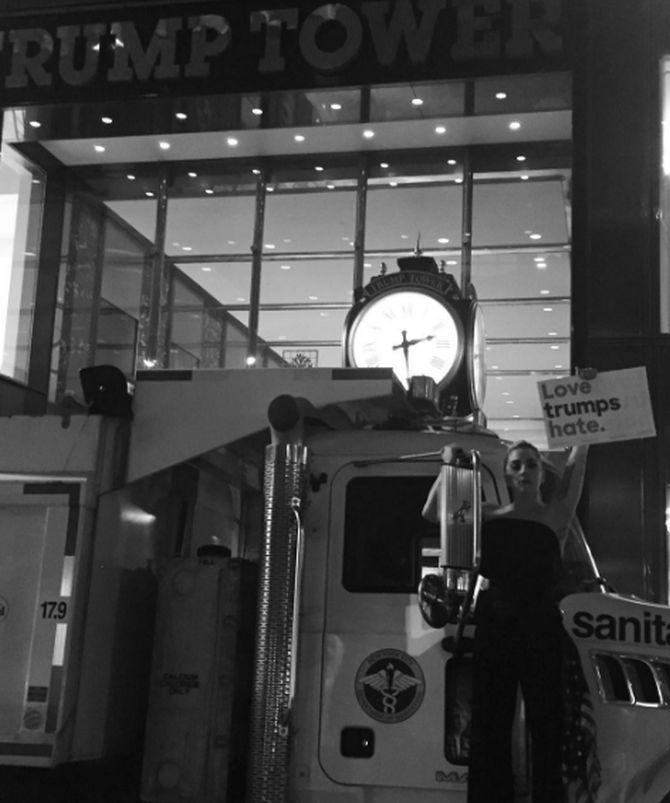 Pop singer Lady Gaga also participated in the protests. She held a Love Trumps Hate placard during the protest asking that love be given a chance. Photograph: Lady Gaga/Instagram