For nearly 60 hours in November 2008, Mumbai was under siege by 10 terrorists with sinister designs. Blood was shed, sweat flowed and tears rolled as the men in uniform flushed out the terrorists.
While a lot has been said of the valour of the Mumbai Police and the National Security Guard, very few people are actually aware of the crucial role of the railway police. When the 26/11 attack began, one of the first casualties was Railway Police Inspector Shashank Shinde who was gunned down at Chhatrapati Shivaji Maharaj Terminus trying to protect daily commuters. Many policemen from the Government Railway Police and Railway Protection Force were also injured in the attack.
Continuing with his tribute series -- the Unsung Heroes of the Country -- ace photographer Pravin Talan has come out with the first-ever Mumbai Railway Police Calendar 2017 that explores this lesser-known police force. (EARLIER: Mumbai Police Calendar 2017)
Also See: Mumbai's guardians
Scroll down to see Pravin Talan's tribute to the railway police.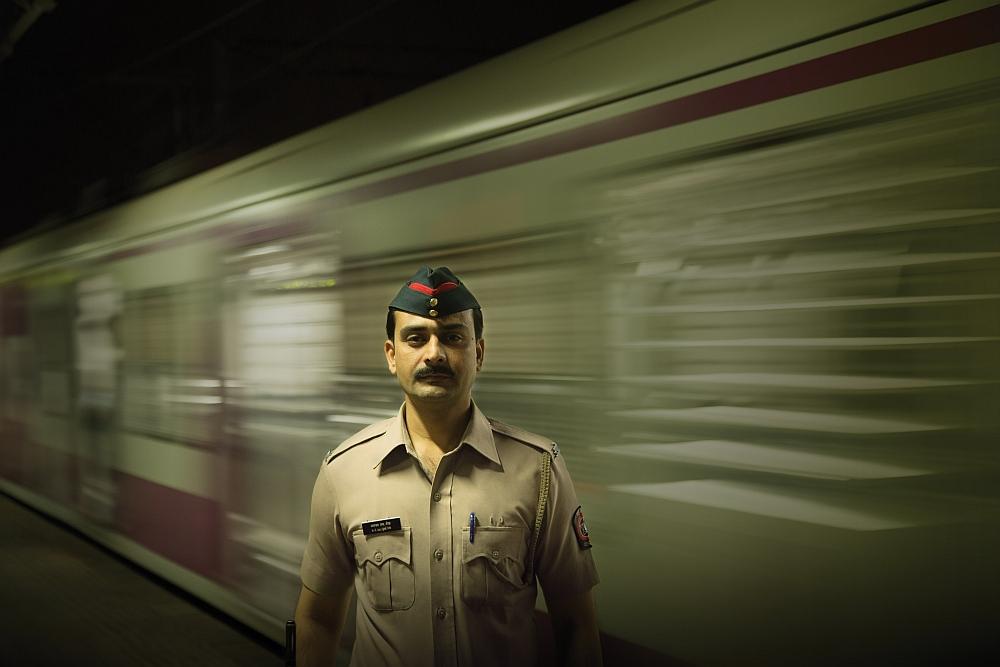 Man in the Uniform
Mumbai Railway Police Commissioner Niket Kaushik, who released the calendar, said that it was time GRP was brought out of the shadows and people would get a glimpse into the extent of their work.
Photograph: Pravin Talan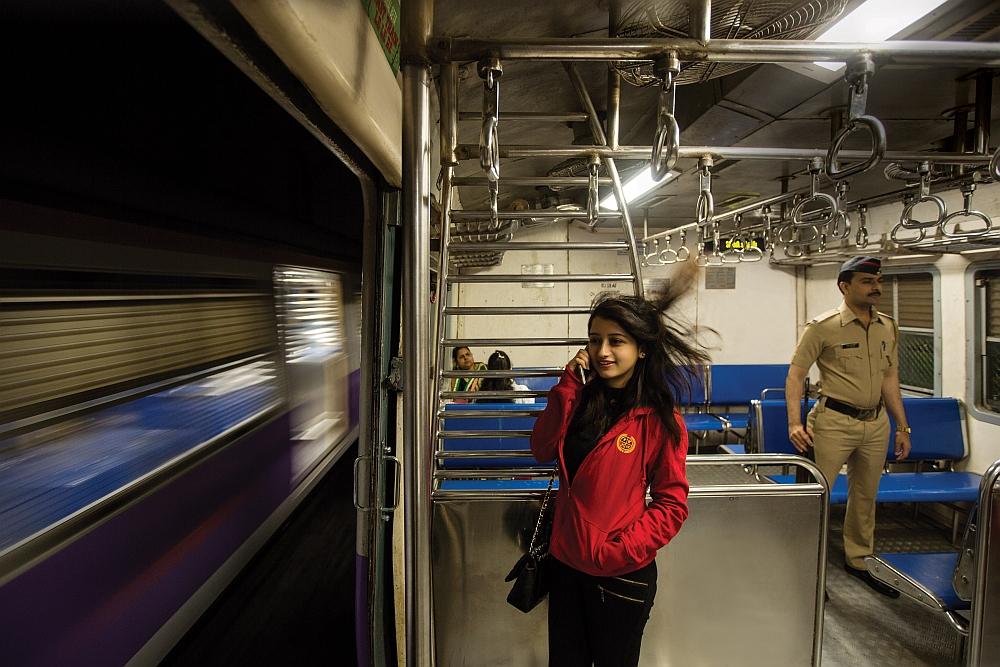 Always on Guard
The most striking aspect of the calendar is the way space has been artistically used to bring forth the daily duties of the railway police force.
Photograph: Pravin Talan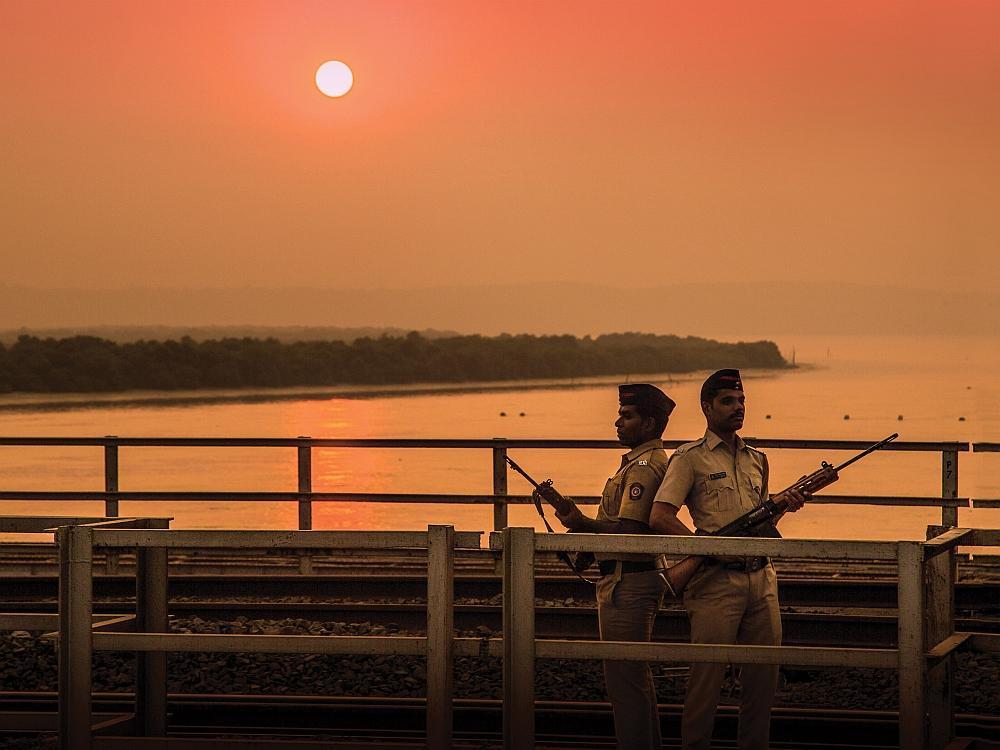 Geared for Action
Across the Bhayander Creek are two railway bridges that are considered highly important with as many as four tracks running; they are constantly guarded by the GRP. The calendar has been shot over a number of locations that include tracks, trains, tunnels, bridges and stations, and covers various popular as well as lesser-known spots in the Mumbai region while seamlessly blending art, heritage, structures, motion, emotions and duty.
Photograph: Pravin Talan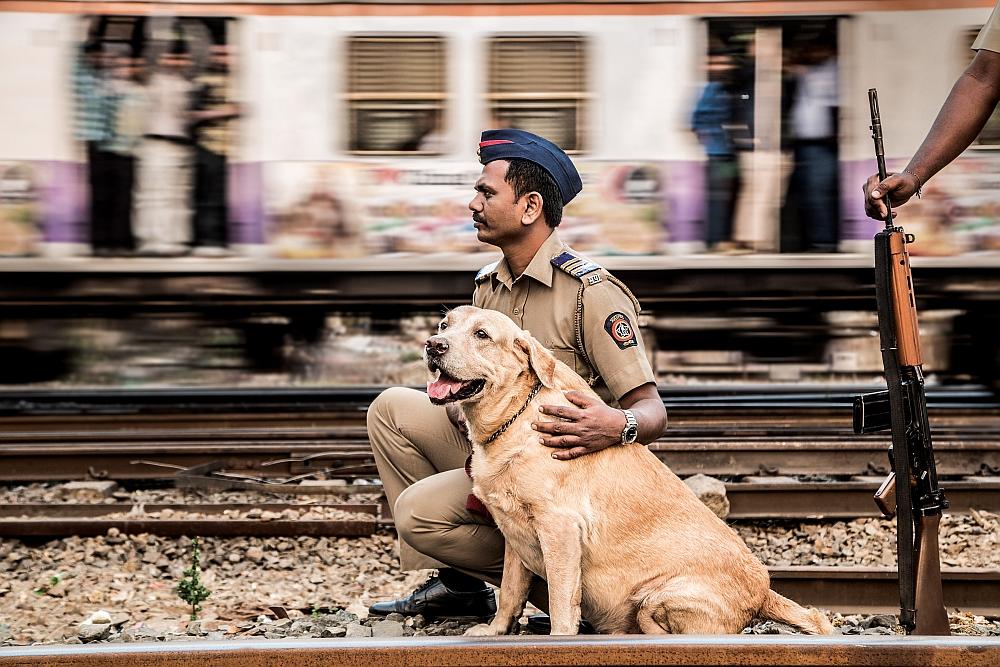 The Perfect Partner
The railway police ensures the safe travel of nearly 75 lakh suburban local train commuters and thousands of long distance train commuters.
Photograph: Pravin Talan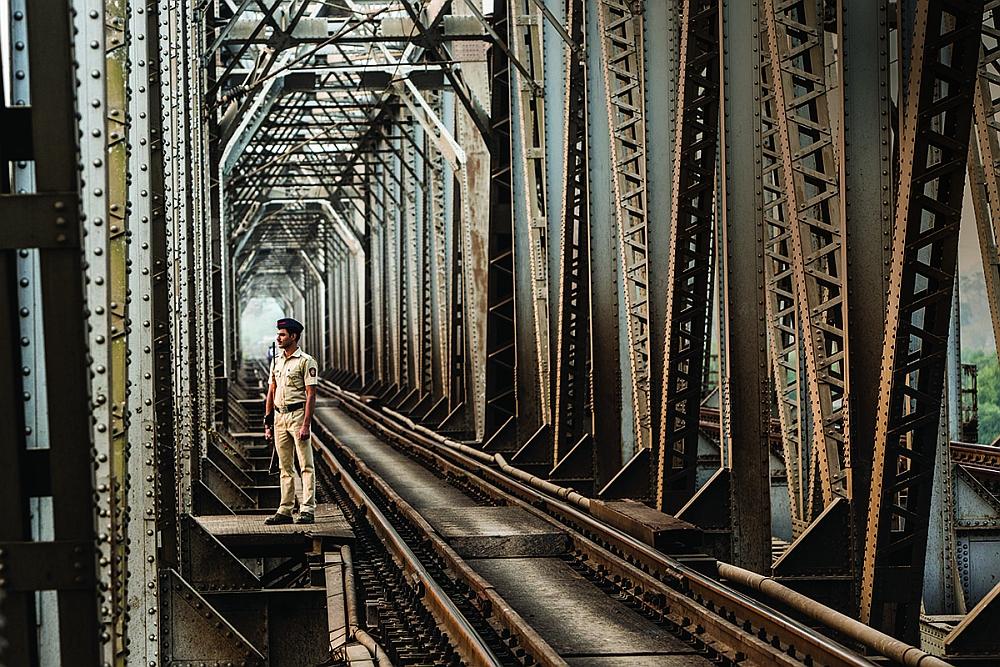 Iron-Willed
A GRP constable guarding the iconic structure on the Diva-Vasai route near Dombivali. Besides criminal investigation and their prevention, the force is also taked with maintaining law and order near railway assets, evacuating railway accident victims to hospitals and tracing parents of unclaimed children.
Photograph: Pravin Talan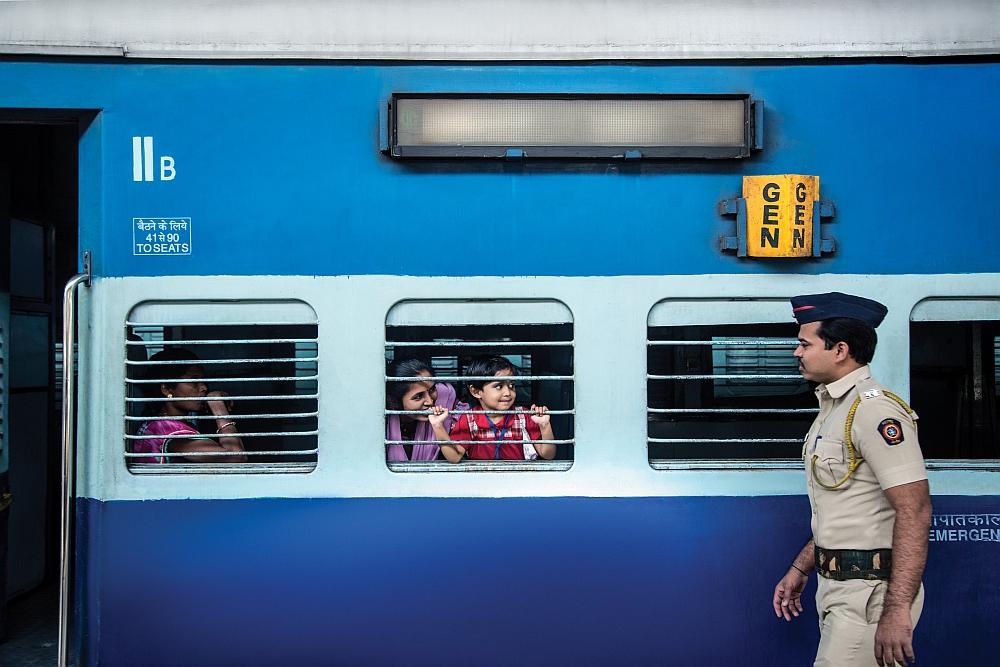 The Reassuring Face
A railway policeman's role is not just providing security, but also to instil a sense of comfort to the passengers. He needs to be strong yet not intimidating even if he is carrying a gun. In this photograph, taken at Mumbai Central, the child's curiosity on his approach and his light warm smile in response says it all.
Photograph: Pravin Talan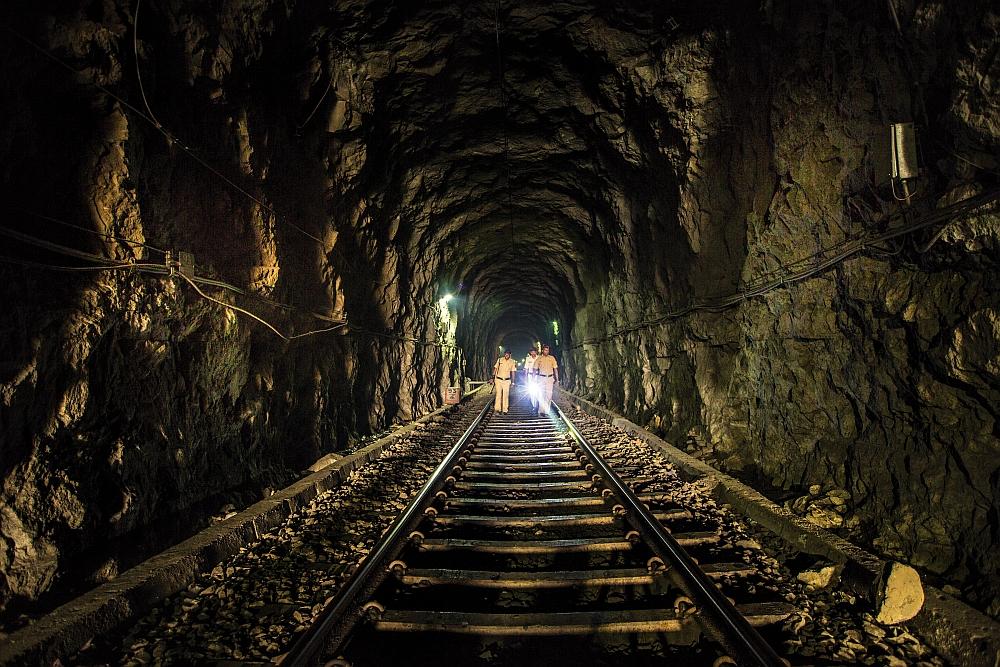 Light at End of the Tunnel
Railway policemen on routine rounds, checking for any miscreants at the tunnel near Karjat. Talan believes that being a good policeman is a job that is no less than extraordinary. This calendar is an insight into what makes the efforts of Mumbai Railway Police heroic, he says. The policemen cover hundreds of kilometers of railway tracks, preventing people from crossing over in the face of a speeding train, keeping a close watch on tunnels, bridges and other vital installations. An average of eight people were killed daily on railway tracks in 2016. Crossing the tracks was the leading cause of death. The number of deaths fell by 3 percent from 2015.
Photograph: Pravin Talan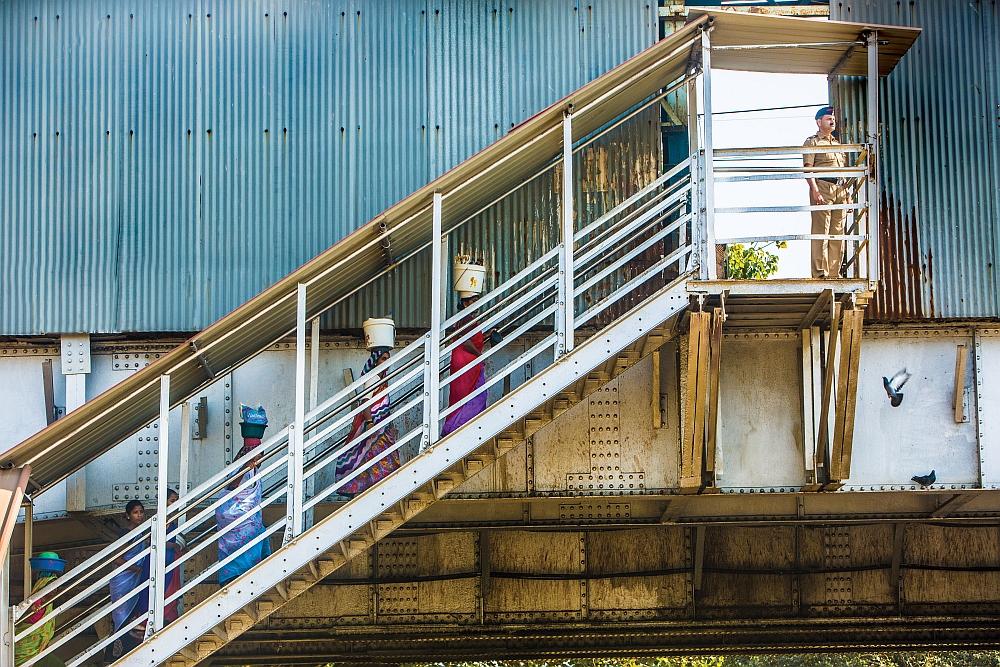 Standing Tall
Some of Talan's photographs include familiar locations such as Churchgate, Mumbai Central, Andheri, Sandhurst Road, Karjat and Turbhe stations, while some of the most memorable pictures on the calendar were shot on Bhayander Creek bridge, Thane's Parsik Hill tunnel and Kasara Ghat. This photograph was taken at Sandhurst Road station.
Photograph: Pravin Talan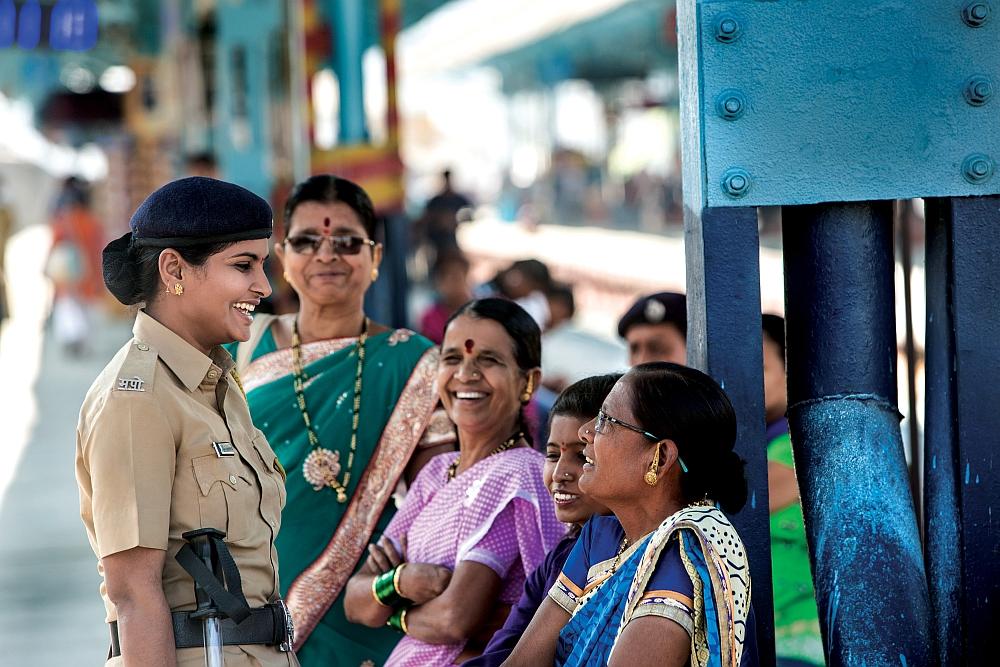 Human After all
Such lighthearted exchange of warm smiles between passengers waiting for the trains and GRP constables are a common sight at various stations. This photograph was taken at Karjat station. The calendar has policemen and women as central characters in most images, but Talan said he ensured that they were also seen in their primary function, staying in the background to secure coaches reserved for women, mingling with commuters at railway stations waiting to board trains, and in most cases -- simply being present.
Photograph: Pravin Talan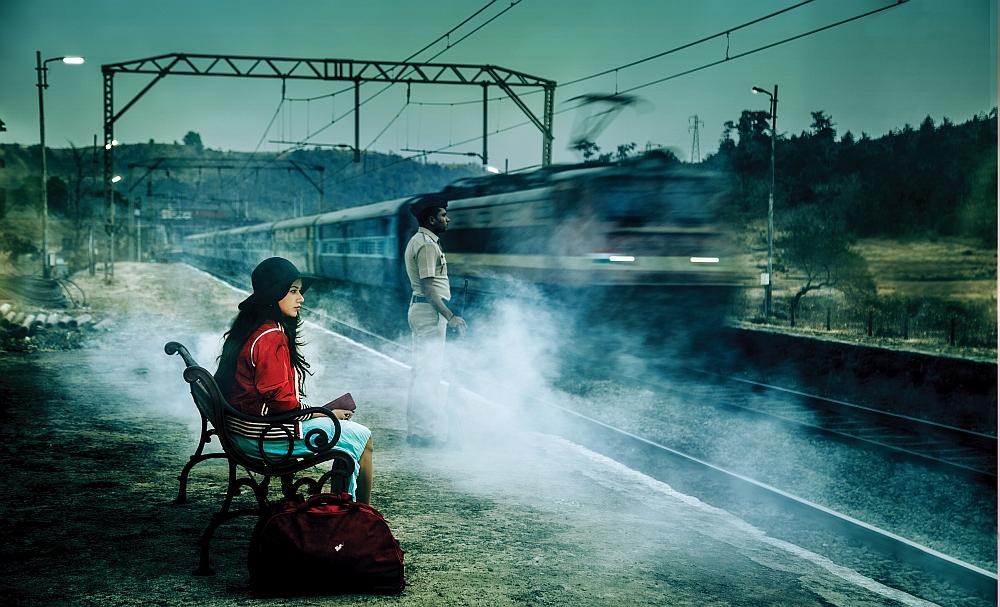 Watching Over
This photograph, shot at Umarmali Station, Kasara, shows a constable watching over a lone tourist at the remote railway station in early morning hours. According to Government Railway Police data, incidents of crime against passengers such as murder, rape, molestation, and theft decreased to 7,233 in 2016 from 7,335 in 2015. Despite the positive outcome, the GRP is expecting better results.
Photograph: Pravin Talan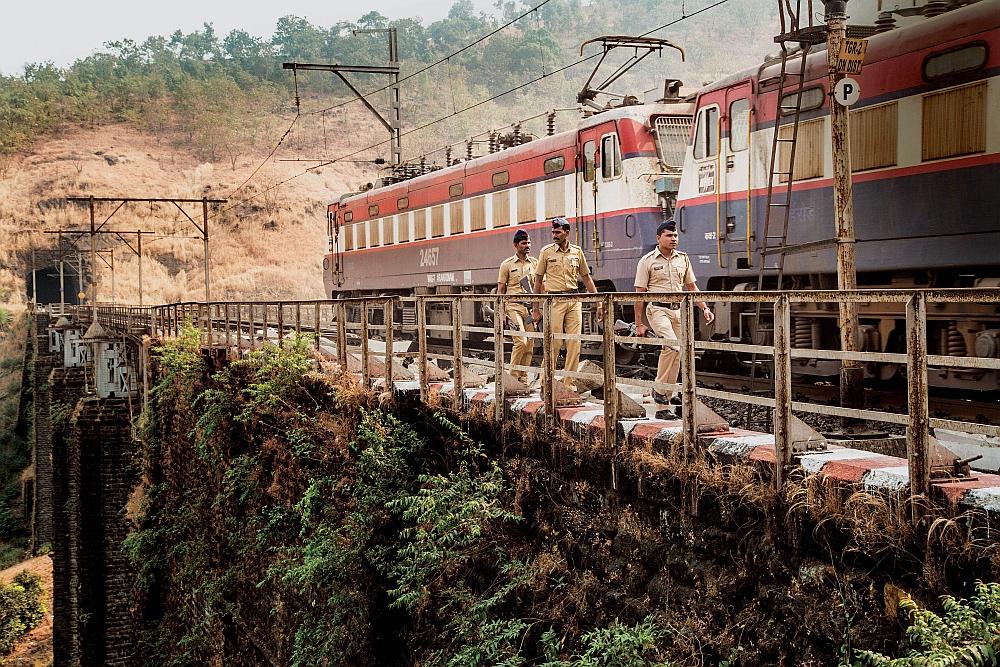 No Bridge Too Far
Kasara Ghats and the tunnel area are of great significance to the Mumbai Commissionerate. In view of recent reports of attempted sabotage, the patrolling and surveillance has been optimized. The calendar has photographs of policemen posted inside Parsik tunnel, patrolling the Kasara ghat bridge and standing atop the Bhayander Creek bridge. "Lots of commuters pass through tunnels every day, but no one really stops to look around them," GRP Commissioner Niket Kaushik said.
Photograph: Pravin Talan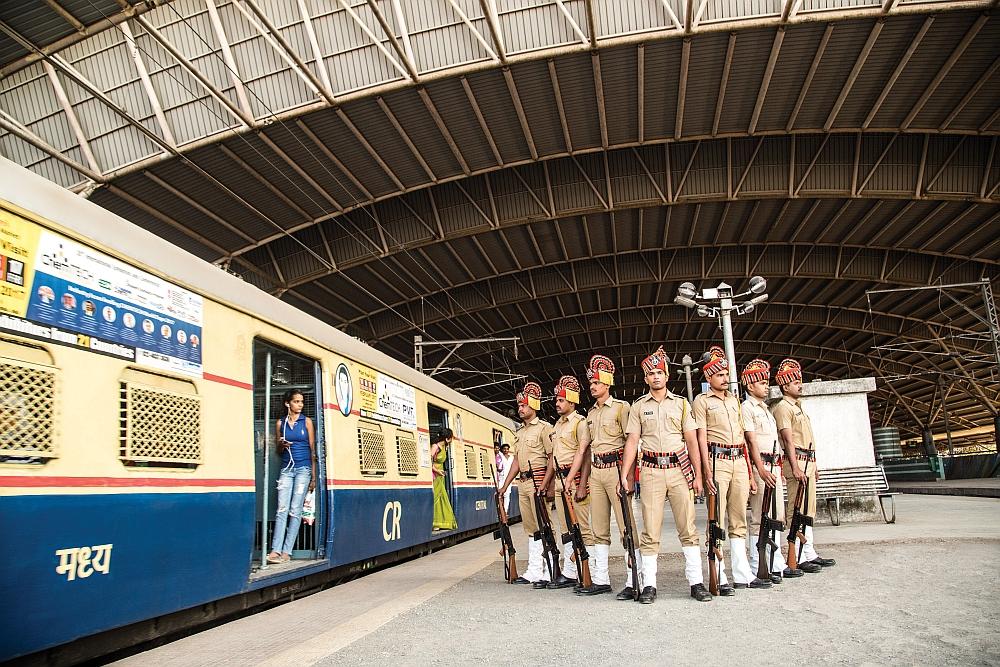 Smart & Alert
"Before this (calendar), there was no image, no visual record of the Government Railway Police. We always tend to figure in a negative picture," Commissioner Kaushik said. The photograph was taken at Turbhe station, Navi Mumbai.
Photograph: Pravin Talan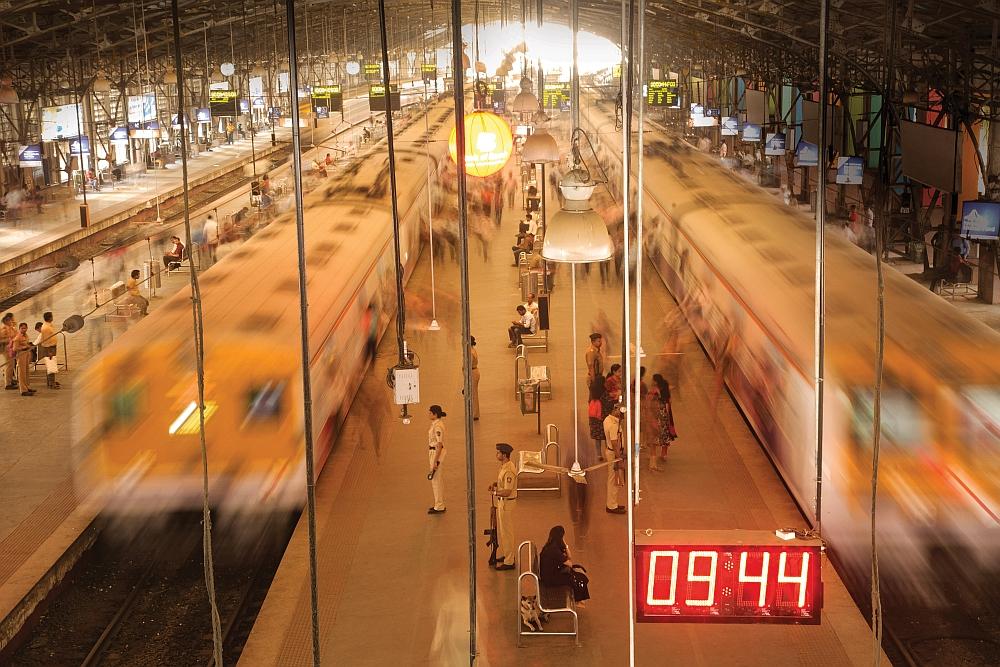 In the Milieu
As many as 80 lakh commuters use the local trains in the Mumbai Commissionerate alone... EVERYDAY! And the Mumbai Railway Police is responsible for their safety and security. As Commissioner Kaushik puts it, "The GRP is always there 24 hours but it is a force that has been in the shadows." This photo was taken at the Churchgate station.
Photograph: Pravin Talan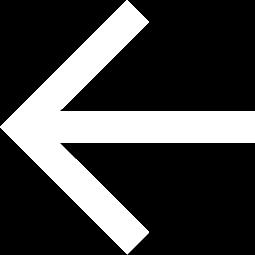 '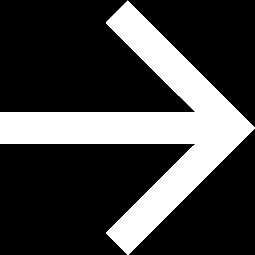 X