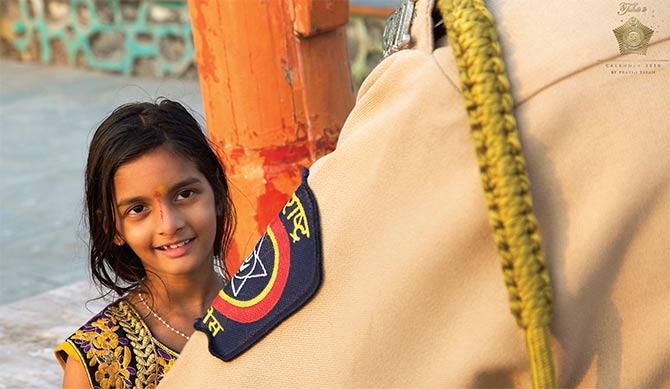 It's not often that the Mumbai Police receives praise.
However, this time around ace photographer Pravin Talan through a series of evocative photographs pays tribute to what he calls as one of the finest police forces in the world.
Through a 16- page calendar, he pays a pictorial tribute Mumbai Police and it's many unsung heroes who work relentlessly to ensure the safety of it's citizens. The calendar was recently launched by Maharashtra Chief Minister Devendra Fadnavis.
Here is his tribute to the police.
Please click on the photos to view hi-resolution images.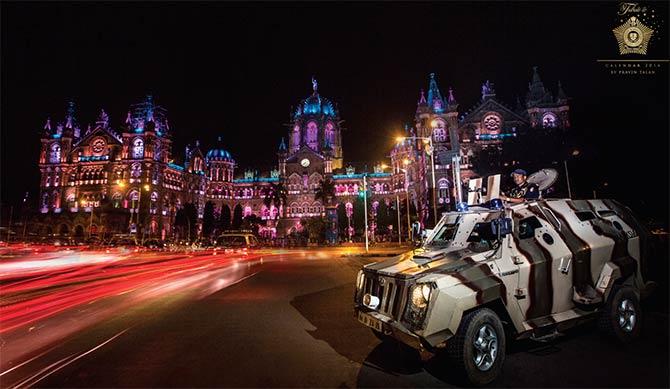 Mumbai police's Marksman patrols the area outside Chhatrapati Shivaji Terminus. Photograph: Pravin Talan
---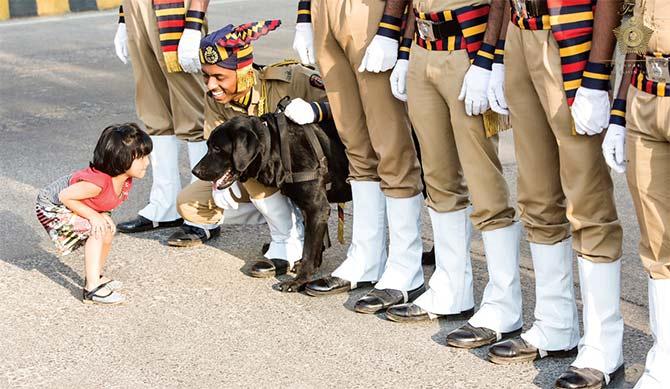 Dogs are a policeman's best friend. They help in detecting explosives and narcotics and contribute to the safety of Mumbaikars. Photograph: Pravin Talan
---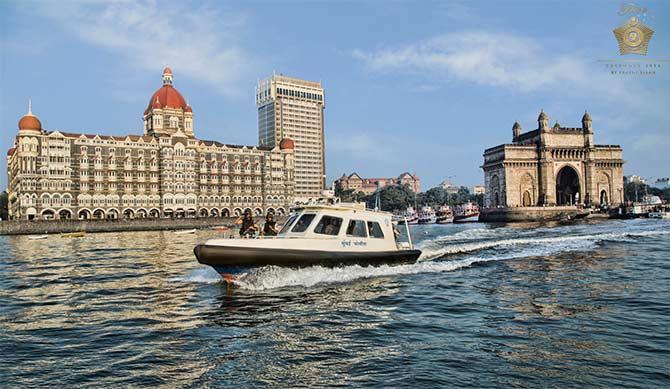 Mumbai always needed a more secure coastal line. With constant threats through the sea route, Mumbai police with its speedboats constantly patrol the waters. Photograph: Pravin Talan
---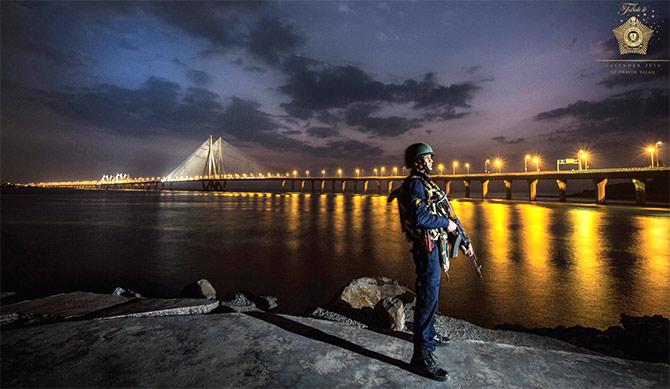 Morning or night; the Mumbai police is always on guard. Here's one patrolling the area around the Bandra-Worli Sea Link. Photograph: Pravin Talan
---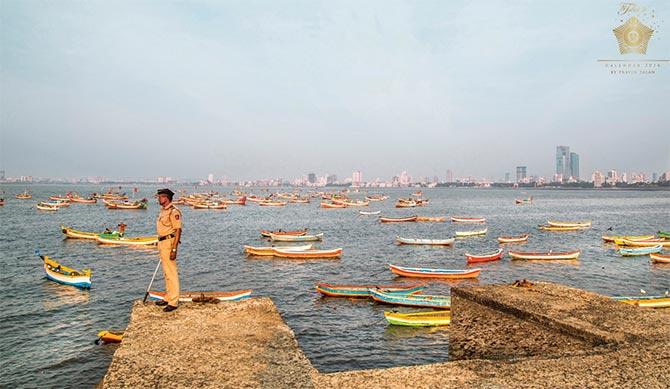 With a work force of nearly 50,000 policemen and a jurisdictional area of approximately 603 sq km and a population of nearly 1.4 crore, policing is a tedious task. Yet, he stands tall and gives his best to make every Mumbaikar's life easy and secure. Photograph: Pravin Talan
---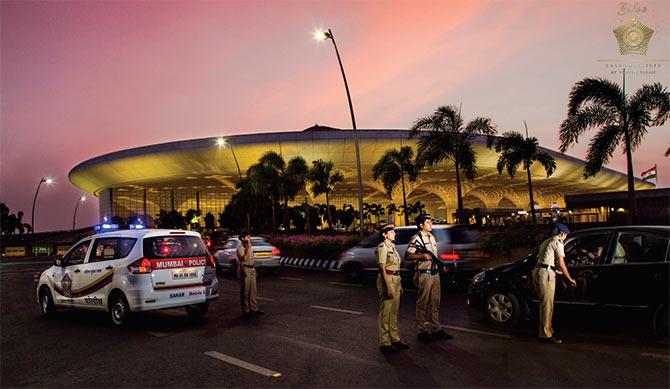 Modern times call for new equipment. New police vehicles have also been launched recently with special focus on women safety around the city. Photograph: Pravin Talan
---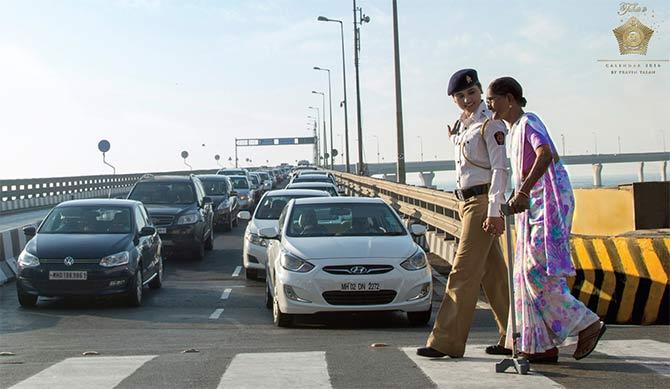 Mumbai Traffic Police has a mammoth task of managing smooth flow of roughly 25 lakh vehicles on the roads everyday. Blowing whistles all day long or managing endless traffic doesn't stop them from helping those who might need it, be it a child or a senior citizen. Photograph: Pravin Talan
---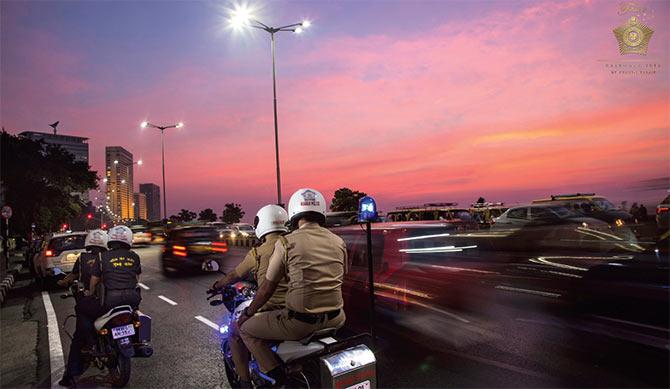 Always the first to help. Beat marshals are the first response system on the streets, be it wide city roads or the narrow lanes. Photograph: Pravin Talan
---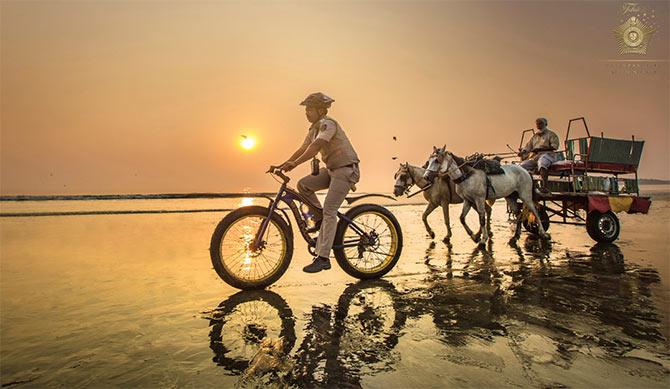 To make the beaches and promenades more secure and the response time quicker, eco-friendly cycle patrols have been introduced that tirelessly scan the entire area. Photograph: Pravin Talan
---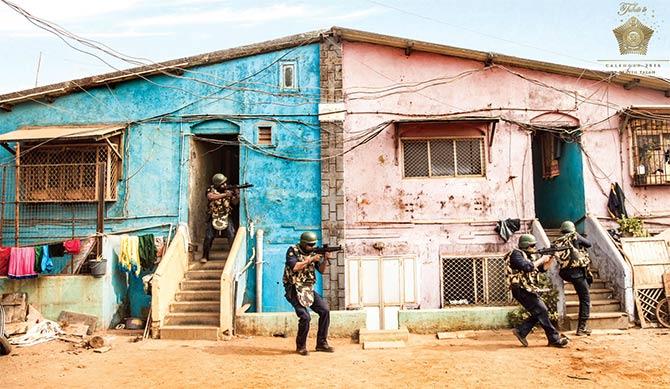 Quick Response Teams are highly trained, motivated, and fully equipped commandos with advanced weapons to tackle terrorist attacks and handle hostage situations. Photograph: Pravin Talan
---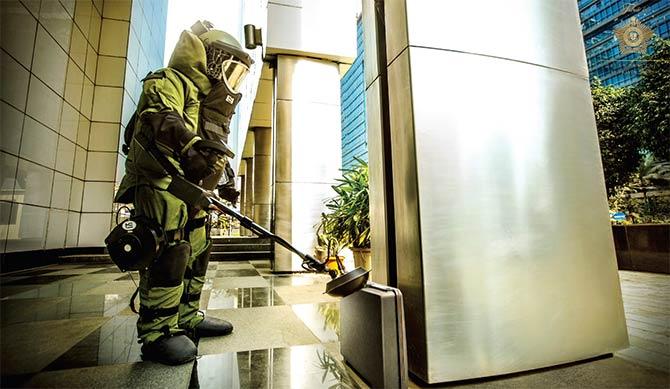 With global terrorism on the rise, it has become increasingly important for Mumbai Police to train their personnel to tackle the threats posed by Improvised Explosive Devices. To say the least, these heroes put themselves directly in the face of a death threat. Photograph: Pravin Talan
---
Mumbai City Police Brass Band came into existence in 1936. It is easily the most colourful unit of the force. In their blue serge trousers and buttoned-down red jackets, the band members cut an impressive sight, not to mention that they play a lively repertoire of marches with their music ranging from inspiration to entertainment. Photograph: Pravin Talan
---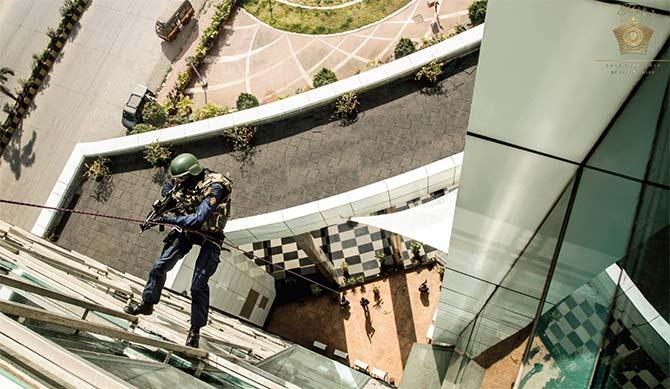 QRT commando rappelling down a high rise building with automatic weapon. Photograph: Pravin Talan
---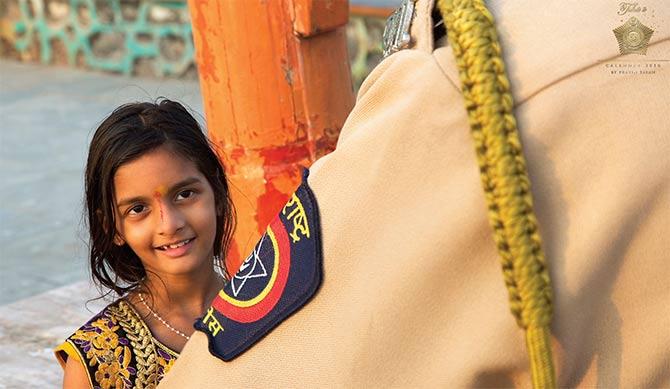 Mumbai Police is known as the Protector of the Good. Photograph: Pravin Talan