Paris for a third straight weekend witnessed violent protests leading to the arrests of more than 400 people and injuring 133.
In the past few days, masked rioters have torched cars, buildings and even a police headquarter, looted shops and clashed with police. On the other hand, security forces have fired stun grenades, tear gas shells and water cannon at protesters.
The protest, now called as the 'Yellow Vest Protest', comes 18 months into French President Emmanuel Macron's presidency. It has been named so because the participants are wearing fluorescent safety jackets that are kept in all cars in France. The protesters, "gilets jaunes" (yellow vests), reportedly have no real structure or leadership.
Here's everything you need to know about the riots.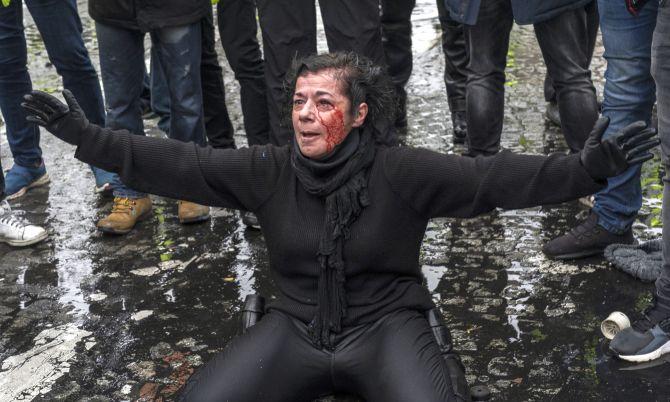 Photograph: Veronique de Viguerie/Getty Images
The ongoing protest started in response to French President Macron's new policy of fuel tax hike. Since then the protest has gathered momentum and taken aim at the high cost of living and wider dissatisfaction with Macron's presidency. The ongoing unrest erupted on November 17. Since then, the protest has spread quickly via social media. There have been reports that in many places, protesters have been blocking roads and impeding access to shopping malls, factories and some fuel depots.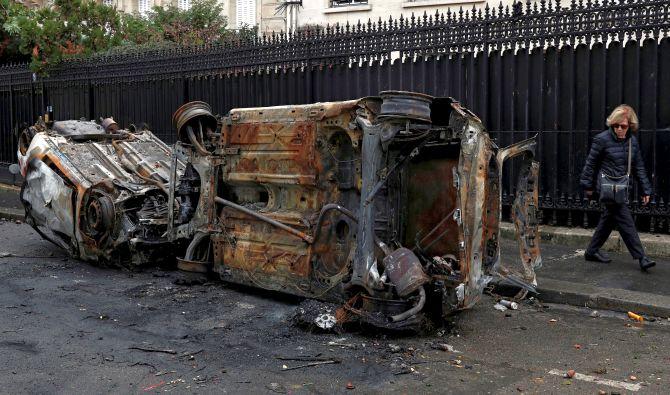 Photograph: Benoit Tessier/Reuters
Destruction in Paris has been widespread. Protesters occupied the city centre and torched cars, smashed windows with clubs and axes. Protesters also set fire to cars and Christmas trees, hurled barricades at police, smashed up windows.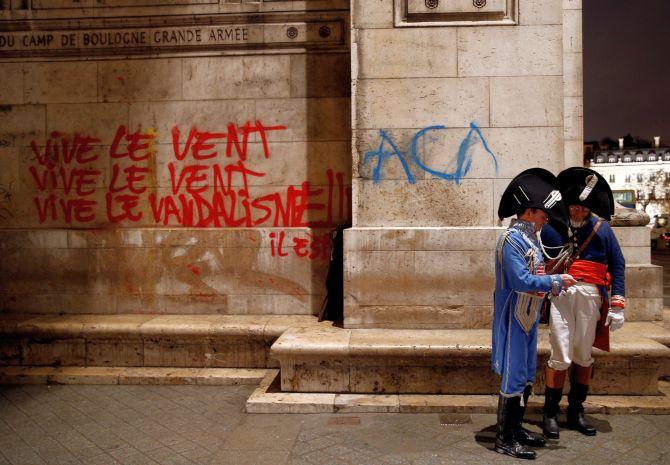 Photograph: Stephane Mahe/Reuters
Protesters also scrawled anti-Macron slogans on the Arc de Triomphe. The inside of the Arc de Triomphe was also ransacked, with a statue of Marianne - a symbol of the French republic - smashed and graffiti sprawled on the exterior. Protesters scrawled in big black letters: 'The yellow vests will triumph'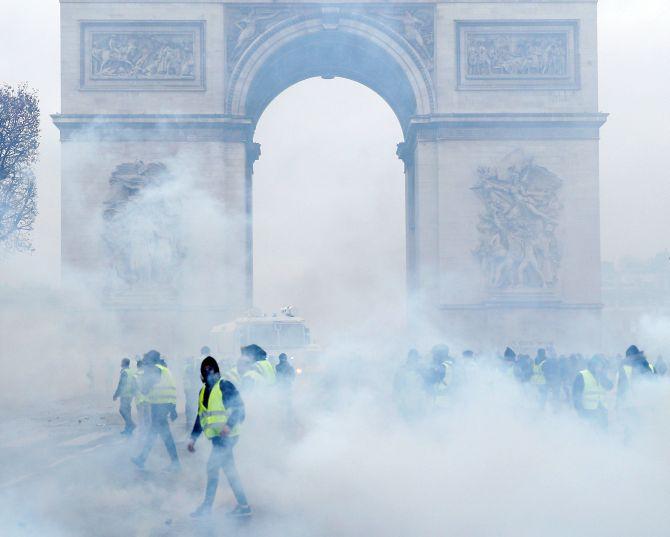 Photograph: Benoit Tessier/Reuters
Protesters said the riots were the 'start of a revolution', in violence which echoed the near-revolution of 1968.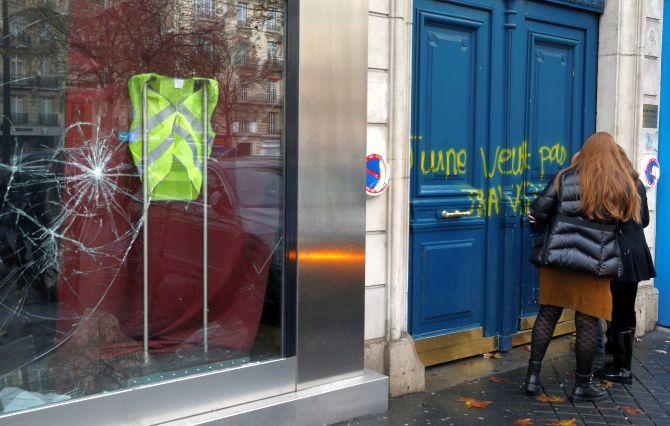 Photograph: Stephane Mahe/Reuters
While Paris has seen some ugly scenes in the past few days with police arresting over 400 people, the protest is not limited to the national capital. Unrest also erupted in several towns and cities across France, from Charleville Mezieres in the northeast to Marseille in the south. In the Riviera city of Nice trucks blocked access to the airport, and in the central town of Puy-en-Velay the police headquarters was set on fire, Reuters said in a report.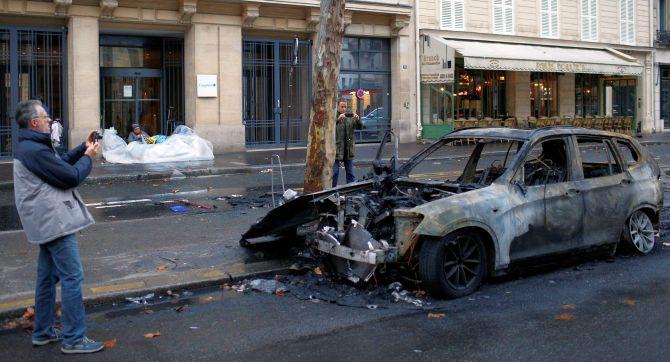 Photograph: Stephane Mahe/Reuters
The French government has faced difficulties dealing with the protesters as the movement has no real leadership and has not aligned itself with any political organisation.
Macron has sought to douse the anger by promising three months of nationwide talks on turning France into a low-carbon economy without penalising the poor.
He also vowed to slow the rate of increase in fuel taxes if international oil prices rise too rapidly but only after a tax hike due in January.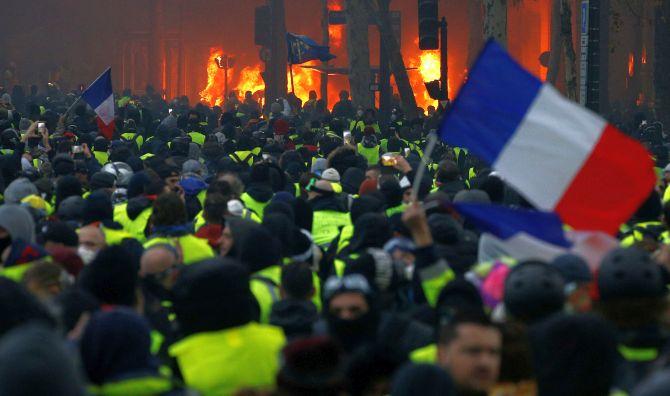 Photograph: Stephane Mahe/Reuters
There have been calls to declare a state of emergency or even send in the army to quell the violence.
A state of emergency would allow extra powers to the forces of law and order, ranging from stop-and-searches to carrying out raids on the homes of suspected rioters, amid calls for the army to be called in.
France last brought in a state of emergency in 2015, following terrorist attacks by Islamic State, which lasted until November 2017.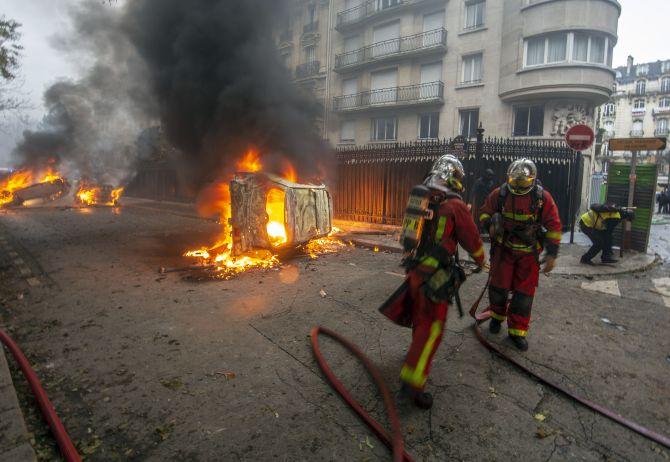 Photograph: Veronique de Viguerie/Getty Imagess
Macron has vowed that those responsible for the violence will pay for their actions.
"I will always respect disagreements, I will always listen to opposition but I will never accept violence."
He added that the violence had "nothing to do with the expression of legitimate anger" showed by peaceful protesters.