After having an eventful first day in India, Israeli Prime Minister Benjamin Netanyahu started his second day with visit to Rashtrapati Bhavan.
On Sunday, Prime Minister Narendra Modi broke protocol and received his 'friend' Netanyahu at the airport following which they made their way to Teen Murti Chowk, which was officially renamed Teen Murti Haifa Chowk.
The day ended with a private dinner between the two world leaders.
Here's what Netanyahu was up to on his second day.
PLEASE SEE: Hugs and handshakes from Modi as Netanyahu begins India visit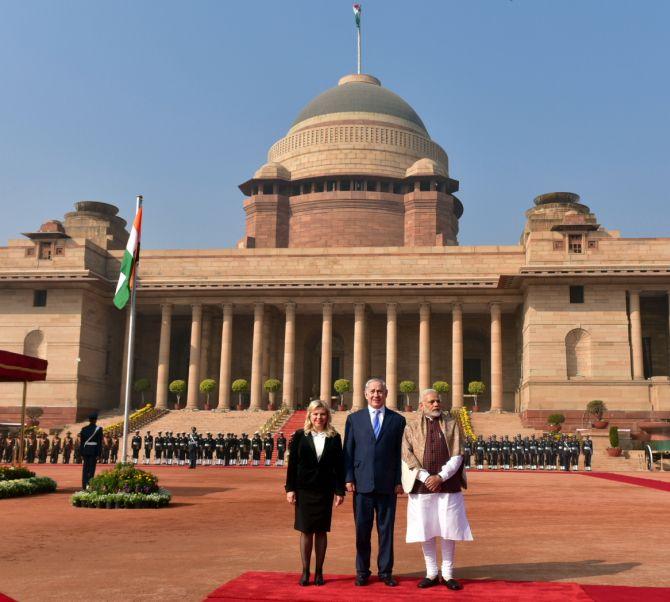 Israeli Prime Minister Benjamin Netanyahu, along with his wife Sara, were granted a ceremonial reception at the Rashtrapati Bhavan ahead of his delegation level talks with Prime Minister Narendra Modi. Photograph: MEA/Flickr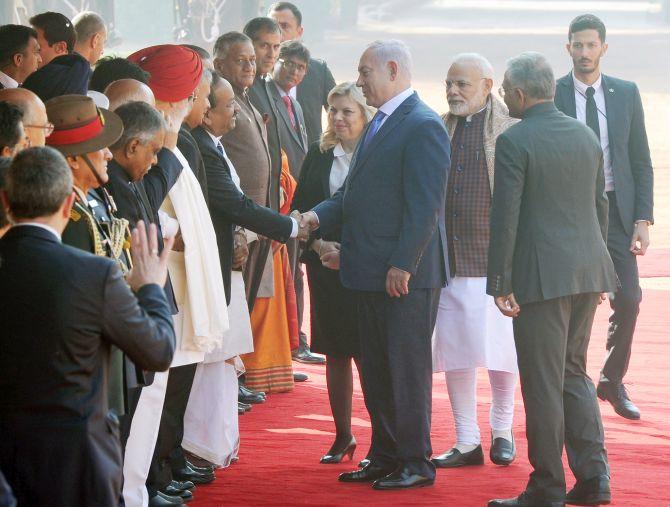 Prime Minister Netanyahu said that this is a dawn of a new era in friendship between India and Israel. "It began with PM Modi's historic visit to Israel that created tremendous enthusiasm, it continues with my visit here which I must say is deeply moving for me, my wife and the people of Israel. Heralds a flourishing partnership to bring prosperity, peace and progress for our people," he added. Photograph: MEA/Flickr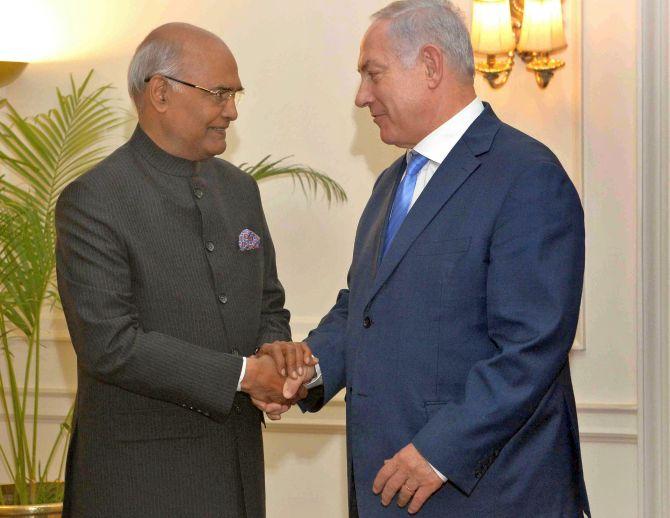 Netanyahu calls on President Ram Nath Kovind at Rashtrapati Bhavan. Photograph: Rashtrapati Bhavan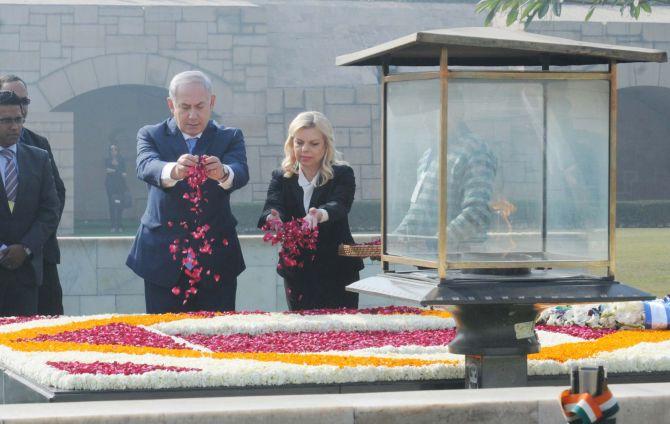 Following the ceremony at Rashtrapati Bhavan, Netanyahus made their way to Rajghat and paid a floral tribute to Mahatma Gandhi. Photograph: MEA/Flickr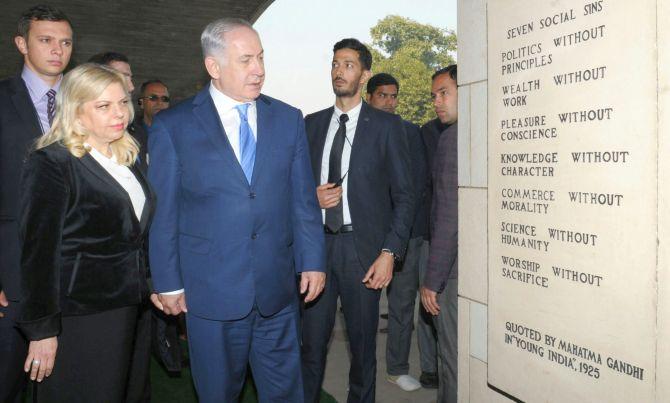 Earlier, Israeli Prime Minister Benjamin Netanyahu dubbed the India-Israel relationship as a marriage made in heaven, saying that even though the Jewish state was disappointed by Indias vote at the United Nations against the Jerusalem issue, one negative vote will not affect the ties. Photograph: MEA/Flickr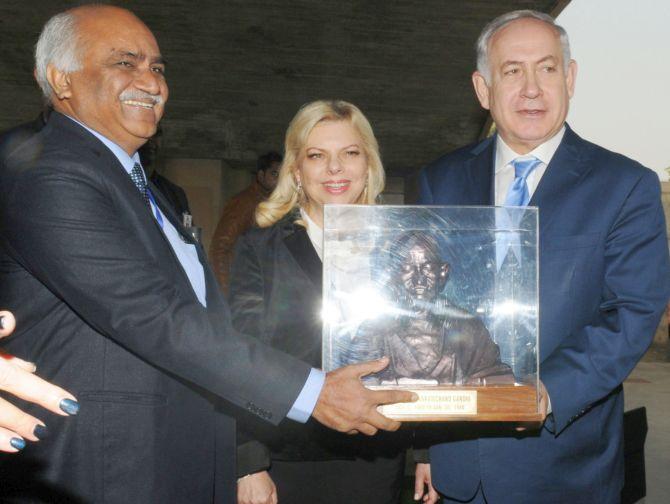 The Netanyahus being presented a bust of Mahatma Gandhi at Rajghat. Photograph: MEA/Flickr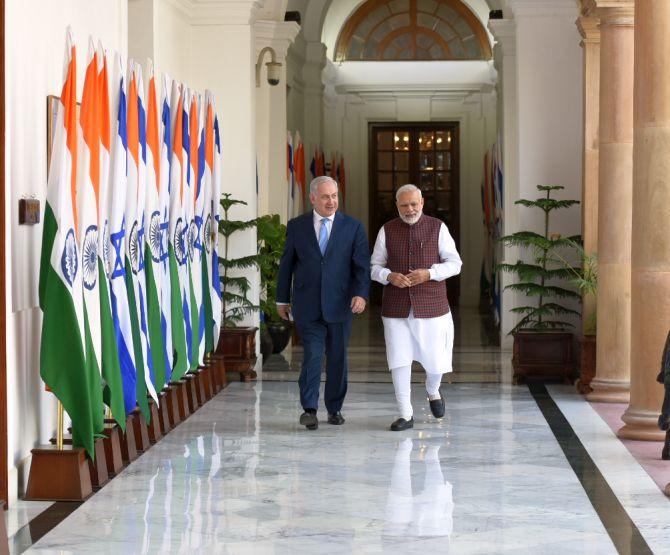 The two prime ministers, accompanied by their respective senior Cabinet colleagues, held delegation-level talks during which they also discussed regional and international issues of mutual interest. Photograph: MEA/Flickr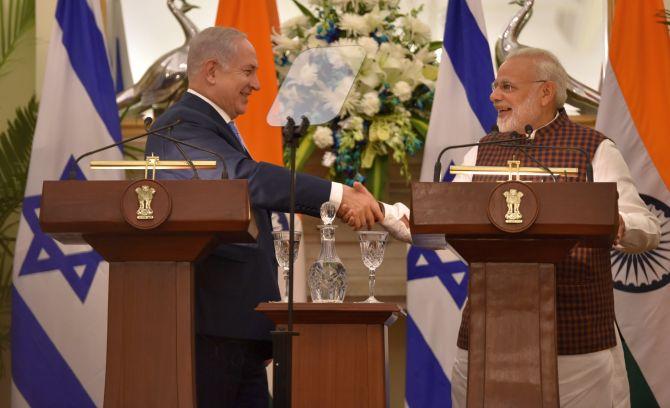 The two leaders inked nine pacts to boost cooperation in key areas, including cyber security. Modi also invited Israeli defence companies to India for co-production in the sector. India and Israel will strengthen the existing pillars of cooperation in areas such as agriculture, technology and security, Modi said at a joint media event with Netanyahu. While the visiting Israeli prime minister called Modi a "revolutionary leader" and used an endearment like "my friend Narendra", Modi responded with great warmth, welcoming the guest in Hebrew. Netanyahu said he was willing to participate in a "yoga class" with his "friend Narendra". Photograph: MEA/Flickr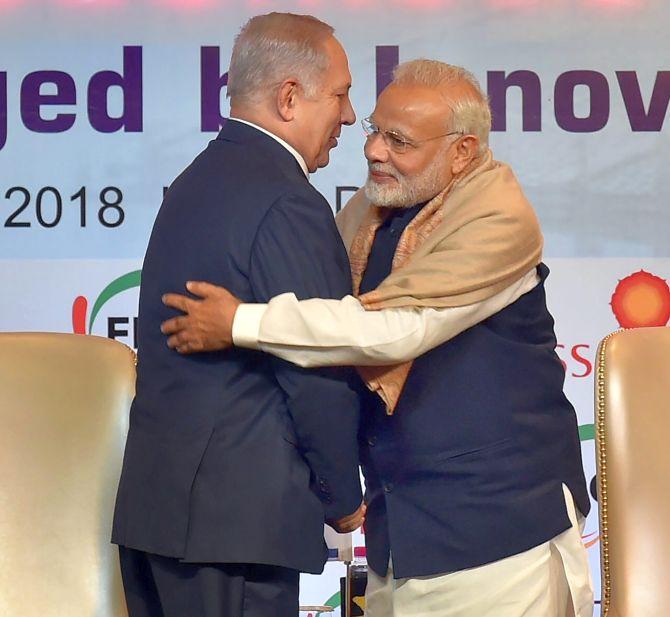 The bonhomie between two 'good friends' was on full display on Monday when the leaders hugged and shook hands a number of times during their joint press event. Here both the leaders attend India Israel Business Summit in New Delhi. Modi, at the summit, promised more economic reforms to further improve the ease of doing business in India as he invited Israeli companies to invest here. Photograph: PTI Photo/Kamal Kishore