More people, especially world leaders, are opting for the Indian greeting of Namaste rather than going for a handshake -- in the wake of the coronavirus pandemic.
The latest addition to the list of leaders who opted for this no-contact way of greeting are France President Emmanuel Macron and Chancellor of Germany Angela Merkel. The two European Union leaders
met on Thursday to discuss travel restrictions related to the coronavirus.
The two leaders are meeting at the French president's summer residence to discuss a long list of burning issues including the coronavirus pandemic, post-election unrest in Belarus and growing tensions with Turkey.
US President Donald Trump and Israel Prime Minister Benjamin Netanyahu are among some of the world leaders who have adopted the Indian style of greeting over the traditional handshake in the current
times of coronavirus.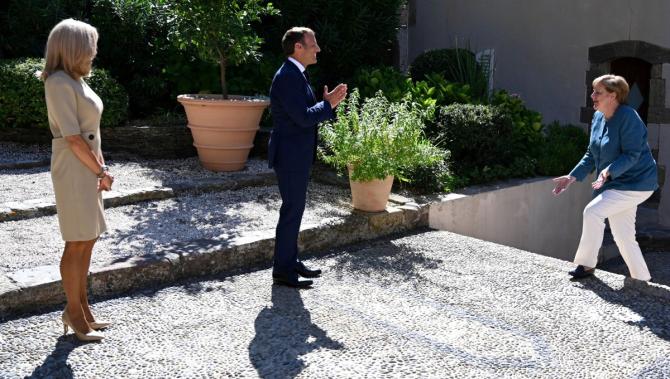 The Israel prime minister was one of the first global leaders to endorse Namaste. "Just avoid shaking hands as I do. You can try to implement the Indian system of Namaste or say another word like shalom, but find a way, any way of not shaking hands," Netanyahu had said.
Prime Minister Narendra Modi, while addressing the global audience during India Global Week 2020, lauded the mark India has left on the world during the global pandemic.
"You would have seen Namaste has gone global as a form of greeting. The pandemic has also seen the universal appeal of yoga, Ayurveda and traditional medicine world over. India's ancient culture and universal peaceful ethos are its strength," he was quoted saying at the event.