Sudhir Bisht remembers how he was looked down upon for greeting a potential customer with a Namaste many years ago and how the tables seem to have turned during the pandemic.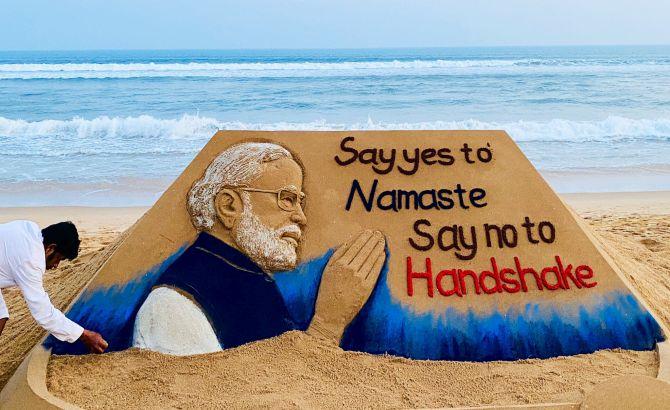 Many years ago, I was consulting for a very reputed company that works in the field of information technology. The company has operations in over 15 countries and is a much-respected organisation in India and abroad.
I once had an opportunity to visit a large infrastructure company in Gurgaon that may arguably be considered as the biggest company in the world in its domain.
The company happens to a 100% Indian entity and its people take legitimate pride in being a world leader.
Therefore, my heart swelled with pride when I entered the resplendent reception area of the company for the first time.
There were dispenser type bottles of hand sanitisers neatly arranged at various sofa tables. Cold water bottles and many glasses filled with energy giving fluids were laid out in the waiting area. The central air conditioning worked fine and the overall ambience was like Wow!
I had to visit the company for a presentation by our team and had an appointment with the company's procurement general manager and his team of deputy and assistant managers.
The presentation session was arranged in a meeting room titled Venice.
I looked around and saw many more meeting rooms with foreign names -- Rome, Madrid, Paris, Lisbon and a few more.
My inquisitive eyes were looking for Indian names like Madurai, Patliputra, Kurukshetra, Prayag, Mumbai and Dilli, but I found none.
During the course of the meeting, a CXO level person came to meet us. I stood up, folded my hands and did a Namaste.
The host team looked at me as if I was a bus driver who had entered the elite club of fighter pilots. The high priest nodded a little and looking away from me said, "Hi" and after a few minutes left us.
A few minutes later while the presentation was still ongoing, another person, also a visitor like me, popped his head inside after opening the door room slightly.
One of the hosts got up and asked him to come in. The man had distinctive Japanese features and I gathered that he had mistakenly left behind some papers in the room. It was apparent that he had a meeting in this very room before our own started.
The Japanese bent at a 45 degree angle and said "Singhi-san, very terribly sorry to disturb. I just wanted to collect my papers."
The host team rose in unison and said, "No problem Hata-san. Most welcome. Do visit again."
I was so impressed. San in Japanese culture is an honorific title after one's name and means a Mr or a Mrs or a Miss.
I liked the Japanese courtesy and I liked how our hosts responded to that.
Courtesy begets courtesy, as they say.
When the meeting was over, I bid Namaste to all the hosts. None of them responded likewise. Everyone said, "Ok, bye!"
On my way out, I met the Japanese gentleman in the lift. Pleasantries were exchanged and so were business cards and a quick coffee followed at Barista.
I asked him the importance of the word 'San' in his country and he explained that it is about giving respect to others.
He also said that whenever the Indian company (the one we visited) wrote him an e-mail, they always added the suffix 'san' after his name.
"Wonderful guys. They appreciate their vendor's culture. I really respect them for this," said the Japanese gent.
Upon my return to my office, I wrote an e-mail to the infrastructure company to thank them for their kind courtesies. I addressed the recipient as 'Shri' and started the message with a 'Namaste'.
I swear to God that I got an e-mail within 15 minutes from their assistant manager that I should be professional in my e-mails with respect to the way I addressed company officials and the way I greeted them in my e-mails.
The e-mail was an affront to me of course, but more than that it was an assault on our Indian tradition.
I was fuming in anger, but when you are eyeing a million dollar business, you can only fume in the privacy of your chambers.
As I said in my opening para that this happened many year ago. We did business and all was well.
I shifted from 'Shri' to 'Mr' and soon to 'Sir'.
Namaste was replaced by 'Greetings of the Day!'
Folding of hands was replaced by an occasional handshake.
However, one thing kept coming up in my head again and again. Like an obstinate housefly that keeps buzzing near the ear, irritating and frustrating. Why did that young assistant manager write such an e-mail to me?
It was a strange e-mail and I can never fathom as to what any organisation would achieve by telling me what I was told. I think the e-mail was more a reflection of the mindset of the sender than that of the organisation.
On May 20, 2020, I had occasion to visit the same place again, though not the same company.
And I saw the same young assistant manager getting down from his car and, of course, we met. He must have gone up the ladder by now as he was driving a Rs 15 lakh-plus sedan. I am guessing, of course.
He looked at me and it took him a few seconds to recognise me and before I could say 'Hi', he folded his hands in a neat Namaste!
I followed suit, also making a 25-degree angle between my upper body and Mother Earth beneath my feet.
The person was in a hurry and I too had an appointment to keep so we didn't stop to make polite conversation. I felt positive vibes between us in that short interaction and we went our separate ways.
I wanted to ask him if he was folding his hands in a real show of respect or because the new office order entailed that. COVID-19 induced protocol, maybe.
I also wanted to know if they had changed the name of any of their meeting rooms, say from Paris to Patliputra or from Madrid to Mahabaleshwar.
I left it for another day. That day I was happy that the Indian-style greeting had finally arrived
Namaste!
---
Dr Sudhir Bisht, author and columnist, tweets @sudhir_bisht. He can be reached at Sudhir_bisht@rediffmail.com