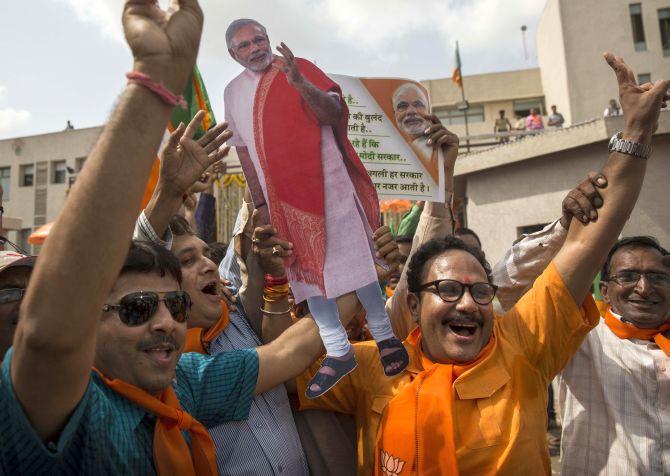 The Bharatiya Janata Party on Tuesday emerged as the single largest party in the Karnataka assembly, leaving the ruling Congress way behind for 222 of the state's 224 seats where polling was held.
However, it fell nine seats short of a majority while the Congress dramatically backed third-placed rival Janata Dal-Secular for chief ministership in a post-poll alliance to keep the saffron party out of power.
Riding a Modi wave, the BJP swept coastal Karnataka by winning 18 out of 21 assembly seats there, regaining control over the region known as a communal tinderbox.
The Congress managed to secure only three seats, down from 13 seats, while JD-S failed to open its account this election as well.
It may be noted that BJP had bagged 14 seats during 2008 assembly poll, when it first formed a government in the state, but it fell sharply to five in 2013 due to a split in the party.
Coastal Karnataka is considered to be the most polarised region in the state because of incidents of political murders, communal riots and moral policing. It is also the bastion of the Muslim groups Social Democratic Party of India and Popular Front of India.
Out of eight seats in Dakshina Kannada district in 2018 assembly poll, Congress candidate and sitting MLA U T Abdul Khader won Mangalore seat by 19,739 seats, defeating BJP's Santhosh Kumar Rai Boliyaru, as per the official data.
The other seven seats in the district were won by BJP candidates Rajesh Naik (from Bantwal), Bharath Shetty (Mangalore north), Vedavyas Kamath (Mangalore south), Umanatha A Kotian (Moodabidri), Sanjeev Matandoor (Puttur), Angara S (Sullia) and Harish Poonja (Bethangady).
Out of six seats in Uttara Kannada district, BJP won four seats -- Sunil Biliya Naik (Bhatkal), Roopali Santosh Naik (Karwar), Dinakar Keshav Shetty (Kumta) and Kageri Visheshwar Hegde (Sirsi) Congress's R V Deshpande retained Haliyal seat and A H Shivaram won from Yellapur.
Whereas in Udupi district, from where Prime Minister Narendra Modi kick-started the election campaign, the BJP secured all five seats this time, up from one seat from last poll.
B M Sukumar Shetty (Byndoor), V Sunil Kumar (Karkala), Lalaji R Mendon (Kapu), Haladi Srinivas Shetty (Kundapura) and Raghupati Bhat (Udupi) from the BJP won the seats here.
In Kodagu, BJP candidates Appachu Ranjan M P won from Madikeri and K G Bopiah from Virajpet seat.
B S Yeddyurappa, the BJP's chief ministerial candidate, won his Shikaripura seat by more than 35,000 votes.
Though the Congress got lesser seats than the BJP, its vote share was nearly two percentage points higher than that garnered by the saffron party.
Karnataka recorded the highest voter turnout at 72.13 per cent since the 1952 assembly elections.
According to the official data, the Congress' vote share rose marginally to 38 per cent in the current polls from 36.6 per cent in 2013 but had to be satisfied with lesser seats. The ruling party had a strength of 122 MLAs in the outgoing house. Its vote share was 35.13 per cent in 2008.
On the other hand, BJP's vote share remained marginally lower than that of Congress but at 36.2 per cent it recorded the highest so far and also managed to bag more seats but will fall short of 9 seats for a comfortable majority in a House of 224. The BJP had 40 seats in the outgoing house.
BJP's previous highest in vote share was 33.86 per cent in 2008, when Yeddyurappa rode to power by winning 110 seats to usher in the first saffron government in the south.
But the party failed to retain power in 2013 as it could manage only 40 seats with its vote share dropping drastically to 19.9 per cent because of two splits in the party.
The two splinter parties -- B S Yeddyurappa's Karnataka Janata Paksha (KJP) and B Sriramulu's BSR Congress Party (BSRCP) -- cut into BJP's share in 2013. KJP and BSRCP had got 9.8 per cent and 2.7 per cent vote share, respectively.
JD-S' vote share declined to 18.4 per cent this year from 20.2 per cent in 2013 and 19.44 per cent in 2008 and is in the hunt for power after stitching a dramatic post-poll alliance with rival Congress.The party headed by former prime minister H D Deve Gowda got 3 seats less than the 40 it obtained in the previous polls.