China's worst cold front in decades on Saturday swept the country with snow falling in some parts for the first time in years, forcing authorities to issue an orange alert, the second most severe cold weather warning.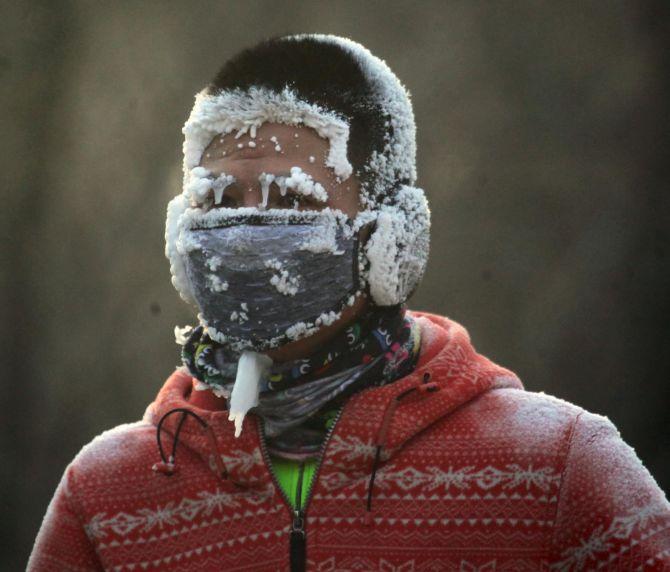 A man runs in subzero temperatures at a park in Shenyang, Liaoning province, China. Photograph: Stringer/Reuters
Beijing braces for a 30-year low of minus 16 degrees Celsius from Saturday through Sunday, the Beijing meteorological station said as temperatures dropped to under minus 10 degrees Celsius on Friday, state-run Xinhua news agency said.
Temperatures dropped 6 to 10 degrees Celsius on Saturday morning in parts of northwest China, north China and in the eastern GuangdongProvince's Huanghuai area, according to the National Meteorological Centre.
The national observatory raised the weather warning level from yellow to orange. China has a four-tier warning system for severe weather, with red being the most serious, followed by orange, yellow and blue.
On Saturday, all regions north of the Yangtze River, except eastern SichuanProvince and Chongqing, saw temperatures drop to below zero degrees Celsius, according to the NMC.
The country is gearing up to cope with the winter's coldest weekend as the worst cold front in decades sweeps across the country, the news agency said.
Tourists walk in snow near the West Lake in Hangzhou, Zhejiang province, China. Photograph: Stringer/Reuters
The maximum load of Beijing's power grid system reached about 16.96 million kilowatts at 5:54 pm local time on Friday, setting a record for the capital's winter power supply in recent years.
A total of 465 emergency repair vehicles and 15 emergency generator wagons allocated by Beijing Electric Power Corporation have been ready to help with any power supply problems.
The heating supply departments from the municipalities of Beijing and Tianjin and neighboring HebeiProvince asked the heating supply units or companies in the region to raise heating temperatures to cope with the freezing weather.
Sanitation workers in XingtaiCity of Hebei received cotton clothes, hats and gloves from the city's environmental sanitation department. Traffic police from Baoding City, Hebei Province have also been equipped with warm clothing while their shifts have been shortened.
The cold air moving south also brought low temperatures and rare snowfall to regions along the Yangtze River on Saturday.
The downtown of southwest China's ChongqingMunicipality braced for its first snow since 1996 from Friday night to Saturday morning. ShanghaiMunicipality also saw snow early Saturday while the temperature dropped to under minus two degrees Celsius.
Before the cold spell arrived, the agriculture department of Shanghai stored enough vegetables to deal with demand during the weekend cold snap.