Holi, the festival of colours, was on Friday celebrated across India with traditional fanfare and gaiety.
Revellers thronged thoroughfares smearing faces with coloured powder and children hurled water-filled balloons from rooftops to celebrate the festival of colours which heralds the advent of spring.
President Ram Nath Kovind, Vice President Venkaiah Naidu and Prime Minister Narendra Modi extended Holi greetings to the people, praying for peace, joy and prosperity for everyone.
Here are some of the glimpses of this colourful festival.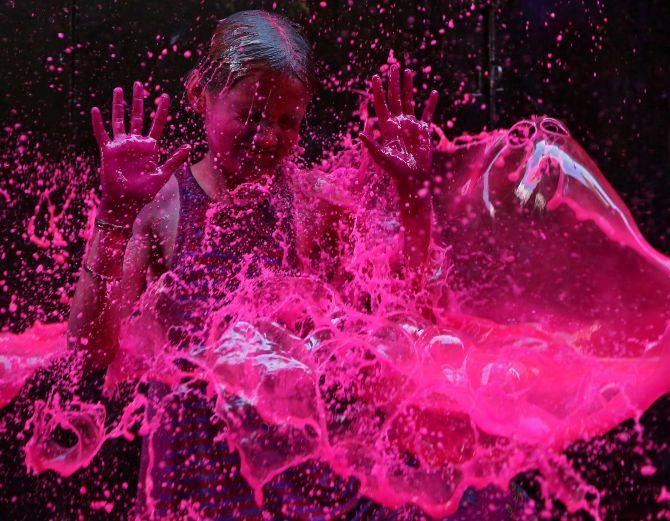 A girl reacts as she is splashed with coloured water during Holi celebrations in Chennai. Photograph: P Ravikumar/Reuters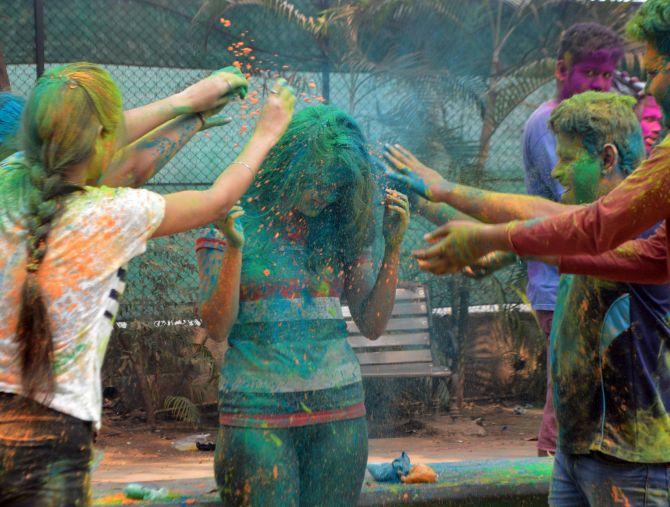 "Holi hai!" rend the air as groups of revellers sing and dance to the accompaniment of drums. Photograph: Sahil Salvi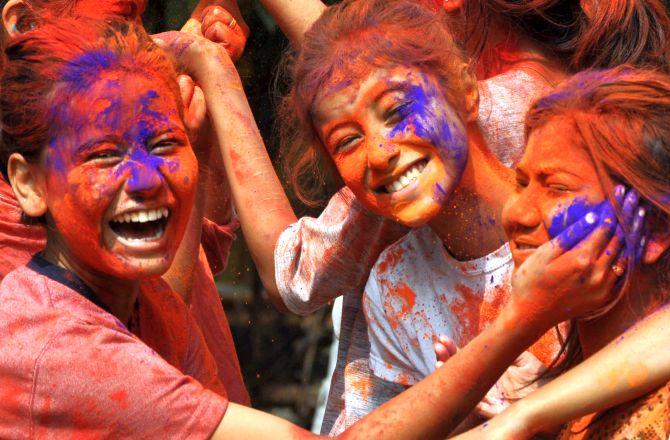 Children played Holi in Guwahati. Photograph: Reba Bora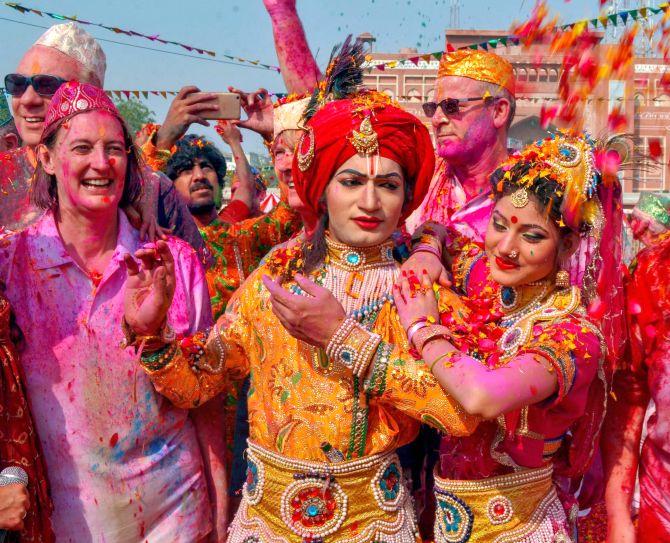 Artists dressed as Lord Krishna and Radha pose for a photograph as foreign tourists throw flower petals and coloured powder during Holi celebration at Kalakriti in Agra. Photograph: PTI Photo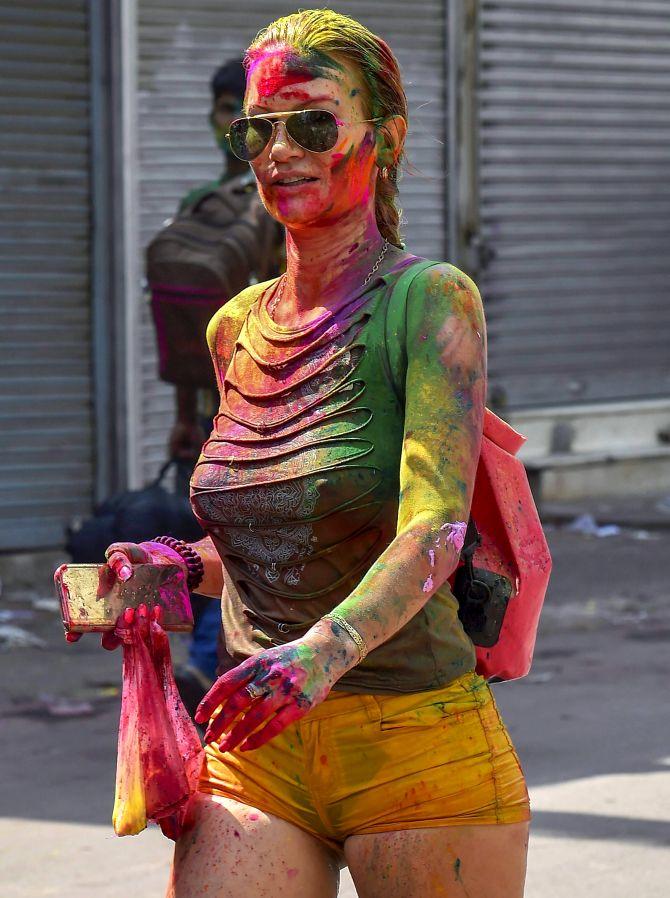 Foreigners too soaked in colours. Photograph: Kamal Singh/ PTI Photo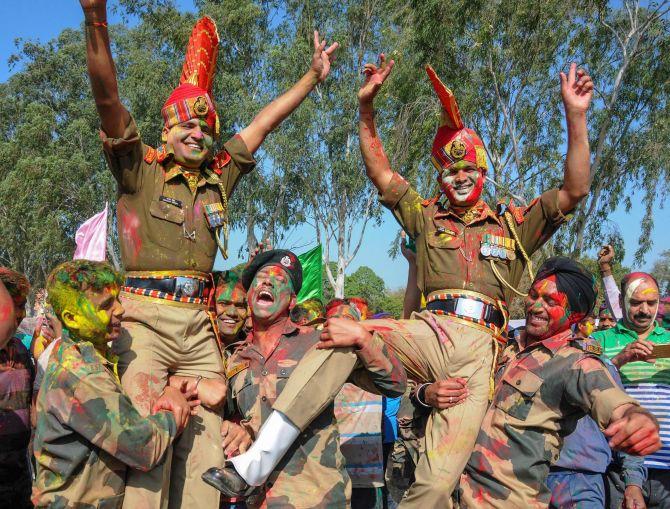 Border Security Force soldiers dance as they celebrate the Holi festival at BSF headquarters at Khasa, on the outskirts of Amritsar. Photograph: PTI Photo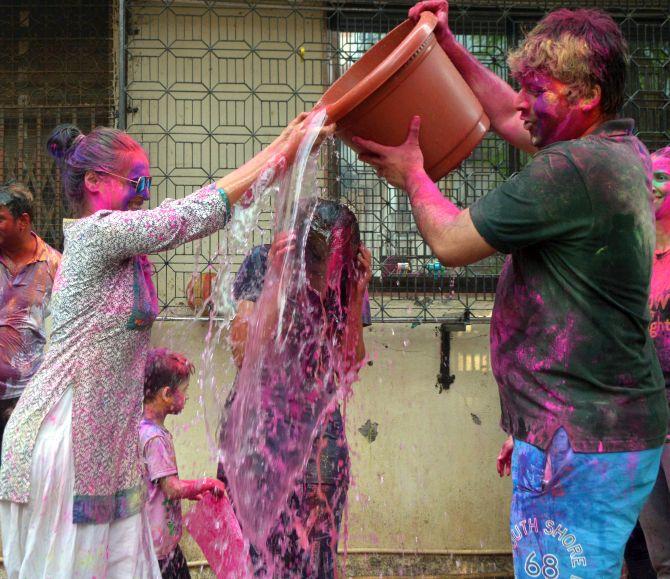 Not only dry colours, but people also use water to play Holi. Photograph: Sahil Salvi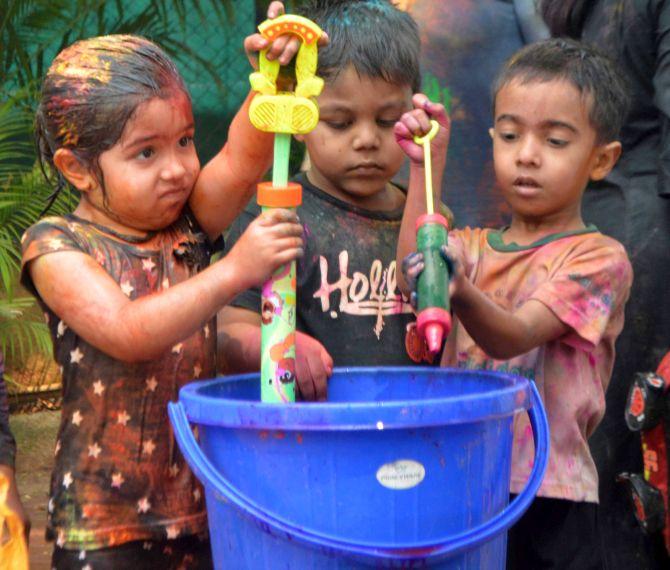 Children fill their pichkaris (air pumps) with colored water to spray on each other. Photograph: Sahil Salvi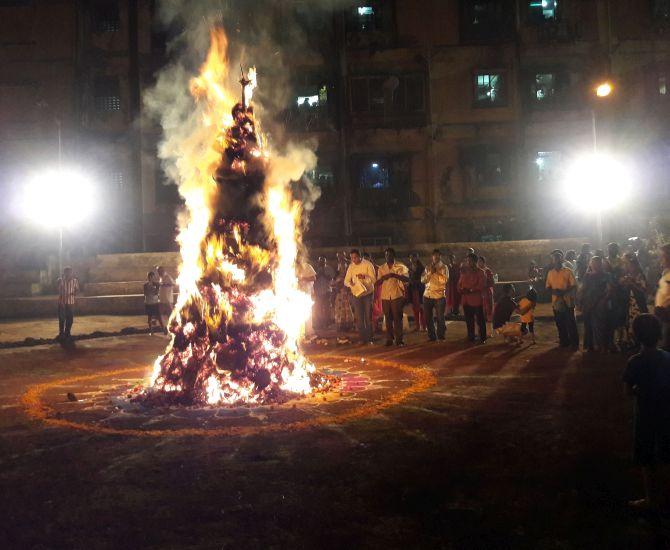 People participate in 'Holika Dahan', on the eve of Holi festival in Mumbai. According to mythology, the festival celebrates the killing of Holika, the sister of Hrinyakashyapu. Photograph: Sahil Salvi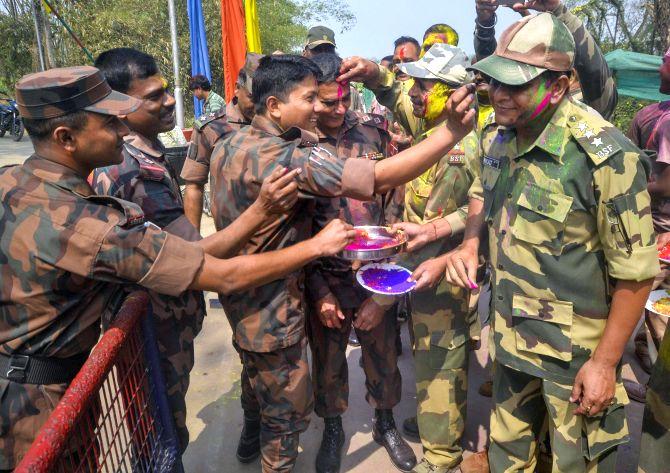 Border Security Force soldiers celebrate Holi with Border Guard of Bangladesh soldiers at India-Bangladesh Akhaura border near Agartala. Photograph: Shailendra Bhojak/PTI Photo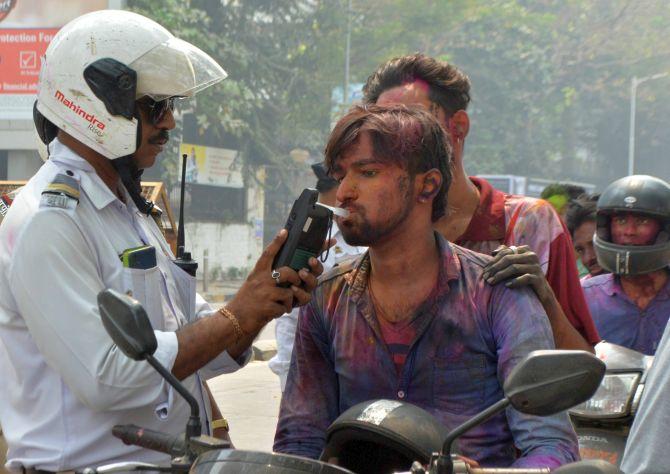 A policeman uses a breath analyser on a driver for the presence of alcohol during the Holi celebrations. Photograph: Sahil Salvi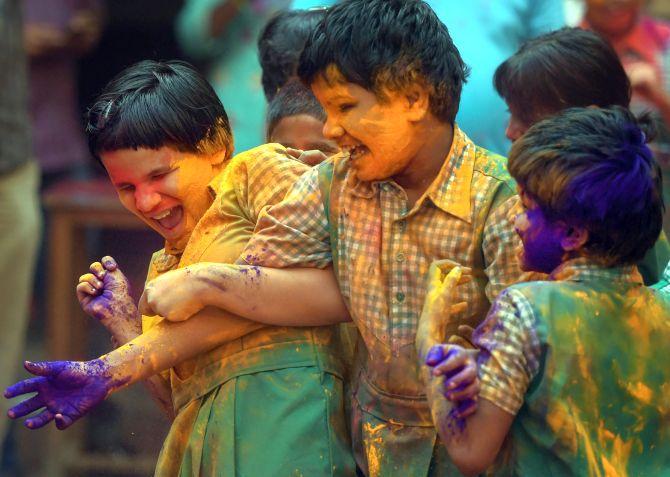 Visually impaired students smeared with coloured powder plays holi at the Kamla Mehta Blind School in Mumbai. Photograph: Shashank Parade/PTI Photo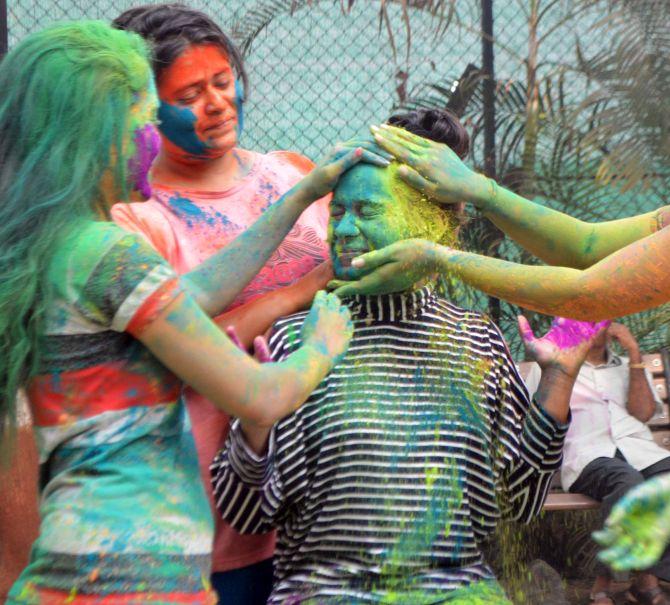 Youths and children revelled in the streets, daubing friends and family members with colours. Photograph: Sahil Salvi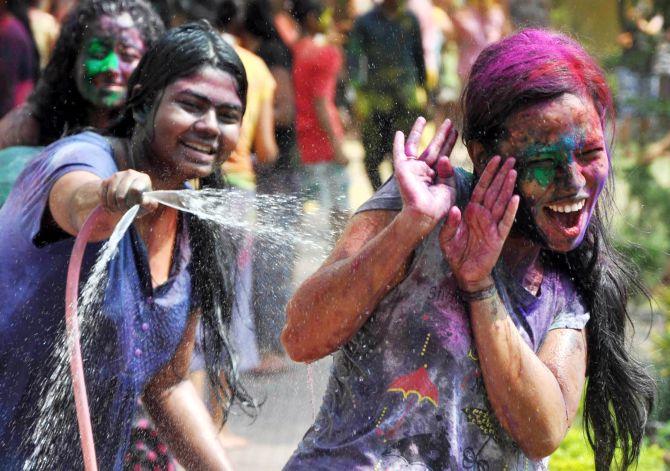 Bura na mano Holi hai. (Don't feel bad, it's Holi) Photograph: Reba Bora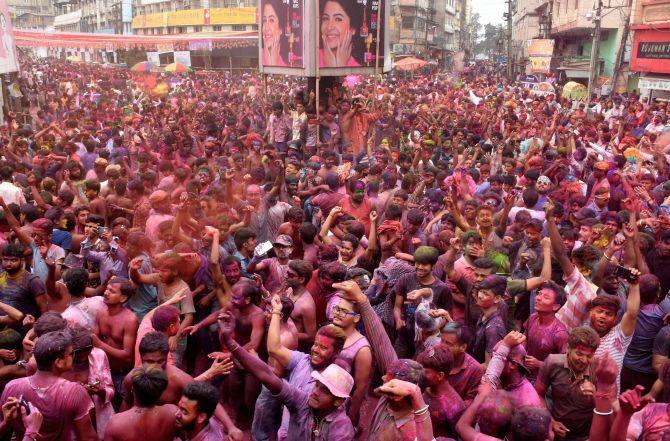 People gather in large numbers at Fancy Bazar in Guwahati to celebrate Holi. Photograph: PTI Photo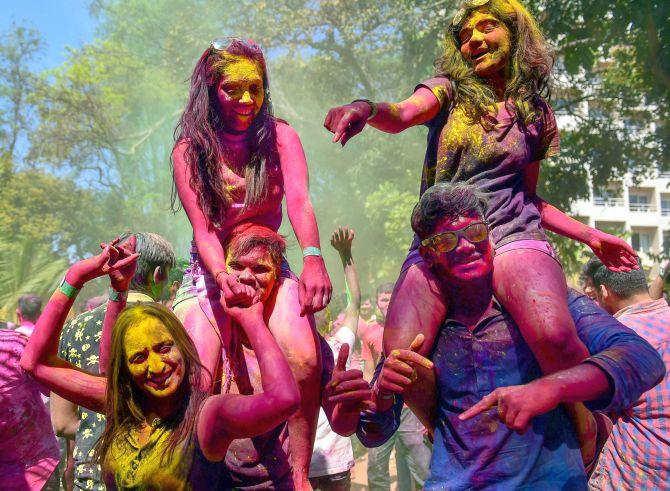 Revelers with their face smeared with gulal joyfully dance during the Holi celebrations in Bengaluru. Photograph: Shailendra Bhojak/PTI Photo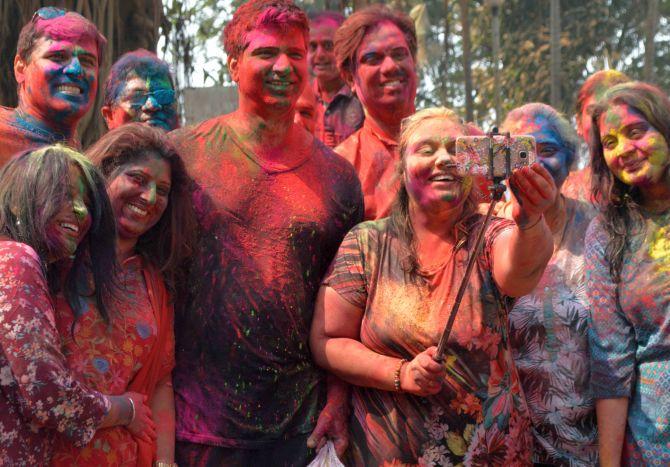 How can you celebrate any festival without a 'customary' selfie. Photograph: Sahil Salvi