Torrential rain accompanied by strong winds on Tuesday pummelled Mumbai, disrupting rail, road and air services, uprooting trees, swamping homes, and bringing the megapolis and satellite towns to their knees.

If you are stuck somewhere, please dial following numbers for assistance from Mumbai Police and Municipal Corporation of Greater Mumbai.
Mumbai Police: 100
Traffic Helpline WhatsApp Number: +91-8454999999
MCGM Helpline +91-22-22694725, +91-22-22694727, 1916
Tweet with #MumbaiRains to Mumbai Police.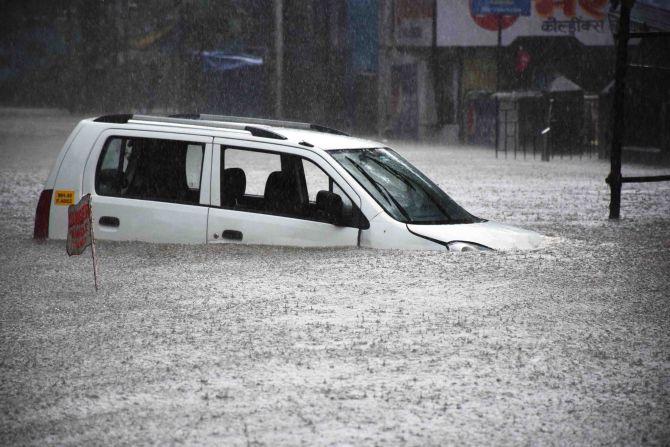 IMAGE: A car stuck on a heavily water-logged road in King's Circle area of Mumbai after very heavy rains since Monday night. Photograph: Sahil Salvi

People's woes were compounded by the high tide that prevented natural drainage of water into the sea.
Meteorological department sources said Mumbai recorded copious rain of 65 mm in just three hours.
Thousands of vehicles were stranded on arterial roads in Lower Parel, Dadar, Kurla, Andheri, Khar West, Ghatkopar, Sion and Hindmata areas that were under knee to waist deep water for several hours, many having broken down.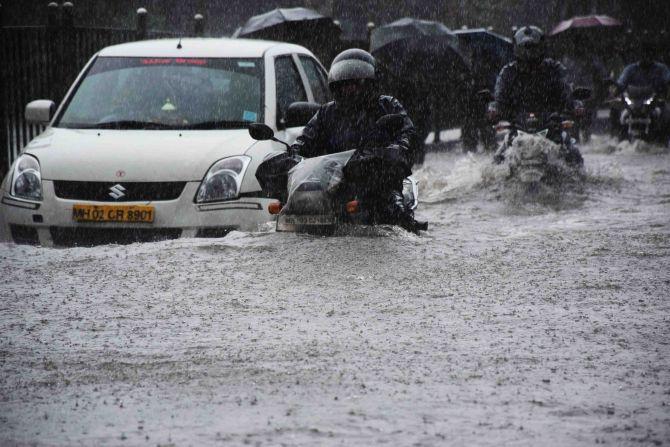 IMAGE: Waterlogging was reported in low-lying areas. Photograph: Sahil Salvi

Trains were running late or stopped on all three suburban railway lines -- Central, North and Harbour lines -- as tracks were submerged at several places.
Having waited for hours on end with water showing no signs of receding, fidgety passengers were seen jumping off stationary trains and walking along the tracks to their destinations.
Commuters were seen standing under knee deep water on the steps of buses in low lying areas like Parel. Traffic crawled at snail's pace on important roads, including the Eastern and Western Express Highway, Sion-Panvel highway and LBS Marg.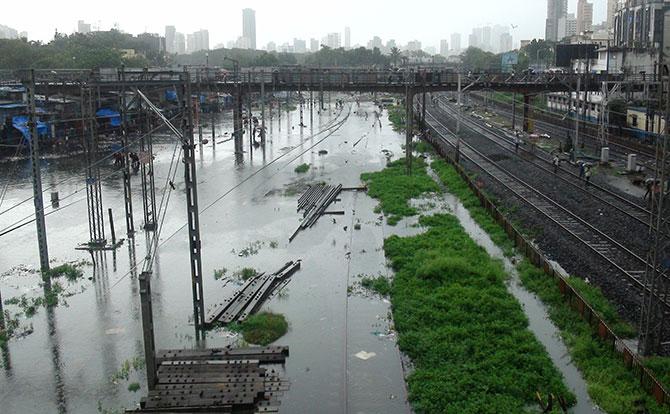 IMAGE: Suburban services were disrupted with trains on all the three lines -- western, central and harbour -- running late. This is a top view of flooded tracks at Mahim station. Photograph: Afsar Dayatar/Rediff.com
"The metropolis has received heavy rainfall since last (Monday) night. Between 8.30 am and 12 pm today (Tuesday), the city received 85 mm rainfall," Sudhir Naik, Deputy Municipal Commissioner, told PTI.
According to the civic body's disaster management cell, at least 20 incidents of trees fall and one of wall collapse were reported from across the city but there were no casualties.
'Heavy water-logging expected in coming hours due to heavy showers coupled with high tide. Pls chk ur route before venturing out (sic),' the Mumbai police said in a tweet, advising people to remain indoors.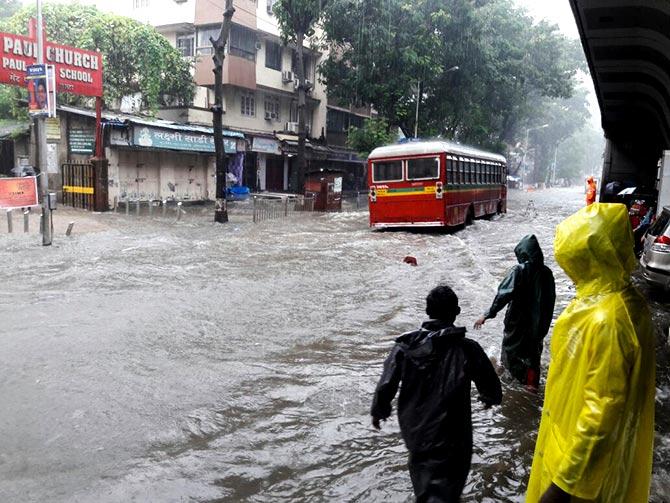 IMAGE: The Brihanmumbai Municipal Corporation advised citizens to step out of their homes only if necessary. Photograph: Sahil Salvi
Chief Minister Devendra Fadnavis visited the State Disaster Management Control room and took stock of the situation.
He said the situation was being monitored closely and necessary advisories would be issued from time to time.
Prime Narendra Modi spoke to the CM and promised all possible support from the Centre.
'Spoke to Maharashtra CM @Dev_Fadnavis on the situation arising due to incessant rain in Mumbai & surrounding areas,' Modi tweeted.
'Centre assures all possible support to the government of Maharashtra in mitigating the situation due to heavy rains in parts of the state,' he added.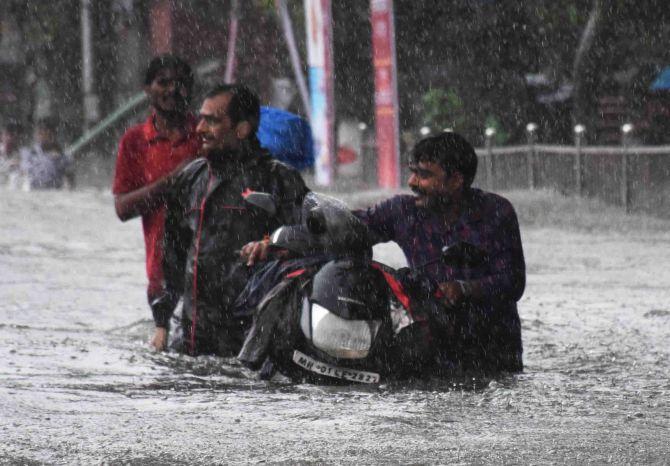 IMAGE: The Meteorological Department has warned of more 'heavy intermittent spells' in the next few hours in Mumbai and its satellite cities. Photograph: Sahil Salvi
The prime minister urged the people of Mumbai and surrounding areas to stay safe and take all essential precautions in the wake of the heavy rains.
President Ram Nath Kovind tweeted, 'Thoughts with families, especially children, in Mumbai & western parts of the country hit by heavy downpour.'
'Govt & public agencies taking all steps amid heavy rains. Glad to note voluntary groups & citizens too coming together (sic).'
Aircraft have stopped landing at the city airport after 4 pm but were taking off, officials said.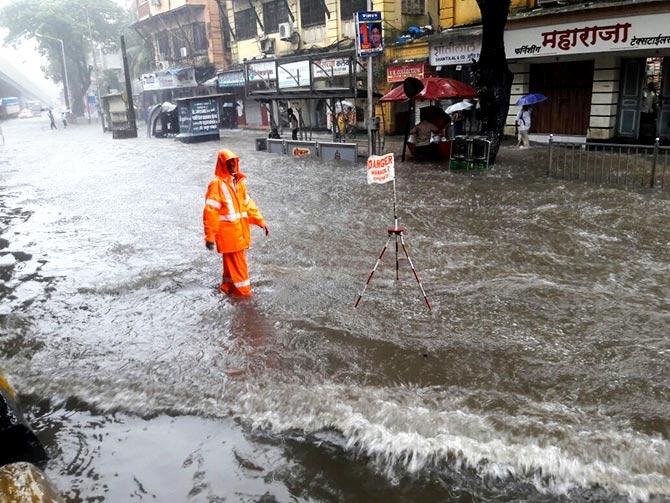 IMAGE: Many roads were flooded, causing heavy traffic jams. Public transport was also badly hit. Photograph: Sahil Salvi
Flight operations at Chhatrapati Shivaji International Airport saw delay and disruptions since morning.
Due to strong winds and downpour since morning, six to seven flights had to do go around while landing, while four to some were diverted to nearby airports, mainly Ahmedabad.
A Chhatrapati Shivaji International Airport spokesperson said there was an average delay of 35 minutes.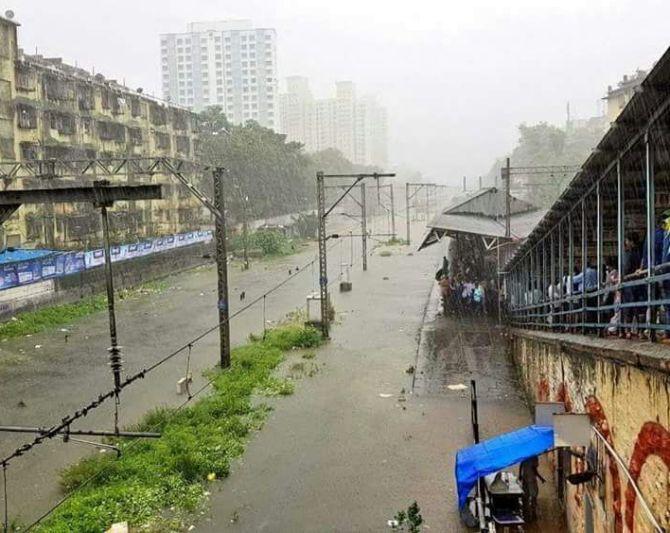 IMAGE: Currey Road station on the Central Railway Line. Train services have been disrupted owing to the heavy flooding on the tracks. Photograph: Sahil Salvi
"Heavy rain and strong winds have drastically reduced visibility leading to diversions and go around even though the main runway is open," a Mumbai airport source told PTI.
Suburban rail services, the lifeline of the metropolis, were thrown out of gear.
The Central Railway-run harbour line, which connects Chatrapati Shivaji Maharaj Terminus to Panvel, remained suspended since 11.30 am, railways officials said.
'Due to water-logging on tracks & point failure at Bandra following very heavy rains, 3 lines except UP Fast line are affected. Efforts are on to start traffic on 3 lines (except UP fast line) at Bandra as soon as possible by attending the points,' the Western Railway tweeted.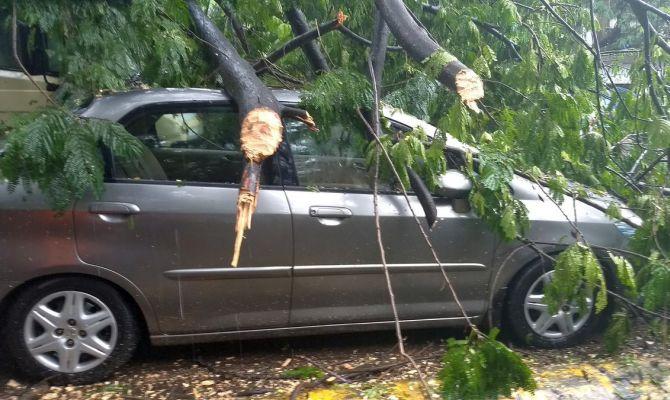 IMAGE: A tree fell on a moving car at Marol Military Road in Andheri (East). The driver was not injured. Photograph: Harish Kotian/Rediff.com
"Areas such as Mumbai, south Gujarat, Konkan, Goa and West Vidarbha will get extremely heavy rainfall in the next 24 to 48 hours. It is a serious situation. We have issued necessary warnings to the departments concerned, including airports," A K Srivastav, head of climate monitoring and analysis at IMD Pune, told PTI.
"The status of the weather system, which has brought heavy showers over the Mumbai region, has been upgraded from 'well marked low pressure' to 'depression'. It means it is set to bring more rains. Hence, we have predicted an extremely heavy rainfall," he said.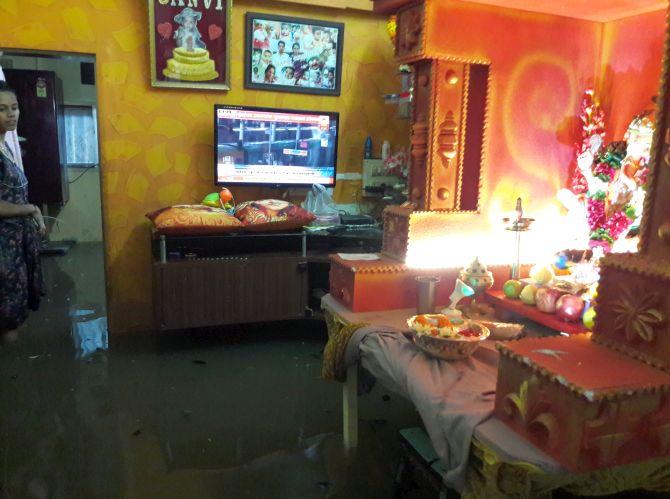 IMAGE: Water entered houses in low-lying areas due to heavy rain. Photograph: Sahil Salvi

In the morning, commuters bound for offices were stranded at several suburban stations.
In absence of train services, major suburban stations were overcrowded. Chhatrapati Shivaji Maharaj Terminus was chock-a-block with commuters anxiously waiting for trains to head home.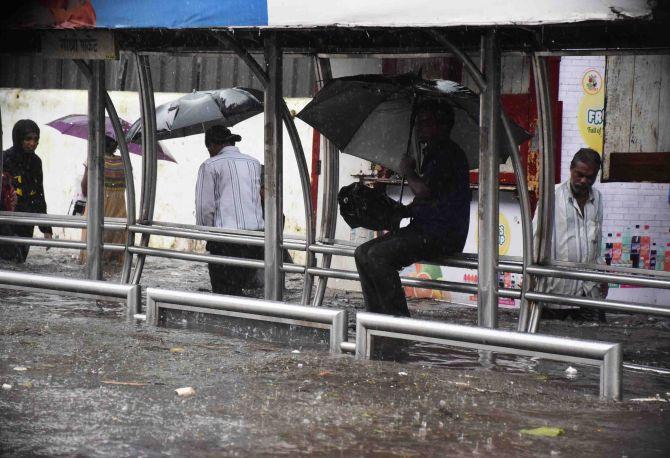 IMAGE: Commuters stranded at a bus stop in Gandhi Market, King's Circle.
Photograph: Sahil Salvi

Charan Singh, Director, India Meteorological Department, said a 'Red' warning has been issued for the next 24 hours for the city and adjoining areas, indicating there could be very heavy rainfall. He said the city and surrounding areas would continue to receive heavy rainfall over the next 2-3 days.