About 1.82 lakh people have been evacuated to safe places by rescue teams in last 48 hours. M I Khan reports from Patna.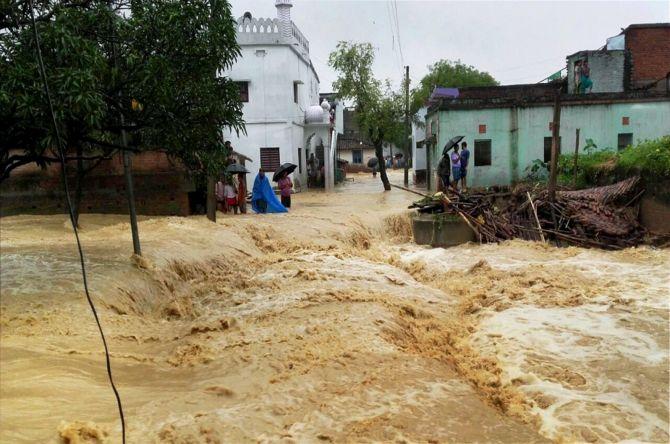 IMAGE: A view of a flooded village in West Champaran district of Bihar. All Photographs: PTI Photo

As many as 56 people have lost their lives in Bihar due to flooding in the state so far, officials of the state disaster management department said on Tuesday.
The officials said the flood situation in the state has worsened and there is little chance of respite by Wednesday.
"So far 56 people died due to floods," they said.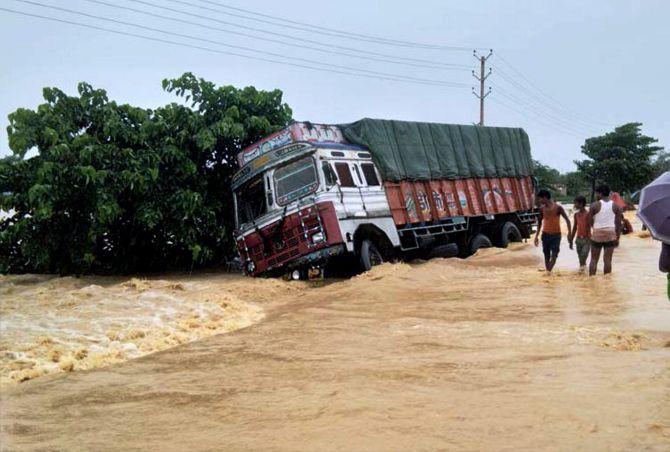 IMAGE: A truck drifts off the submerged NH 28 at flooded Ramgadhwa in East Champaran.

Reports reaching Patna said that flood victims in the worst-hit districts of Kishanganj, Araria, Katihar and Purnea staged protests at different places against alleged negligence of the officials in providing relief to them.
According to a report by a local Hindi news channel, flood victims in these districts have complained that neither relief reached them nor any official approached them for evacuation.
It said that Kishanganj district headquarters is cut off from the rest of the district after roads connecting it washed away in the floods.
Situation is more or less similar in Araria, Purnea and Katihar with stories of painful suffering and struggle for survival by flood victims reported.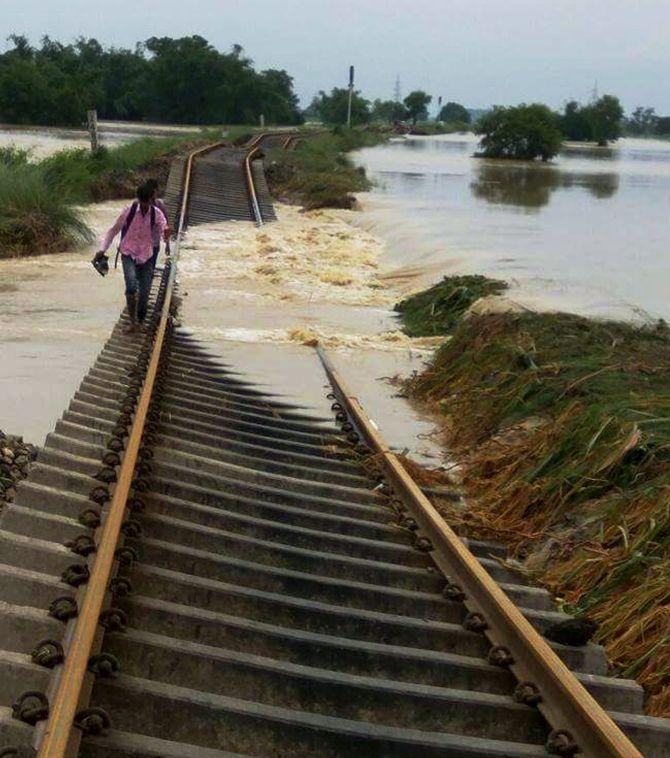 IMAGE: A damaged railway line in flood-hit Katihar district.

Unconfirmed reports reaching Patna put the death toll at 90.
Bihar disaster management department officials said that nearly 70 lakh people in 895 panchayats under 86 blocks in 15 districts have been affected by the floods in the state.
According to them, about 1.82 lakh people have been evacuated to safe places by the rescue teams in last 48 hours and government has set up 254 relief camps in which 45,120 people have been provided shelter in flood-hit districts.
The state government has deployed Army personnel, Air Force helicopters, National Disaster Response Force and State Disaster Response Force teams along with its officials to speed up rescue and relief operations.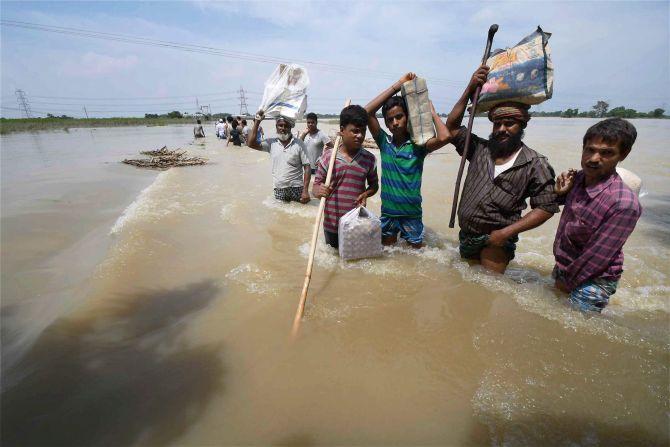 IMAGE: Flood-affected villagers shift with their belongings in Purnea district.

Disaster management department principal secretary Pratyaya Amrit said the government has deployed four Army teams, 22 NDRF and 15 SDRF teams for relief and rescue operations.
The state government has cancelled leaves of doctors and health department officials in the affected districts.
He admitted that thousands of people have been forced to flee their homes after flood waters entered their villages and have taken shelter at high places, including school buildings, and awaiting evacuation to a safe place by the administration.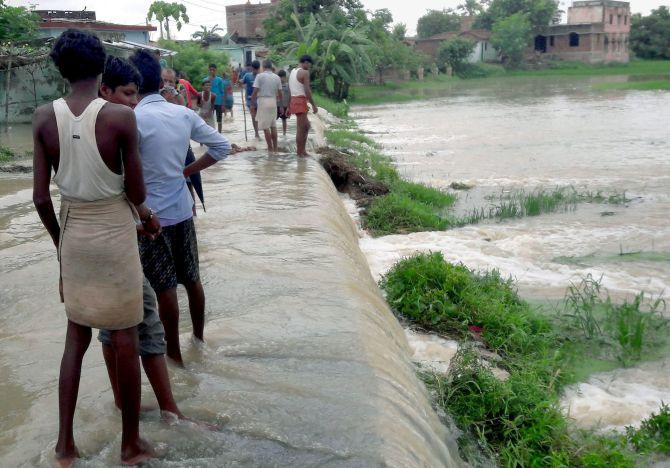 IMAGE: People at a flooded village in East Champaran district.

With major rivers in northern Bihar rising menacingly at several districts following heavy rains and discharge from Nepal, in last three days, the flood situation has become grim.
"Rising Mahanannda river has breached its embankment at two places in Katihar district. Kamla Balan breached its embankment in Darbhanga district, and Gandak also breached its embankments in East and West Champaran districts," officials of state water resources department said.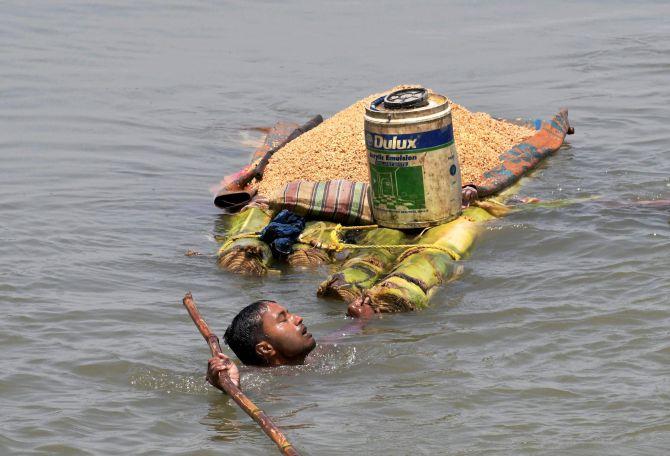 IMAGE: A villager carries grains on a banana raft as he shifts from a flooded village in Araria district.

The swollen Kosi, Gandak, Bagmati, Mahananda, Kamla Balan and Ganga rivers are posing a threat to their embankments and giving sleepless nights to people in several other districts including Muzaffarpur, Supaul, Sheohar, Gopalganj, Sitamarhi Araria and Saharsa.