With trends giving the Aam Aadmi Party a massive lead over the Bharatiya Janata Party, hundreds of AAP supporters broke into boisterous celebrations with their signature poll tune 'Paanch Saal Kejriwal' blaring over loudspeakers.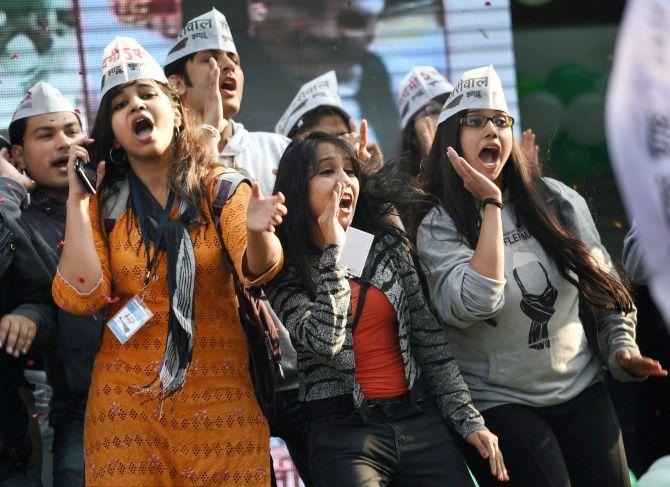 Female supports sing the 'Paanch saal Kejriwal tune in Delhi. Photograph: PTI photo
Every lead projected on the massive LCD screens set up at the party office is being cheered loudly by supporters who are proudly waving the party flags along with the tricolour.
'Gulal' smeared party workers are dancing in abandon as petals are being showered on them from the office terrace by a machine. The party's celebrity faces such as Raghu Ram are also drawing loud cheers from the crowd.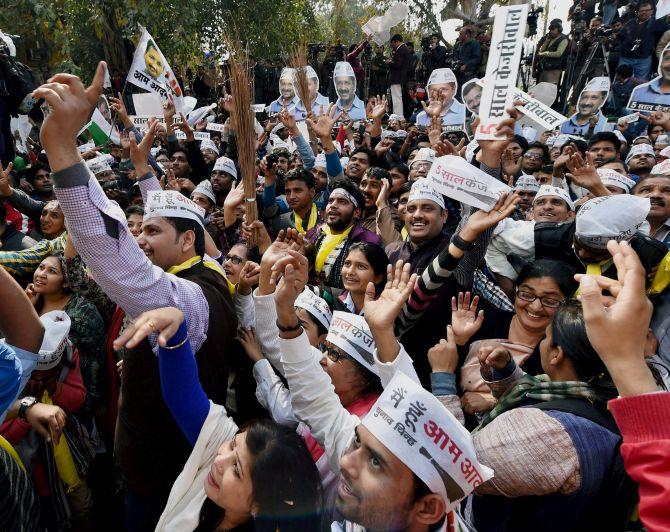 Wearing the trademark AAP caps and waving brooms, the AAP symbol, supporters celebrate the massive victory that AAP is heading to. Photograph: PTI photo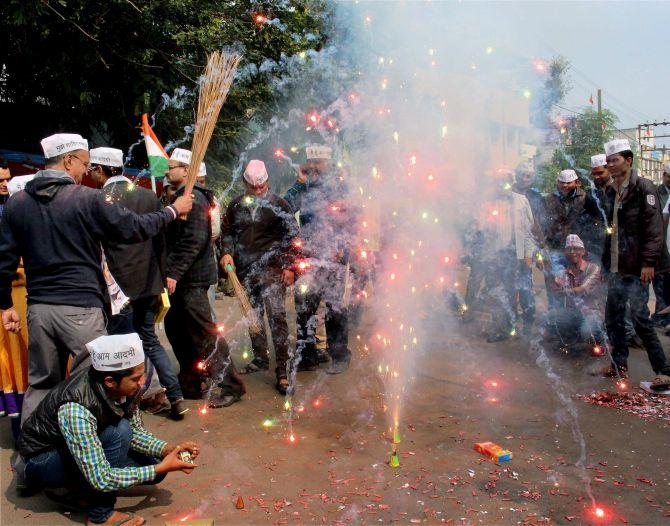 Fireworks are set off outside the AAP office. Photograph: PTI photo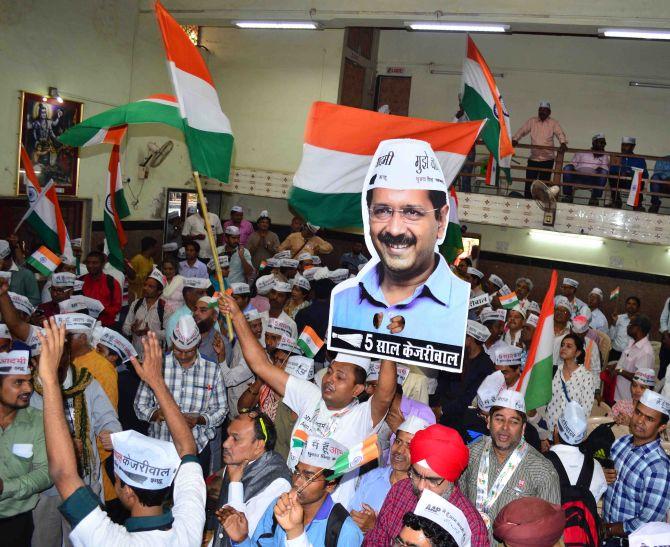 AAP supporters in Mumbai too celebrate the Delhi victory and chant his slogans outside the Dadar office. Photograph: Sahil Salvi/Rediff.com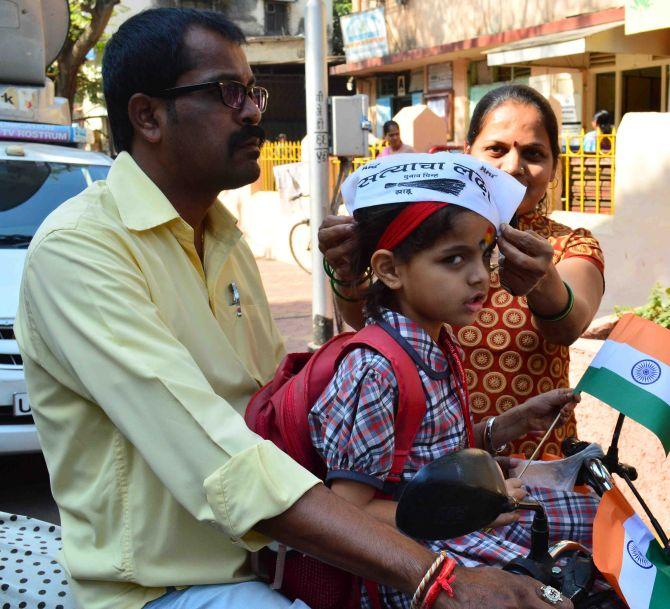 A mother makes her little child wear the AAP cap. Photograph: Sahil Salvi/Rediff.com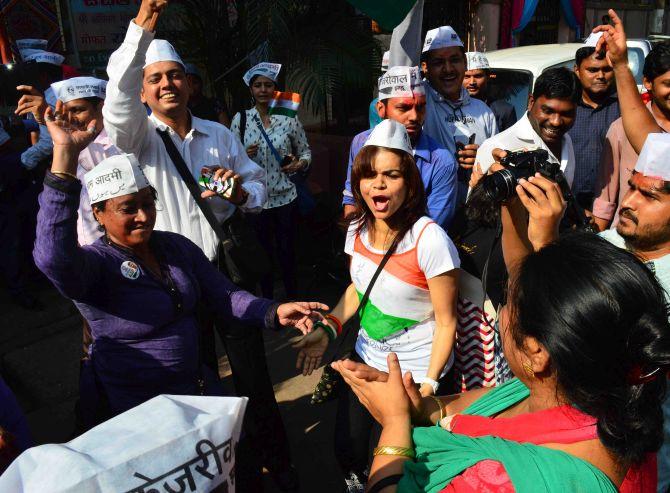 Unable to contain their joy, AAP supporters spill out on the streets and dance in Dadar, Mumbai. Photograph: Sahil Salvi/Rediff.com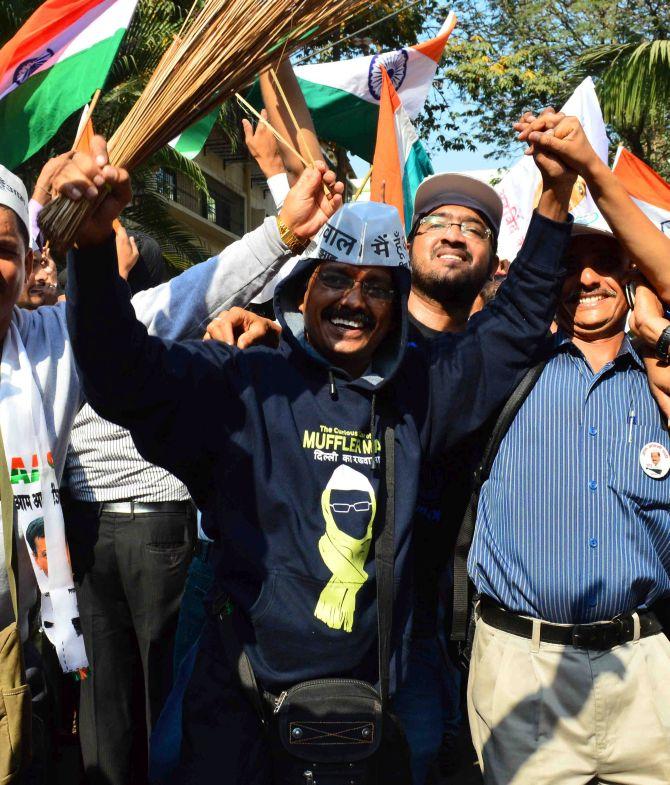 A man who bears some resemblance to Kejriwal holds a broom in his hand and celebrates the party's victory. Photograph: Sahil Salvi/Rediff.com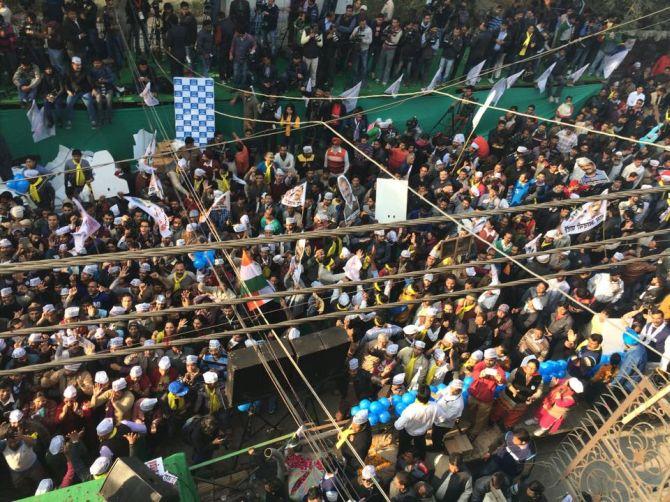 AAP workers swell up on the roads outside the party's Patel Nagar office. Photograph: AAP/ Facebook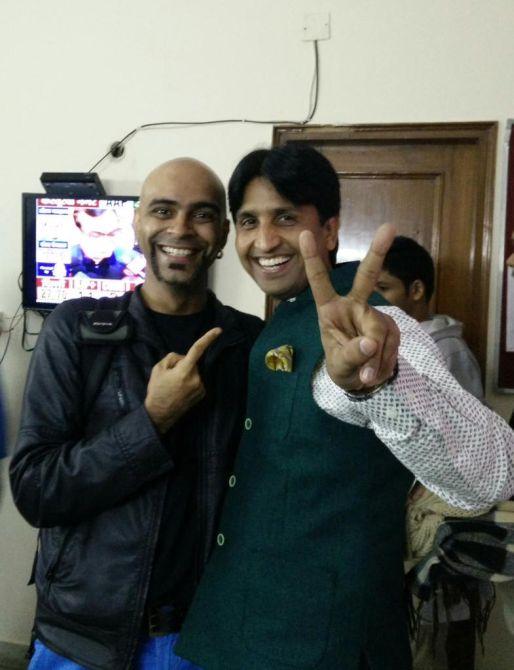 Actor and activist Raghu Ram and AAP leader Kumar Vishwas show a victory sign at the party office as trends show a landslide victory for the party. Photograph: AAP/ Twitter