Incessant rains apparently caused cracks in the bridge, resulting in its collapse, an official said.
An over-bridge at a railway station in Mumbai's Andheri suburb collapsed on Tuesday during heavy rains, disrupting train services, injuring five people and putting the spotlight once again on the creaky infrastructure of this metropolis.
A major disaster was also averted as a packed train that was to pass Andheri station stopped a few metres from the collapsed bridge, thanks to motor man Chandrashekhar B Sawant's quick action in stopping the train when he saw a portion of the bridge collapsing.
"I immediately applied emergency brakes and the train stopped," Sawant told reporters.
"The collapse was accompanied by a big thud sound of debris falling", he said.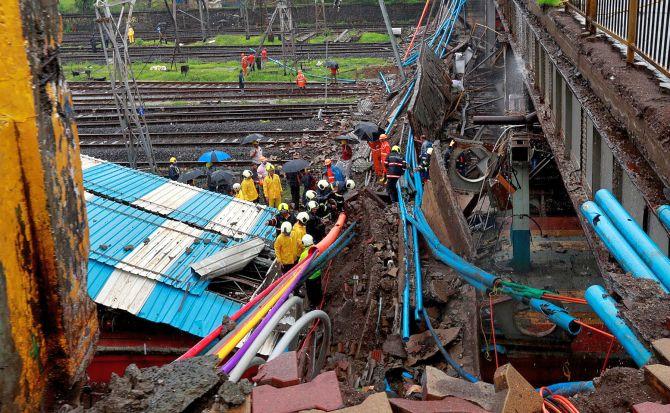 The Brihamumbai Municipal Corporation said five people were injured, including two seriously.
A part of the 47-year-old Gokhale over-bridge came down at 7.30 am, before the commuter rush hour had started, which was the likely reason the casualty figure remained low.
Normally, thousands of commuters use the bridge, which connects Andheri East and Andheri West stations.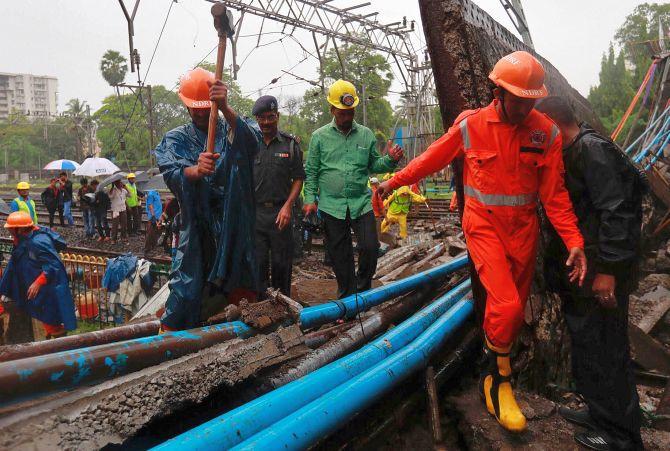 The falling bridge entangled with overhead wires which fell on the tracks below, halting local train services on the Western line, officials said, causing immense inconvenience to Mumbaikars for whom local trains are a lifeline. Some long distance trains were also cancelled or rescheduled.
Western railway informed in the night that down fast line between Andheri and Vile Parle was restored and cleared; whereas both up and down fast lines in this section have been opened for traffic on restricted speed.
Meanwhile, the Mumbai police said in an advisory that the Gokhale Flyover will be closed for traffic for repair work for a few days.
'Commuters are advised to take route thru Balasaheb Thakre bridge Jogeshwari /Milan flyover Santacruz/Mrunal tai Gore flyover Malad Goregaon/Captain Gore bridge Parla / Andheri-Khar-Milan subway (sic),' it said in a tweet.
Only nine months ago, in September, a foot over-bridge linking Elphinstone Road and Parel suburban railway stations had collapsed, leading to a stampede in which 22 people were killed and several injured.
"Incessant rains apparently caused cracks in the (bridge), resulting in its collapse. Thankfully, no train was passing on the track under the bridge at that time," said a civic official.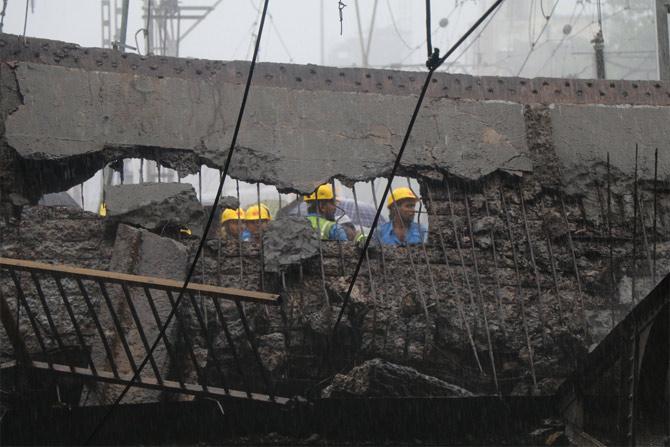 Mumbai's famous tiffin carriers, the 'Dabbawalas', who use local trains to ferry hundreds of thousands of lunch boxes from homes, were also unable to deliver on Tuesday as pounding rain lashed the city, clogging several roads with shin-high water.
Railways Minister Piyush Goyal visited the accident site and ordered an inquiry by the Commissioner of Rail Safety whose report would have to be submitted within 15 days.
Expressing regret over the accident, he said it was 'very unfortunate' and 'most unexpected'.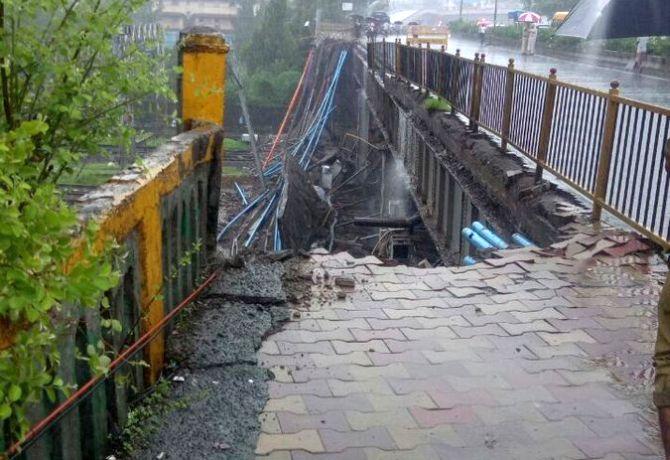 He said around 700 employees of the railways, helped by some experts from Delhi and Lucknow, were working on the restoration work and the train services will be resumed completely by Tuesday night.
The minister said the last safety audit of the Gokhale bridge had been conducted on November 12 last year and nothing wrong was found.
Goyal said that during the next six months, a joint safety audit will be conducted by the Railways, the BMC and the Indian Institute of Technology, Mumbai, at the 445 road over-bridges, foot over-bridges and bridges over pipelines in Mumbai as part of efforts to improve safety for the commuters.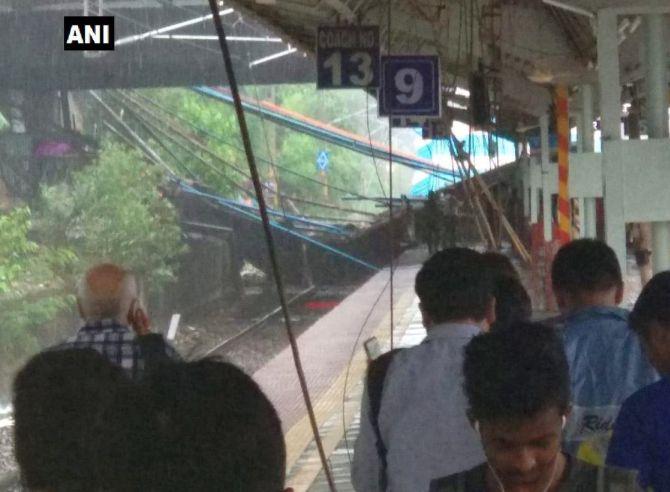 WATCH: Bridge collapses at Andheri
Western Railways spokesman Ravinder Bhakar told PTI that overhead equipment above the tracks was damaged and a team of engineers is working to restore services.
Another senior official said the structural audit of all foot and road over-bridges, including the one which collapsed, is underway.
Maharashtra Chief Minister Devendra Fadnavis has asked the Mumbai police commissioner to ensure smooth traffic movement and asked the BMC to increase its bus service.
Mumbai Nationalist Congress Party chief Sachin Ahir termed it as 'another failure' of authorities and criticised the ruling BJP and the Shiv Sena for not doing enough for residents of the mega city.
However, Bharatiya Janata Party leaders said it was time to help the stranded commuters rather than indulging in 'blame game'.
Guardian minister of suburban Mumbai Vinod Tawde said the railways should conduct a thorough probe into the incident. Mumbai Congress chief Sanjay Nirupam said the Railways minister should ensure hassle-free and fearless journey for travellers.
"The regular occurrence of accidents has shaken the confidence of rail passengers," he said in a video message.
The Western Railway has made arrangements for the refund of tickets of passengers travelling by long distance trains which were cancelled because of the incident.
Western Railways commuters were permitted to travel on alternative routes of the Central Railway.
Private airlines Vistara and Jet Airways said they will accommodate passengers running late due to traffic congestion because of the incident.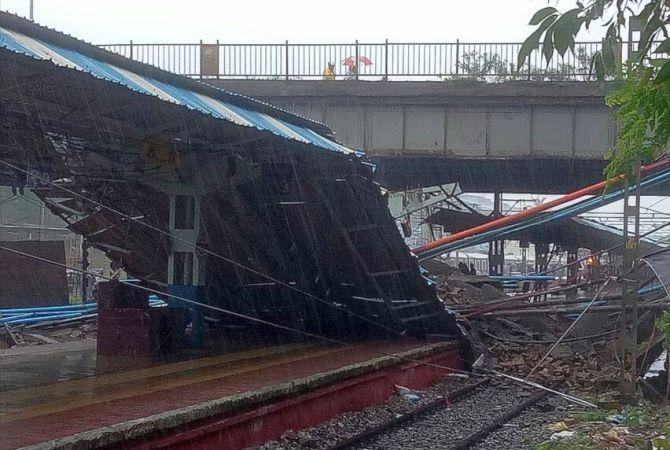 Congress president Rahul Gandhi said civic governance has 'collapsed' in Mumbai with streets flooded and a road overbridge collapsing on rail tracks.
'The streets are flooded, citizens stranded, bridges collapsing...Civic governance has collapsed. My thoughts are with the citizens of Mumbai. Stay safe!' Gandhi tweeted.
The Meteorological department has predicted heavy rains in Mumbai and adjoining areas in the next 24 hours.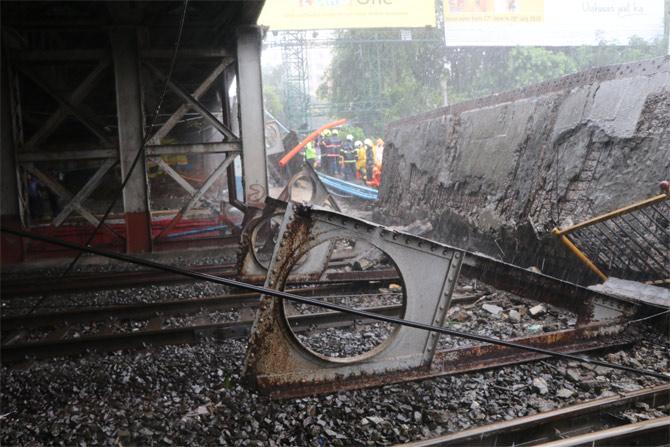 The railways said on Tuesday it will carry out a safety audit of nearly 450 road overbridges, foot overbridges and bridges over the pipelines in Mumbai to detect and rectify any flaws in them.
A joint safety audit will be conducted by the Railways, the BMC and Indian Institute of Technology-Bombay of the 445 ROBs, foot overbridges (FOBs) and bridges over the pipelines in Mumbai as part of efforts to improve safety of commuters, Goyal said.
"I have spoken to the director of IIT-Bombay and he has assured all cooperation. In the next six months, all the 445 ROBs, FOBs and other bridges going above water pipelines will be inspected and a joint safety audit will be carried out in association with the BMC as well," he told reporters at the site of the incident.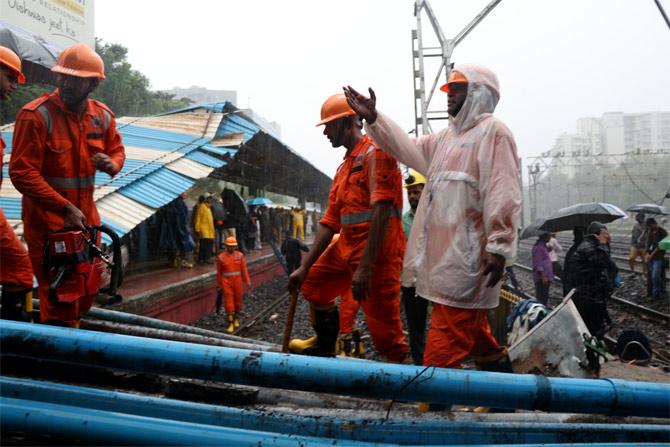 The railway minister said that based on its findings, rectification of any flaws in these bridges will be taken up by his ministry on mission mode.
Photographs: PTI Photo, Danish Siddiqui/Reuters, Hitesh Harisinghani/Rediff.com, Sahil Salvi/Rediff.com, ANI/Twitter