"We've won the election, that's what we've done. The most important people to thank are the Australian people because we have resolved this election," Turnbull said after claiming victory.
IMAGE: Australian Prime Minister Malcolm Turnbull kisses his wife Lucy as members of his family look on. Photograph:
David Gray/Reuters
Australian Prime Minister Malcolm Turnbull on Sunday declared victory for his conservative coalition in the closely fought general election after opposition Labor conceded defeat, ending the week-long state of political paralysis in the country.
Turnbull, whose victory speech came hours after opposition labor leader Bill Shorten rang him to conceded defeat, said it was vital for the country that all sides of politics worked together to make this term of parliament work.
"We've won the election, that's what we've done. The most important people to thank are the Australian people because we have resolved this election and have done so peacefully," Turnbull, 61, said.
"It is vital that this parliament work. It is vital that we work together and as far as we can ensure that we all agree.. Consistent with our policies that we took to the election," he said.
According to media reports, Turnbull will not be officially sworn in for at least one week as the governor general is overseas and was unable to oversee the ceremony.
Turnbull indicated that some changes in his cabinet team after losing some of his cabinet members.
"A number of our members have not been returned, I want to acknowledge them for their candidacy, I want to thank them for their service and acknowledge their going through a tough time and it is a tough business," Turnbull said at a press conference.
"I also want to acknowledge the new members. We have some great new stars coming into parliament, I want to welcome them, it will be a new parliament with many new faces – new and younger faces. It will be a new parliament and I believe a very exciting and constructive one," he said.
Welcomed Shorten's statement on reaching "common ground" on key issues with the government, Turnbull said his granddaughter was on his lap when he took Shorten's call and he was "deeply, deeply touched" by the moment.
"That's a moment I'll never forget. It was a reminder that we are trustees for future generations. Everything we do is about the future," Turnbull said.
"These challenges are not easy, there's no simple solution but that's why they need our best minds, our best brains, above all our best goodwill in our new parliament to deliver that," he said.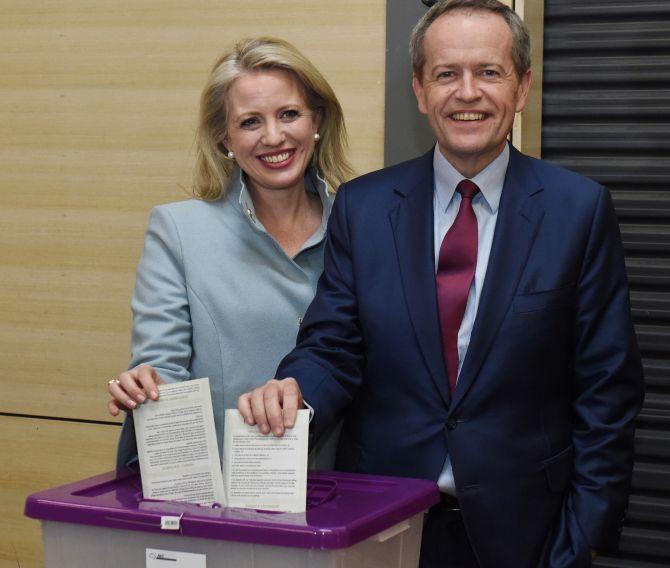 IMAGE: Australian Labor Party opposition leader Bill Shorten and wife Chloe cast their ballots at a polling station at Moonee Ponds West Primary School in Melbourne on July 2. Photograph: Mick Tsikas/Pool/Reuters
After eight days of vote counting, Liberal-National coalition has won 74 seats in the 150-seat House of Representatives and Labor was at 66 seats with five seats still too close to call. The coalition needs 76 seats to claim a majority in the lower house, the House of Representatives.
"It is something we should celebrate, but not take for granted that here in Australia we settle these big political issues, we settle who sits in our parliaments, we settle who governs our country, and we do so peacefully through our democratic processes," Turnbull said.
"I have spoken to Turnbull early this afternoon to congratulate him and Lucy, and to wish them the very best," Shorten said.
He said his party was willing to work to find "common ground" with the government and that Australians deserved "nothing less".
"I understand we need to make this parliament function and we'll be up for that," Shorten said, adding that his Labor party would stick to its guns on key issues such as Medicare.
"I expect them to do nothing less than to keep their promises they made to the Australian people. And as I said, I wish Malcolm Turnbull well in what the future holds," he said.
Shorten said they had a mandate to stand up for Medicare to make sure schools are properly funded and to prioritise Australian jobs.
"One thing which unites Turnbull and I is our love of Australia and our huge respect for our democracy. Therefore I want to thank the Australian people," he said.
Thanking his voters, Shorten said, "I want to reassure them, that despite Labor not winning enough seats this time, that the Labor party will stick true to its core values, its and promises and beliefs".
He further said that he would write to Turnbull to suggest adopting electronic voting system for the country in order to speed up "the results which should not hang in the balance for so long."
Turnbull called the election early, hoping to shore up his power after ousting fellow conservative Tony Abbott in a Liberal Party vote in September but the move appears to have backfired.
Sunday's victory came a protracted eight days after the July 2 polls - gave Turnbull only a narrow victory, with uncertainty over whether he will form a minority or majority government.