The Kerala chief minister's four years in office may well be remembered for the way he handled Cyclone Ockhi, two floods, Nipah, and now COVID-19, reports Shine Jacob.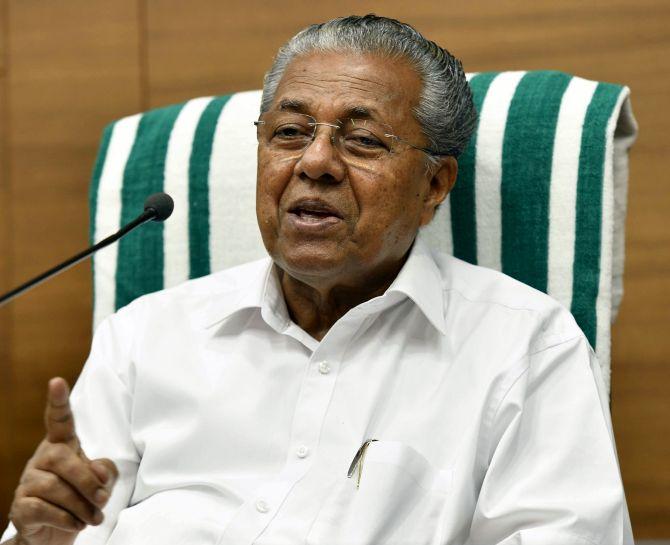 It was May 28, 2016, when two of the sharpest leaders and shrewdest administrators in contemporary Indian politics had their first meeting in the national capital.
One, a newly assumed Kerala chief minister, Pinarayi Vijayan, and other, Prime Minister Narendra Modi.
After customary greetings, the first topic that came up for discussion was proof that both leaders meant business.
Modi sought the state government's co-operation in completing the 444-km GAIL pipeline -- the Kochi-Koottanad-Bengaluru-Mangaluru pipeline project (KKBMPL).
Even a decade after it was conceptualised, hit by land acquisition woes with even religious groups too standing against it, the company was on the verge of winding up the project as it was able to construct only 39 km by then.
The expected cost of the project, supposed to be commissioned in 2013, had doubled.
The project was crucial for the future of Petronet LNG's terminal in Kochi, constructed at over $1 billion and meant to ensure natural gas supply for domestic and industrial use in Kerala and all of South India.
When Vijayan gave a firm 'Yes' to Modi, many political pundits in Kerala would have judged it an impossible task.
After four years in office, the completion of the same 'improbable' project is considered a feather in chief minister's cap.
However, Vijayan's four years in office may well be remembered for the way he handled Cyclone Ockhi, two floods, Nipah, and now COVID-19.
"The government has set a global benchmark in crisis management. Most of the infrastructure projects were facing roadblocks, whether it was power highways, national highways, or the crucial gas highway.
"All these projects were blocked by earlier governments playing to imaginative galleries. This government could break this trend," said John Brittas, the media advisor to the chief minister and managing director of Kairali TV, a Communist Party of India (Marxist)-backed channel.
In the industrial sector, the government is credited with the push given to start-ups. The state government data says their number has gone up from 300 in 2016 to 2,200 now.
Under one of its social-sector schemes called Life mission, 219,154 families have been given homes.
Among the infrastructure projects that stand out include the completion of Kerala's first metro project in Kochi.
Addressing the media on the fourth anniversary of his coming to power, Vijayan said the Kerala Infrastructure Investment Fund Board (KIIFB) had given the nod to development projects worth Rs 54,391 crore and also mobilised Rs 2,150 crore through masala bonds for infrastructure uplift.
It is also credited with disbursing Rs 23,409 crore as welfare pension, 150 per cent more than what the previous government gave.
However, the unemployment rate of Kerala is 9.53 per cent, much above the national average of 6.1 per cent.
As many as 3.6 million youths are jobless in the state. They include 7,303 doctors, 44,559 engineers, 6,413 MBAs, and 3,771 MCAs (masters of computer applications).
The opposition is critical about the way crisis management is being done.
Opposition leader Ramesh Chennithala had said that many of the promises during the floods of 2018 and 2019 had not been met.
Bharatiya Janata Party state president K Surendran said: "They do not have a single project of their own. All are central projects or unfinished ones of the previous government. The state government is a huge failure."
According to Surendran, the state's economy too is in a shambles with the cumulative debt touching Rs 1.71 trillion.
"The state's economy is shattered and no major investors are coming to Kerala. The way they managed political issues like Sabarimala was also disastrous. They are more into public relations stunts than doing anything on the ground," Surendran added.
However, amid criticism, Vijayan, through his daily press briefings on Corona and the hailed 'Kerala model' in containing the virus, is gaining popularity.