Railway workers in France are on strike against President Emmanuel Macron's labour reforms, severely disrupting the rail network.
The workers launched three months of rolling strikes, a major test of Macron's resolve to reshape the country through sweeping reforms.
Workers of state-owned railway company Société nationale des chemins de fer français (SNCF) will be on strike for two days out of five every week for three months.
The strike was accompanied by demonstrations by several hundreds of rail workers in Paris and other cities and represents the biggest wave of industrial unrest since Macron came to power last May.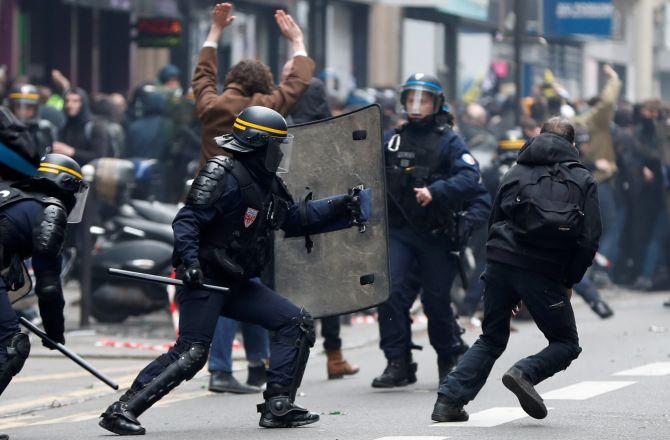 French Compagnies Républicaines de Sécurité (CRS) riot police pursue protesters during a demonstration by French state-owned railway company SNCF workers and students, in Paris, as part of the nationwide strike.
Photograph: Gonzalo Fuentes/Reuters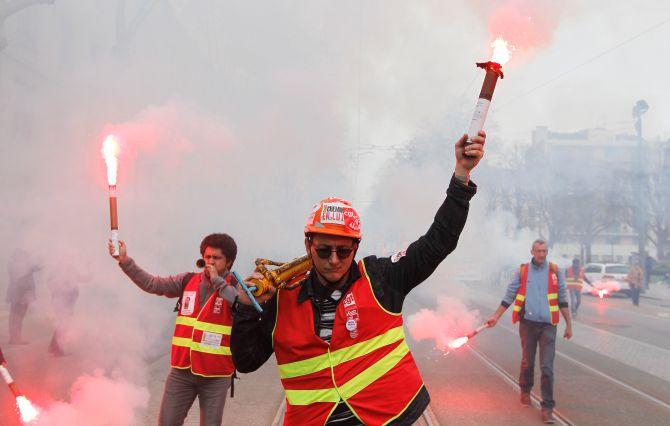 SNCF workers hold safety flares as they attend a demonstration in Lyon. Only one in eight high-speed TGV trains and a fifth of regional trains were running on what French media dubbed as 'black Tuesday'. Major regional stations including Nice, Lille and Marseille were virtually deserted as travellers anticipated cancellations.
Photograph: Emmanuel Foudrot/Reuters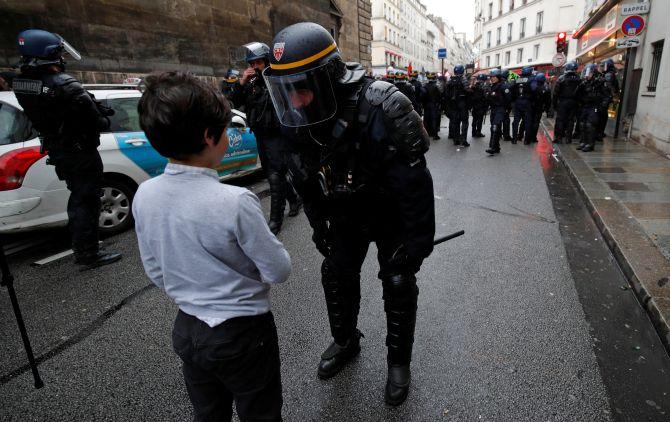 A CRS riot policeman speaks to a boy to explain that the street is blocked by protestors in Paris. With stoppages planned two days out of five until June 28, weeks of disruption lie ahead for France's 4.5 million daily train passengers.
Photograph: Philippe Wojazer/Reuters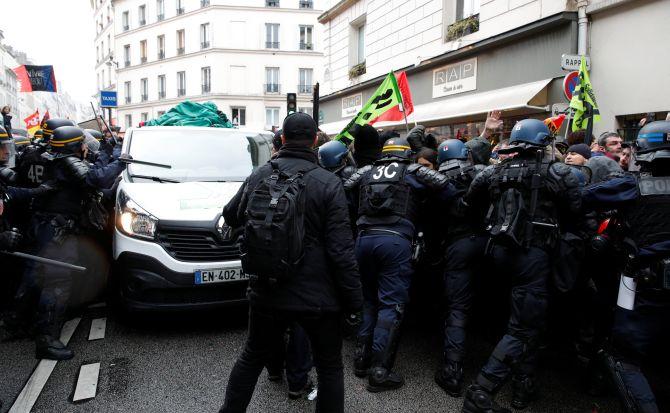 French gendarmes and CRS riot police face off with SNCF workers and students during the demonstration in Paris. The railways are a bastion of trade unionism in France and have forced governments into U-turns in the past during major stoppages.
Photograph: Philippe Wojazer/Reuters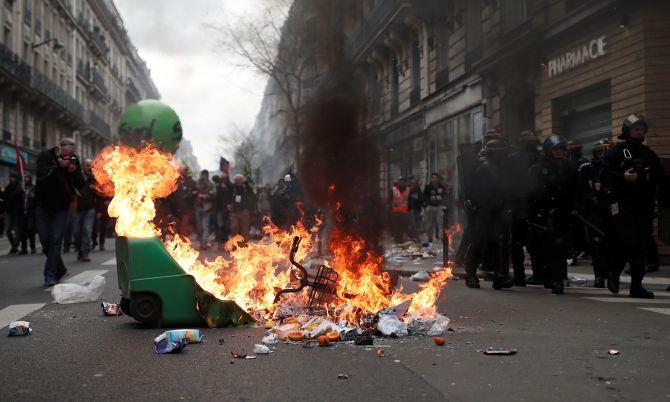 CRS riot policemen walk past a burning garbage can during the demonstration. Although, three-quarters of Eurostar trains to London and Brussels were running on Tuesday and Thalys trains towards Belgium and the Netherlands were operating almost normally, there were none at all to Spain, Italy or Switzerland.
Photograph: Benoit Tessier/Reuters
A policeman apprehends a man during the demonstration in Paris.
Photograph: Gonzalo Fuentes/Reuters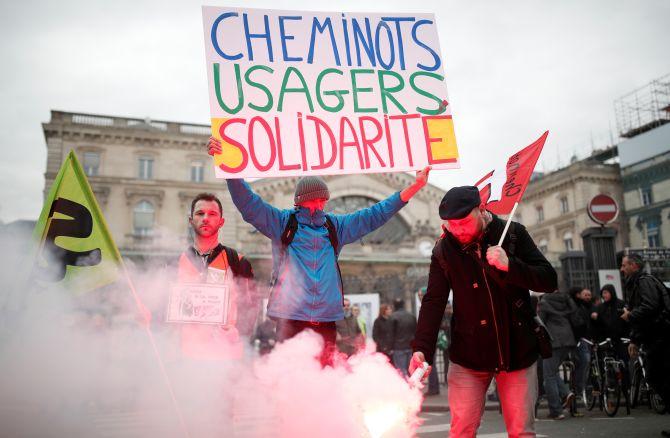 A man holds a placard which reads 'Railway workers, commuters, solidarity'. Public support for the rail strike stands at just below half, according to an Ifop poll released Sunday, and commuters expressed a mixture of sympathy and frustration with the reduced service.
Photograph: Benoit Tessier/Reuters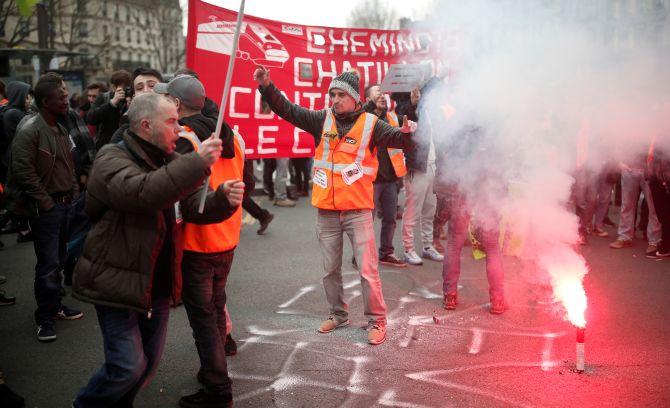 Sud Rail labour union employees of SNCF attend the demonstration in Paris. Macron says the SNCF, saddled with 46.6 billion euros of debt, needs to drastically improve its efficiency and cut running costs as EU countries prepare to open passenger rail to competition by 2020. His government is planning to stop granting the rail workers' special status -- which guarantees jobs for life and early retirement -- to new SNCF hires.
Photograph: Benoit Tessier/Reuters