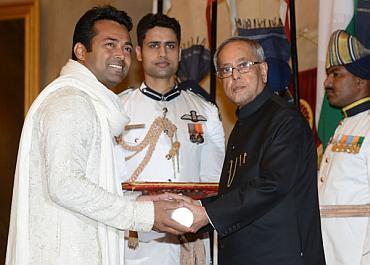 President Pranab Mukherjee on Saturday presented Padma awards to 56 distinguished personalities including actor Paresh Rawal, ace tennis player Leander Paes and author Ruskin Bond.
Cricketer Yuvraj Singh, eminent writer Anita Desai and noted painter Sunil Das could not make it to the ceremony.
Speaking after the ceremony, actor Paresh Rawal, who is contesting on BJP ticket from Ahmedabad-East Lok Sabha seat, said he was feeling honoured at being conferred Padma Shri.
The President presented one Padma Vibhushan, 11 Padma Bhushan and 44 Padma Shri awards on Saturday at the ceremony held at Rashtrapati Bhavan, President's Secretariat said.
Renowned yoga guru Bellur Krishnamachar Sundaraja Iyenger, who took the ancient Indian exercises to modern world making them a global phenomenon, was conferred the Padma Vibhushan which is the highest honour in the Padma awards.
Tennis Player Leander Paes, Director of Indian Institute of Science and renowned scientist P Balram, Justice Dalveer Bhandari, noted writer Ruskin Bond, Secretary, Department of Science and Technology, Thirumalachari Ramasami were conferred Padma Bhushan.
Management Guru Mrityunjay B Athreya, agriculture scientist Madappa Mahadevappa, Chairman Space Commission and Secretary in Department of Space Koppillil Radhakrishnan, distinguished Professor at IIT-Delhi and founder Director of National Institute of Malaria Research Vinod Prakash Sharma and artist, writer and educationist Gulammohammed Sheikh were also conferred Padma Bhushan.
Academician and founder of Gujarati Vishwakosh, Dhirubhai Premshanker Thaker was awarded Padma Bhushan posthumously.

Name of Late Chief Justice of India J S Verma, whose family had refused to accept Padma Bhushan, was missing from the list of awardees conferred with the civil honours

Of the 127 people, who were conferred with Padma Vibhushan, Padma Bhushan and Padma Shri on the eve of this year's Republic day, 66 were already honoured with the awards by the President at a special function held at Rashtrapati Bhavan on March 31.
Those presented with Padma Shri today included playwright and theatre artist Mohammad Ali Baig, folk artist Musafir Ram Bhardwaj, public health expert Indira Chakravarty, space scientist M Chandradathan and former captain of Indian women cricket team Anjum Chopra.
Rationalist Narendra Achyut Dabholkar, who was shot dead by unidentified assailants in Pune on August 20, 2013, has been conferred the award posthumously.
Poet Keki N Daruwalla, Bengali film actress Supriya Devi mountaineer Love Raj Singh Dharmashaktu, Tabla player Vijay Ghate, Emeritus professor at Indian Statistical Institute Jayanta Kumar Ghosh, social worker Mukul Chandra Goswami, Founder Director of Delhi State Cancer Institute Rajesh Kumar Grover were also conferred Padma Shri.

The coveted award was also presented to Opthalmologist Amod Gupta, Chemical scientist Ramakrishna Vijayacharya Hosur, vascular surgeon T P Jacob, social workers Manorama Jafa and Durga Jain, Unani medicine expert Hakim Syed Khaleefathullah, Oncologist Lalit Kumar, animation expert Ram Mohan and cardiologist Nitish Nayak.
Professor Emeritus University of Tokyo and scholar in Indian philosophy Sengaku Mayeda amd author of "The emperor of all maladies: A biography of cancer" and US-based oncologist Siddhartha Mukherjee have also been conferred with Padma Shri.

Senior gyanaecologist Subhadra Nair, Kathak dancer Rani Karnaa Nayak, plant biologist Ajay Kumar Parida were also given the Padma Shri award.
Image: Tennis star Leander Paes receives the Padma Bhushan award from President Pranab Mukherjee
Photograph: Rashtrapati Bhawan