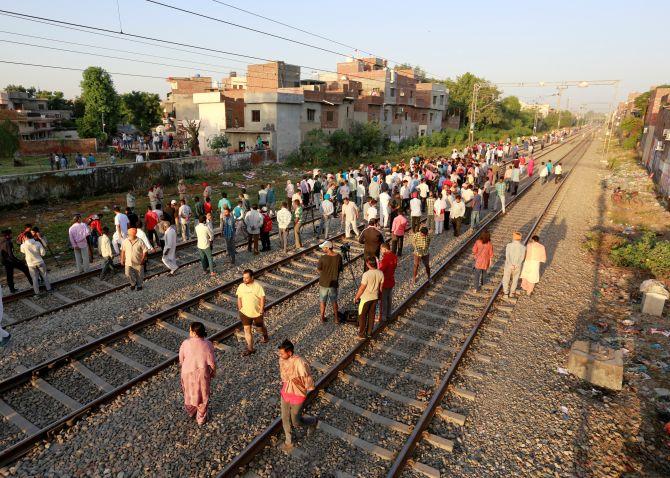 For more than 20 years, people from adjoining villages would gather at the vacant plot at Joda Phatak, barely 50 metres from railway tracks, to witness the burning of Ravan effigy as part of Dussehra celebrations.
What has been a source of joy and excitement to the young and the old for over two decades turned out to be a nightmare on Friday, after at least 61 revellers who had spilled onto railway tracks were mowed down by a train.
Fifty-year-old Jaswant said that the Ravan effigy is burnt at this plot, while the Ramlila event was organised at a good distance from the railway tracks.
Jawant claimed that people did not hear horn of the train coming from Jalandhar as there were noise due to bursting of firecrackers.
Before the train going to Amritsar from Jalandhar that mowed down the crowd, two trains passed through the tracks, but they slowed down their speed, he claimed.
Locals said that the train tragedy took place around 7.10 pm on Friday when railway tracks were packed with people who were watching the burning of Ravan effigy.
"Ravan effigy is being burnt at this vacant plot for over 20 years, but no such incident has happened earlier," Balwikdar, another resident, said.
Meanwhile, Punjab Police commandos and Rapid Action Force personnel have been deployed at the site of a train accident to manage a huge crowd on Saturday.
A heavy police deployment has been made to keep the situation in order. Punjab Chief Minister Amarinder Singh will visit the site later in the day.
At least 61 people were killed and 72 injured Friday evening after a crowd of Dussehra revellers that had spilled onto railway tracks while watching burning of Ravan effigy was run over by a train near here, officials said.
The train was coming from Jalandhar when the accident occurred at Joda Phatak near Amritsar, where at least 300 people were watching 'Ravan dahan' at a ground adjacent to the tracks.