Emotions ran high after Nationalist Congress Party president Sharad Pawar on Tuesday suddenly announced his decision to quit the top post as stunned workers protested -- one of them even threatened to kill himself -- while leaders broke down amid chorus that the octogenarian leader must revisit his move.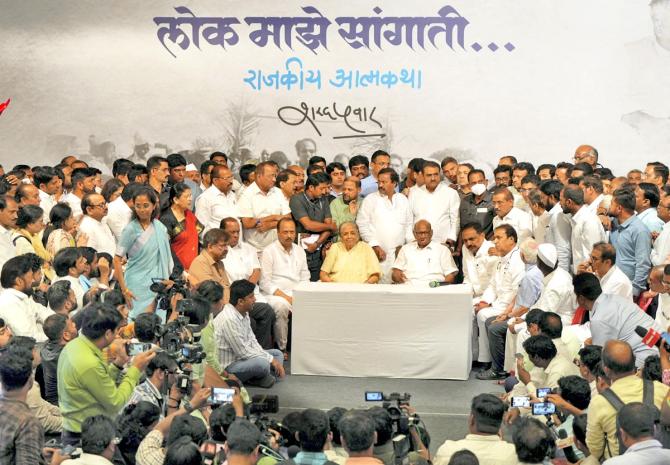 Pawar sprang a surprise by announcing his decision to quit as president of the party he founded and headed since 1999 when he left the Congress to chart his own political course.
The former Union minister made the announcement during the launch of a revised version of his autobiography at the Yashwantrao Chavan Pratisthan in south Mumbai. The announcement was instantly greeted with emotion-filled protests by party workers and leaders who asked the veteran parliamentarian to rescind the decision.
"I have three years left of Rajya Sabha membership, during which I will focus on issues related to Maharashtra and India, with a caveat of not taking any responsibility. After a long period of public life from May 1, 1960, to May 1, 2023, it is necessary to take a step back. Hence, I have decided to step down as the president of the Nationalist Congress Party," Pawar said.
Maharashtra NCP president Jayant Patil and his colleague Jitendra Awhad broke down after Pawar made those remarks, while party leaders Praful Patel and Chhagan Bhujbal beseeched him and requested their chief not to relinquish the top post.
Patel, a former Union minister, revealed Pawar did not take anyone into confidence before announcing his resignation.
Patil, Patel, Bhujbal, Awhad and their colleague Dilip Walse Patil in one voice said they will not accept Pawar's decision. A few party functionaries even tendered their resignations on the spot to put pressure on the 82-year-old politician, while some workers suggested that a working president be appointed.
As the pressure mounted on Pawar with almost everyone pleading before him to reconsider his decision, he sat quietly next to his wife Pratibha and listened to what party workers were saying.
His MP-daughter Supriya Sule, who was on the podium during the book launch event, sat with workers on one of the chairs in the audience, while the veteran leader's nephew and senior NCP leader Ajit Pawar sat next to Pratibha on the podium.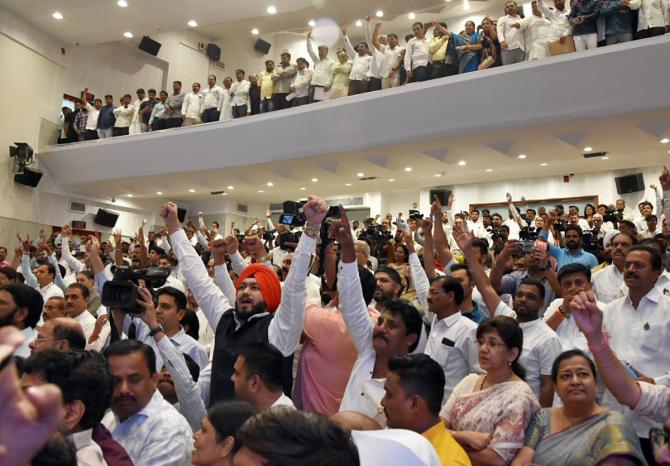 Pawar told his emotional workers opposing his resignation, "I am with you, but not as NCP chief."
Workers threatened not to leave the venue till the time Pawar reconsidered his decision and one of them even went to the extent of warning of killing himself if the resignation was not withdrawn. Some NCP activists also threatened to go on a hunger strike.
Daughters of jailed NCP leader Nawab Malik joined the chorus and made an emotional appeal to Pawar not to resign.
In Buldhana in the Vidarbha region, office-bearers and workers of the NCP's local unit decided to submit resignation from primary membership and other posts of the party.
Buldhana district NCP president Nazir Quazi tendered his resignation from the post to state party chief Jayant Patil.
Quazi, speaking to a news channel, said all office-bearers and workers of the NCP's Buldhana unit will be submitting their resignation from primary membership and other posts of the party under the leadership of local MLA Rajendra Shingne.
He requested Pawar to take back his resignation in the interest of the country and the party.