'India has been placed at a level, which would ensure that red tape is cut away. That's the biggest assurance that one can get -- the biggest takeaway.'
Aziz Haniffa/Rediff.com reports from Washington, DC.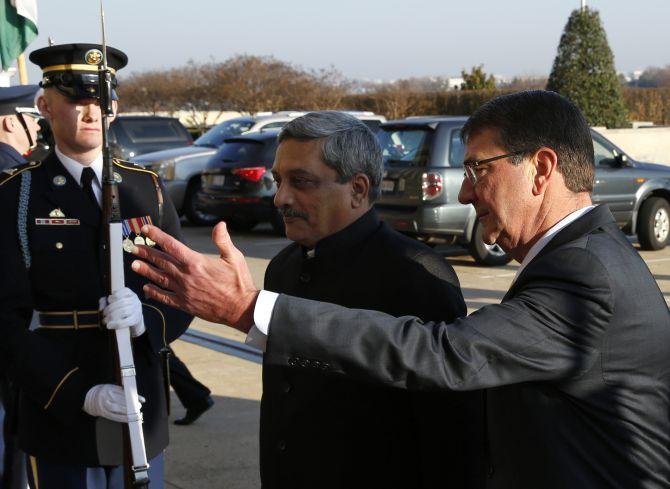 IMAGE: US Secretary of Defence Dr Ashton Carter welcomes Defence Minister Manohar Parrikar to the Pentagon, Washington, DC. Photograph: Yuri Gripas/Reuters
At the press conference at the Pentagon, where he appeared with US Defence Secretary Dr Ashton Carter, India's Defence Minister Manohar Parrikar, when asked if India would consider being part of the United States-led coalition to fight Islamic State, made it clear that any such anti-terrorism campaign against this terrorist group would only be under the auspices of a unanimously approved United Nations programme.
"India's policy on terrorists has been the same -- there has been no change in that policy," Parrikar said, and noted, "While we share intelligence, we believe that whatever role India has to play will be under a UN approved programme."

"So, there is no change in that now, but we are sharing intelligence and we don't mind a step further in sharing the information," Parrikar reiterated.

Later in the day, during a press conference with Indian journalists at the DC Willard Intercontinental Hotel where he was staying, when this correspondent pursued these remarks, and asked him to elaborate particularly on what he meant by saying, "We don't mind a step further in sharing the information," Parrikar again declared, "India's policy is very clear on it."

"Any ground action or actual part in any such conflict, India goes under the UN flag only. So, if the UN tomorrow decides, we may join in it."

"But sharing information, sharing whatever we have on the subject, there is no problem because we believe that terrorism is to be eliminated from the world," Parrikar said. "So sharing information can be an exercise, which we can do."

Asked if this meant if India had any information on Islamic State, it would immediately share it with the US, Parrikar replied, "I said it's sharing -- both ways. It doesn't cut one way. So, if we have some information on terrorists -- not only IS -- I said terrorism, we also expect them to share the information with us. The mechanism can be worked out."

Asked by Rediff.com about his experience on the aircraft carrier, the USS Eisenhower where he observed live flight exercises, Parrikar enthusiastically exclaimed, "It was fantastic!"

"We could experience technology, speed with which things can be done, and the standard American size -- I don't think the US does anything small."
Then, pointing to the coffee cup in front of him, he said to laughter, "See the coffee -- double the size."

Asked what were the most important takeaways of his visit, Parrikar said, "Building trust -- it is very important for me."

"Most of the issues get stalled after minister to minister talks, mostly in bureaucratic red tape. (But) the assurance I have, and I am confident of, is that India has been placed at a level, which would ensure that red tape is cut away. That's the biggest assurance that one can get -- the biggest takeaway."

When pressed as to what red tape problems existed with the US, Parrikar said, "There are layered decision-making processes. There are so many restrictions, regulations."

Now, he said, "We have got a very clear promise and we are experiencing it -- our issues are fast-tracked while following the process."
Parrikar acknowledged that he had developed a superb chemistry and rapport with Dr Carter and quipped, "I think both of us are technocrats, so we might have clicked. Basically, physics was my favourite subject so that may be the reason."
Dr Carter is a physicist -- he has a double major in physics and medieval history from Yale and then received a Rhodes Scholarship to Oxford University from where he received his doctorate in theoretical physics in 1979. Parrikar is a graduate of IIT-Bombay.
"Another aspect to take home is this meeting could result for a boost in Make in India," the defence minister said, and he noted, "The confidence of American companies to go for a Make in India probably has improved a lot."
In this regard, Parrikar said most of the offset problems that America Inc has consistently complained about had been resolved.

"If you hear it now," he said, "They will tell you that most of the problems have already been attended to and probably only one notification is yet to be issued, which should be coming in the next 10 days. Almost every difficulty they faced has been addressed."

"Over a period of the last six months," Parrikar reiterated, "most of the problems of offsets have been addressed."

"Textron, for example," he noted, "had a problem and we cleared it. Others had problems, we cleared it. So, I don't think the problem will be too much in the next two months. The final notification is coming."

"After that," Parrikar acknowledged, "they do have some demands, but those are not obstructive in nature -- those are slightly progressive in nature and we have to study them."

"We are examining them because they are more of an incentive nature," he said, "But all the difficult parts of it have been mostly resolved."