We are gathering evidence, says Bareilly SP; We will definitely take action, says Haryana DGP.
Rediff.com's A Ganesh Nadar reports.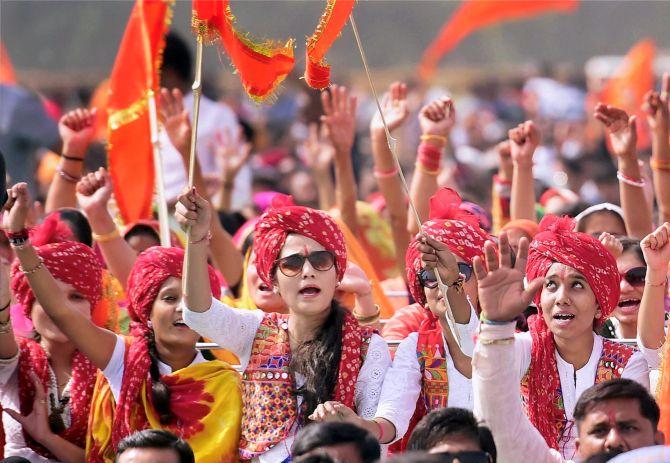 Padmavati has created a dubious record before the film released, garnering protests and death threats like no other film has done so far.
Rajputs headed by the Karni Sena and obscure right-wing Hindu group has jumped into the fray in condemning the film, with individuals issuing violent threats against director Sanjay Leela Bhansali and actress Deepika Padukone.
Even as the Madhya Pradesh government banned the film's release in the state and the producers announced a postponement in its release date, members of the Akhil Bhartiya Kshatriya Mahasabha burnt effigies of Bhansali and Padukone in Bareilly, Uttar Pradesh.
The worst of the remarks came from ABKM leader Bhuvneshwar Singh who was quoted by the Press Trust of India as saying, 'Deepika Padukone should know how it feels to be burnt alive. The actress will never know the sacrifice of queen Padmavati. Any person burning her alive will be given Rs 1 crore.'
Strangely, despite such a clear call for violence, no police action has been initiated against Singh.
Singh's speech clearly falls under Section 506 of the Indian Penal Code (criminal intimidation) which prescribes a jail term of two years and fine, or, death or life imprisonment when threatened with causing death or grievous hurt.
Asked about Singh's incitement to violence, Superintendent of Police, Bareilly city, Rohit Singh Sahjawan told this correspondent: "We have not received any complaint in this regard. Even then we are gathering evidence."
When told that news television channels have been playing Singh's speech in a loop, Sahjawan said, "We know that, we have asked the media houses for the tape, but we have yet not received it," adding, "It has come to our notice that some persons have also recorded it on their mobile phones. We are tracing such individuals and will collect evidence from them."
Politicians have not lagged behind in issuing threats against Bhansali and Padukone.
Surajpal Amu, the Bharatiya Janata Party's chief media coordinator in Haryana, offered Rs 10 crore for the heads of the director and actress and promised to break the legs of Ranveer Singh who plays Delhi sultan Alauddin Khilji in the film.
Haryana Director General of Police B S Sandhu laughed when this correspondent called to ask what action he would take against Amu.
"Of course, we are taking action, we will definitely take action," Sandhu said before disconnecting the call.
IMAGE: Rajput Karni Sena members protest against Padmavati, in Gandhinagar, Gujarat, November 12, 2017. Photograph: Santosh Hirlekar/PTI Photo