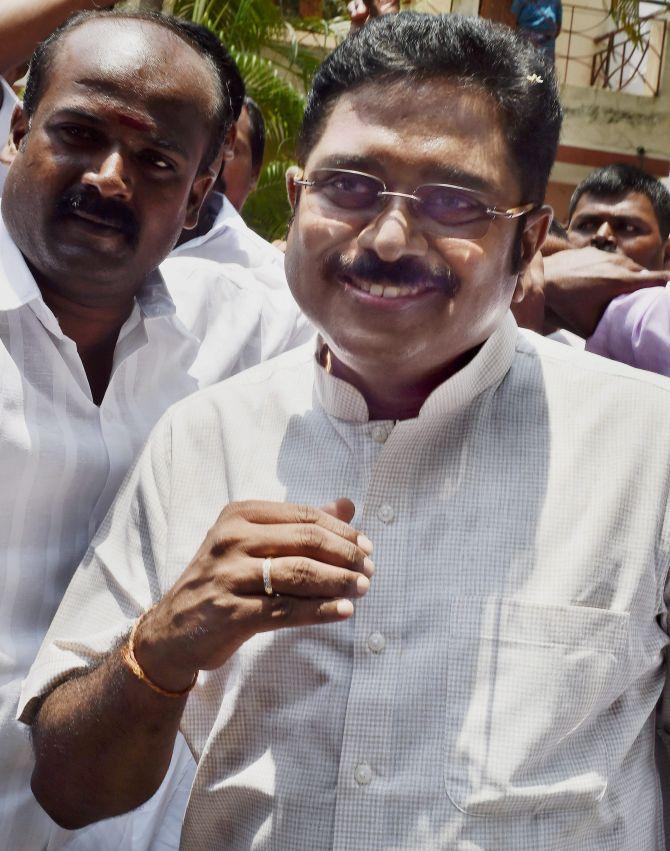 Ousted All India Anna Dravida Munnetra Kazhagam deputy general secretary TTV Dinakaran on Monday said that he will just sit back and see what the party led by Tamil Nadu Chief Minister Edappadi K Palaniswami is going to do in coming weeks, over the speculated merger with the faction led by former Chief Minsiter O Panneerselvam.
"They are just talking and talking, nothing has happened in past 45 days. I came and told this to our general secretary (Sasikala). She told that they will be given two months of time. Let them complete the merger, we will give them time. After that we will take action as per the instruction given by our general secretary," he said after meeting his aunt VK Sasikala at the Parappana Agrahara prison in Bengaluru.
He further said that the MLAs of the AIADMK have no fear in their mind and hearts expect for few, and rest are taking the power of general secretary in their hands.
Earlier in the day, Dinakaran reached Bengaluru's Parappana Agrahara jail to meet Sasikala who was jailed in February in a disproportionate assets case.
After Tamil Nadu ministers said on April 18 that they were dumping the top duo, Dinakaran had said he was stepping aside in deference to their wish.
But he recently asserted that he will continue party work, contrary to his earlier stand.
Tamil Nadu Finance Minister and senior AIADMK (Amma) leader D Jayakumar said in Chennai on Monda that Dinakaran should stick to his stand of keeping away from party affairs.
Dinakaran had told reporters at Hosur en route to Bengaluru to meet Sasikala that a section of state ministers had revolted against him due to "some fears", but declined to say what they were.
Dinakaran said he will plan his future course of action after meeting Sasikala and will base his actions on her guidance.
Senior Tamil Nadu cabinet ministers had revolted against Dhinakaran and said he and his "family" -- an obvious reference to Sasikala -- will be kept out of the party and the government.
The leader was recently released on bail by a Delhi court last week in a case of allegedly trying to bribe an Election Commission official to wrest the AIADMK's 'two leaves' symbol.
Dinakaran had kicked up a fresh row on his role in the party when he said he would "continue party work" since he had said in April that he was keeping away from party affairs.
With inputs from PTI