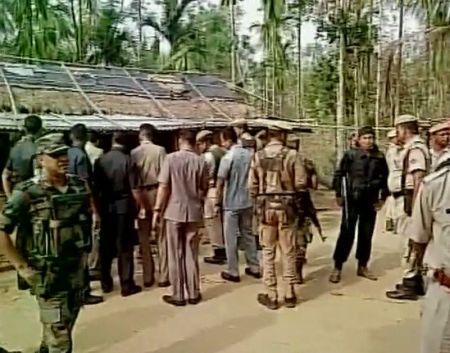 A policeman and a hardcore United Liberation Front of Asom - Independent militant were killed on Tuesday in an encounter in Assam's Goalpara district, hours after a powerful blast at Dudhnoi, suspected to have been triggered by the outfit, claimed three lives.
Superintendent of Police Nitul Gogoi said in the wake of the blast at Dudhnoi, police stepped up vigil and received a tip-off about a group of ULFA-I militants moving in Krishnai area of Goalpara district.
Officer in charge of Krishnai police station, along with commandos, surrounded a house at Jira where the ultras were holed up and cordoned off the area, Gogoi said.
One of the police commandos died when the insurgents opened fire and in the ensuing gunbattle, one of the militants was also killed, he said.
The remote control, which was suspected to have been used in Dudhnoi blast, was recovered from the slain ultra.
Three pistols, an AK rifle magazine, a grenade and several extortion notices were also recovered from the slain rebel.
The SP said Monday's bomb blast that killed three persons and injured 20 others was not connected with the ongoing Assam assembly elections as the militants took advantage of the forces moving out for deployment from the areas where first phase poll was held on Monday.
Director General of Police Mukesh Sahay told reporters in Goalpara, "There may be possiblility of violent incidents during the second phase of elections but we are prepared to tackle such attempts".
"To stamp their presence, some anti-national elements or organisations may try to indulge in violent activities, but we are prepared to counter them," Sahay said.
Asked if there could be violence during the second phase of voting on April 11, the DGP said, "Such threats are always there. But wasn't the first phase of voting peaceful yesterday? So will be the second phase."
Three persons, including All Assam Bengali Yubo Chatra Federation's Goalpara district President Bapan Saha, were killed and 20 others, including four policemen, injured in the Dudhnoi blast triggerred by suspected ULFA-I near a temporary BJP election office, which was functioning, for the second phase polls.
Goalpara election district is among 61 of the 126 assembly constituencies going to the hustings on April 11.
Meanwhile, ULFA-I has denied its involvement in the Dudhnoi blast claiming "it was triggerred by those political parties who are apprehensive the large voter turnout would go against their pre-poll calculations".
The first phase of polling was held in a peaceful manner in Assam on Monday for 65 of the 126 Assembly constituencies which saw a record turnout of over 80 per cent.
Image: Security forces at encounter site. Photograph: ANI_News/Twitter