Traumatised by what they saw when they reached the three train crash site in Odisha's Balasore district, one National Disaster Response Force (NDRF) rescuer hallucinated that he was seeing blood and another lost his appetite, the director general of the force said on Tuesday.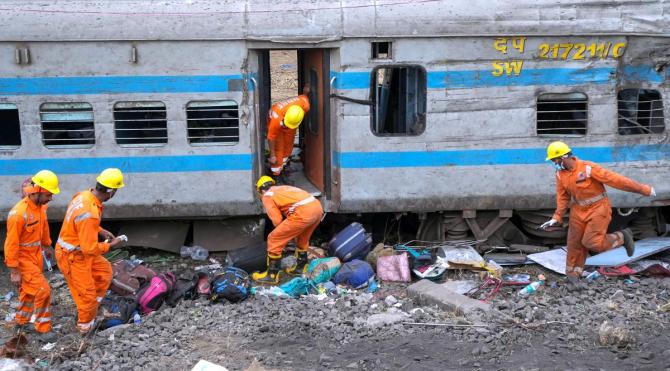 Nine National Disaster Response Force teams were deployed for rescue operations following one of the worst railway disasters in India that killed at least 278 people and injured more than 900. According to official data, the force rescued 44 victims and retrieved 121 bodies from the spot.
"I recently met the personnel who were involved in the rescue operation following the Balasore train accident... Someone told me he hallucinated that he was seeing blood every time he saw water. Another said he lost the urge to eat after this rescue operation," NDRF DG Atul Karwal said.
In his inaugural address at the one-day 'Annual Conference on Capacity Building for Disaster Response-2023' being organised by the NDRF at the Vigyan Bhawan in New Delhi, he said the accident was so severe that the coaches got mangled, trapping several bodies inside.
The NDRF DG, who toured the accident site on Sunday, said that keeping in mind these issues faced by some of his personnel, the force has initiated psychological counselling and mental stability courses once they return from a rescue and relief operation where they saw several deaths and victims suffering from excruciating pain.
"Our personnel need to be mentally and physically fit and hence we have included various physical and mental fitness programmes. Counselling sessions are being conducted to ensure good mental health of the rescuers," he said.
Karwal said such sessions were held for rescuers who came back from Turkiye recently after undertaking operations in the earthquake-affected country.
The NDRF was also in the process of hiring a permanent counsellor in its ranks rather than hiring their services on a temporary basis, he said.
About 95 per cent of the estimated 18,000 personnel-strong force was "fit" after special fitness and health exercises were launched in January last year, Karwal said, adding the average BMI of 90 per cent of the contingency force was less than 25, an indicator of an individual being physically fit.
The train accident in Balasore involving Bengaluru-Howrah Superfast Express and Shalimar-Chennai Central Coromandel Express, which were carrying over 2,500 passengers, and goods train laden with iron ore occurred around 7 pm on June 2 near the Bahanaga Bazar station in Balasore, about 250 km south of Kolkata and 170 km north of Bhubaneswar.
As many as 21 coaches were derailed and severely damaged in the accident, trapping hundreds of passengers.
About tackling deaths due to drowning across the country, the NDRF DG said the force has prepared a "heat map" after studying the data on deaths provided by the National Crime Records Bureau (NCRB).
"We were informed by the NCRB that about 36,000 precious lives are lost in India every year on an average" due to drowning and about two-thirds of these instances in most of the places take place at the designated bathing 'ghats', he said.
"We are now working to initiate measures to stop these deaths," Karwal said.
Addressing the conference, Minister of State for Home Affairs Ajay Mishra said the Narendra Modi government was proactive on the subject of disaster combat and providing early warnings.
In the last nine years, the prime minister and home minister have ensured that there is a proper policy, plan, resources and training to tackle disasters of all sorts not only within the country but also when our rescuers are sent abroad, he said and lauded the work done by the NDRF at the Balasore train accident site and in Turkiye.