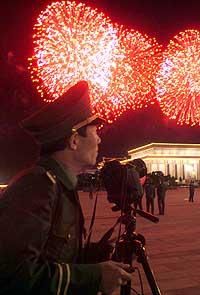 Refuting reports about an increase in its nuclear arsenal, China on Monday said it has kept its capability at the "lowest level", commensurate with the need for national security.
"We always kept our nuclear capability at the lowest level, commensurate with the need for national security," Chinese foreign ministry spokesman Hong Lei told a media briefing.
He was replying to questions on the Stockholm International Peace Research Institute's report that it has increased its nuclear arsenal, along with Pakistan and India.
The Swedish think-tank report said China, which maintains total secrecy about its nuclear programme, had raised its number of nuclear warheads to 250 from 240 at the beginning of this year, as part of a process to modernise its defence.
"Our nuclear capability is for self defence and it does not pose threat to any other country," Hong said.
"China hopes that the outside world does not make groundless speculation about China's limited nuclear capability and also believes that the countries with biggest nuclear arsenal shoulder a special and priority responsibility for nuclear disarmament," he said.
"I want to stress that China's nuclear strategy is the most apparent among all those nuclear weapons countries. China is the first country to clearly commit itself to unconditionally not to use or threaten to use nuclear weapons against non-nuclear country or non-nuclear zone," he said.
China also abides by the policy of not using nuclear weapons first any time or under any circumstances, he said.
"China always maintains comprehensive prohibition. China never deployed nuclear weapons in any other country," he said.
Image: A Chinese policeman photographs fireworks exploding over Tiananmen Square at a Nataional Day extravaganza | Photograph: Reuters